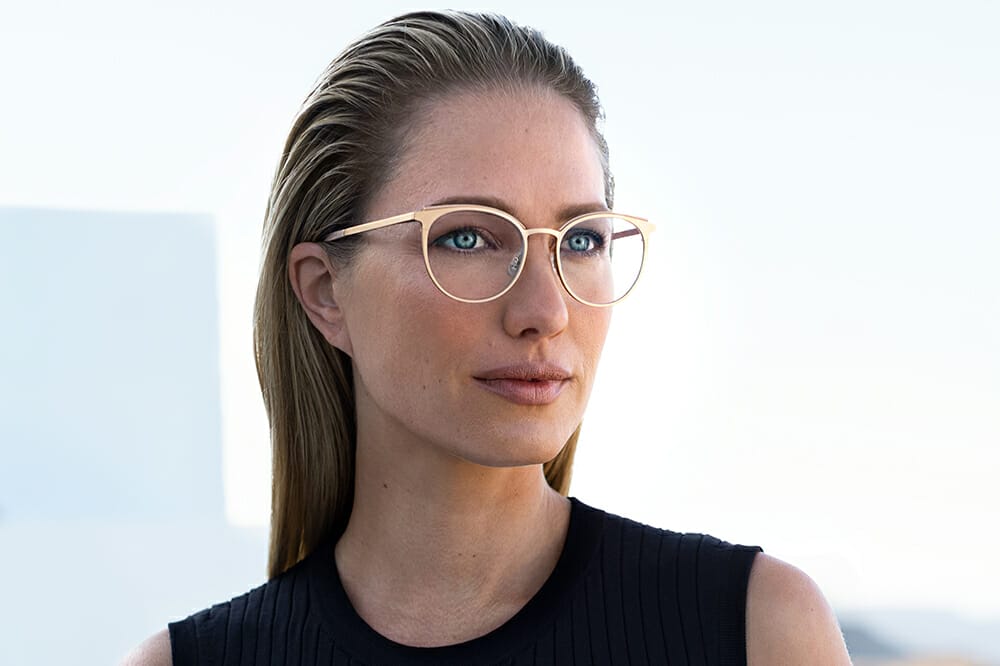 Founded in 1877 on the principle of 'Understanding the system of vision in its entirety', today Rodenstock is renowned globally as 'experts in vision'. Under the creative guidance of lead designer Bettina Bubel, the German company designs, manufactures and distributes the eponymous Rodenstock eyewear alongside lenses, measurement devices and services.
mivision spoke to Ms Bubel about why Rodenstock is a perfect partner for eye care professionals.
If there's one company in the world that has a true history in eyewear design, it must be Rodenstock.
Founder Josef Rodenstock invested and patented the first framed spectacles of the modern era more than 145 years ago in Würzburg, Germany. Having done so, he instantly rose to become the court optician of the German Emperor.
Our frames are known for their timeless aesthetic in shape and colour, subtle highlights, and a minimalist design – we call it Engineered Purism
Since that day, the company hasn't taken a step in the wrong direction and now, with its headquarters in Munich, Rodenstock employs around 4,900 people worldwide and is represented with sales offices and distribution partners in more than 85 countries. A world leader in the manufacture of lenses and frames, with production plants at 14 locations in 13 countries, Rodenstock continues to demonstrate its understanding of the system of vision in its entirety.
Ms Bubel, who has been with Rodenstock since 2011, describes its frames as "masterpieces of precision in function, material and design" saying, "many years of research knowledge, superb craftsmanship, precise cutting, and intelligent technology go into our products.
"Our two premium frame brands – Rodenstock and Porsche Design – clearly differentiate us from our competitors as a modern brand, with a defined profile which draws on the past but is still in touch with the latest trends."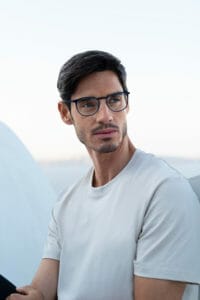 The typical Rodenstock customers Ms Bubel designs for are "middle-aged, open-minded, honest people who are family-oriented, enjoying life and attach importance to sustainability. They want products that are long-lasting and match their face shape and they are comfortable to spend more money for a product that meets their values."
As lead designer, she draws on her studies in product and jewellery design, along with personal experience to direct a team of designers and colour specialists in Munich.
"For me, glasses are the perfect fusion of functionality and fashion. I have worn them since I was a child, but it was during my studies that I became interested in designing frames. I met an eyewear designer who encouraged me to design my own."
Ms Bubel's team is inspired by things they see and experience every day – current trends, fashion, jewellery, architecture, product design and all kinds of innovation concerning material and functionality.
"Rodenstock eyewear is made from the finest materials by using innovative technologies and is hand-finished with the highest precision and a passion for details, built on more than 145 years of experience. Our frames are known for their timeless aesthetic in shape and colour, subtle highlights, and a minimalist design – we call it Engineered Purism," explained Ms Bubel.
NEW AND EMERGING
In January 2022 Rodenstock launched its new Bold collection, symbolising what Rodenstock Eyewear is all about.
"Bold stands for craftmanship down to the smallest detail," Ms Bubel explained. "Strong contrasts are created by Japanese titanium meeting Italian acetate, matte, and glossy surfaces, as well as the fine engravings on the lug and temple end. The models impress with their bold acetate front and the slim titanium temple, each in three matching colour combinations."
With an emerging trend for minimalistic designs made from high-quality materials like titanium, Ms Bubel's team is currently focussed on strengthening its Lite-Tec collection.
"Our new 'Simplicity Concept' achieves forward-thinking technical innovations and lightness through design and material reduction," she said. "And, as always, these frames will be complemented by the precision lenses that Rodenstock is renowned for."
While Rodenstock's lens portfolio covers all market segments, there's no doubt it is a leader in the high-quality segment. When it introduced the philosophy 'B.I.G. Vision For All – Biometric Intelligent Glasses' in 2020, it delivered a paradigm shift in the design of individual progressive lenses.
With B.I.G. Vision, Rodenstock creates lenses based on the biometrics of an individual's whole eye – including its length and several thousand data points in the eye – far beyond industry standards. All relevant biometric data, determined by combining the DNEye scanner with patented technologies, are integrated directly into the lens, orchestrating a construction process which results in the world's most precise lens.
QUALITY CONTROL
To ensure consistently high quality is achieved across all areas of the business, Rodenstock's frame design, construction, tests, and prototype manufacturing are all located in the Munich headquarters.
"From the lens to the frame, every one of our products is designed and developed in Germany – the perfection of these products is the essence of German quality and engineering skill. And the result is impressive: Rodenstock currently maintains approximately 500 patents and patent applications worldwide for innovations in lenses, frames, and measurement tools."
With all of this in mind, it comes as no surprise that Rodenstock has a history of award-winning success in high-end frame design. The company has won more than 60 international design prizes over the last 20 years, including the iF, Red Dot, Frontier and German design awards.
Contact: Rodenstock (AUS) 02 9748 0988