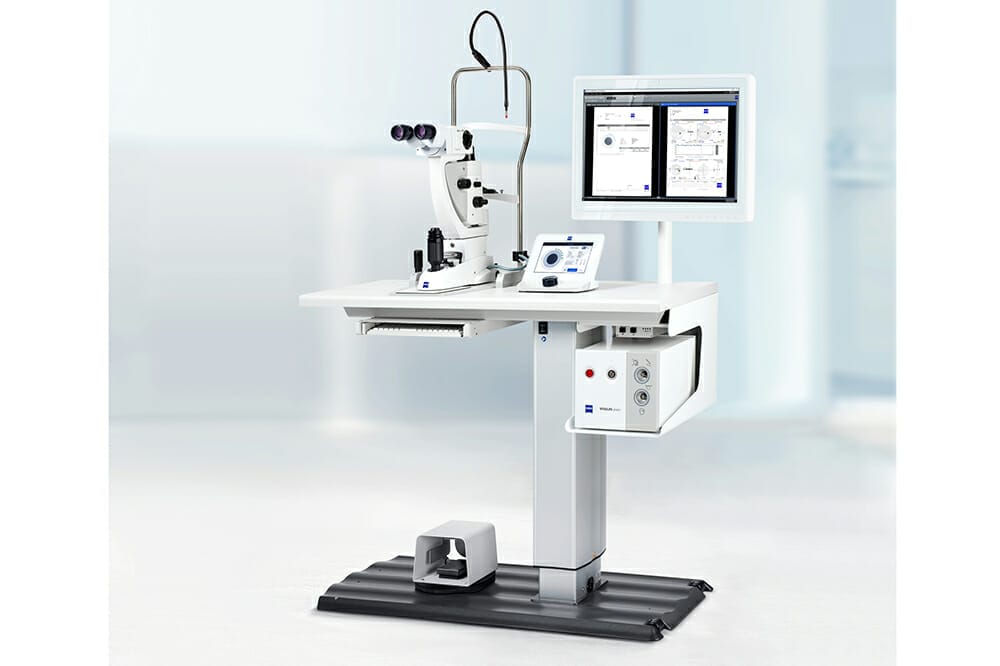 Zeiss now offers a new selective laser trabeculoplasty (SLT) add-on to its Visulas green laser, part of an integrated glaucoma workflow to help advance safe and effective glaucoma treatment.
Building on 25 years of innovation in glaucoma and more than half a century of innovation in therapeutic laser technology, the new SLT laser feature offers unique protocols that may improve care for glaucoma patients.
In a prospective, interventional multi-centre clinical investigation,1 medically treated (n=29) as well as treatment naïve eyes (n=5) of patients with primary open angle glaucoma (POAG) underwent SLT with the Visulas green laser. Mean baseline IOP (mmHg) was 21.0±2.69.
Zeiss SLT is a safe and effective therapy for lowering the intraocular pressure (IOP) within the treatment of primary open-angle glaucoma
The results demonstrated that after three months, 48.5% of the treated eyes showed a reduction of intraocular pressure (IOP) of more than 20%; mean IOP reduction was approximately 16.4%. Adverse events were mild, transient and were resolved without sequelae.2
The safety and efficacy outcome in further lowering IOP in treated POAG eyes was comparable with other SLT lasers.
According to Zeiss, the intuitive operation of its Visulas green laser, and the premium image quality of Zeiss laser slit lamps, enables a fast and comfortable procedure for both the doctor and the patient. Additionally, the convenient integration of Zeiss Visulas green into the 'Zeiss ecosystem' provides high levels of flexibility and efficiency. With optional image and video recording capabilities to improve digital documentation and access to historical diagnostic data on the panel PC, clinicians can check the patient condition and IOP trends within Forum Glaucoma Workplace on the Visulas workstation prior to treatment.
The new Zeiss SLT add-on will be showcased at the RANZCO 53rd Annual Scientific Congress in October.
Learn more about Zeiss glaucoma innovations at https://www.zeiss.com/meditec/int/c/25-years-of-glaucoma-innovation.html
Reference
The study is registered at clinicaltrials.gov under NCT04519814 and data is on file at the manufacturer.
Peer-reviewed literature to be released soon.