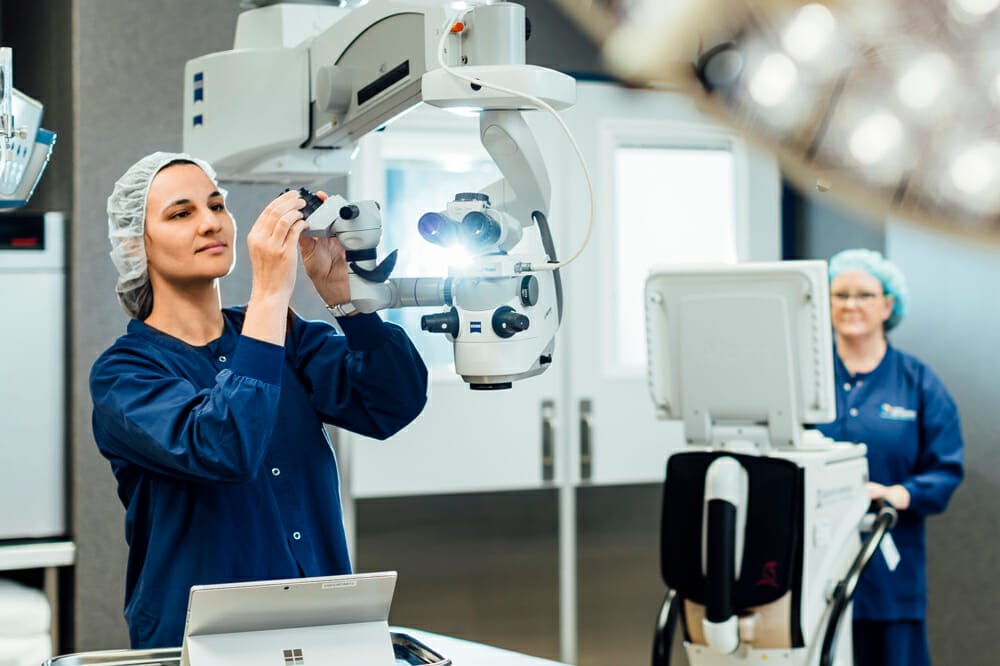 During the recent Australian Private Hospitals Association Congress, Vision Hospital Group's General Manager, Greg Brown learned that the combined healthcare sector has the same CO2 footprint and waste generation as the fifth-largest polluting country in the world.
Like fellow attendees, he was shocked.
The shock that Mr Brown experienced that day soon turned into action because, in his own words, "we have an existential duty to minimise our pollution footprint".
Knowing where to start can be overwhelming, but we need to remember that every little bit helps
"The healthcare sector's contribution to climate change is staggering – but this also signals a significant opportunity to make a real impact by taking decisive action," Mr Brown said.
Getting the Ball Rolling
Within weeks, a Sustainability Working Group for Vision Hospital Group (and parent company, Vision Eye Institute (VEI)) was formed. The fact that it was helmed by Karen Lopreiato, with key support from Cathie Searle and Rodney Fox, was telling: All three are members of the executive leadership team, clearly signalling the internal priority given to it.
Mr Brown said it wasn't a difficult decision for the company to make. "This commitment to becoming environmentally sustainable fits naturally with the values shared by Vision Hospital Group and Vision Eye Institute," he explained. "It speaks to accountability, operational excellence, integrity, and teamwork – in other words, 'the vision way'. This is absolutely the right direction for us going forward."
The launch of a sustainability working group sparked interest at all levels of the organisation, said Mr Fox, who is the General Manager of VEI's NSW and South Australian clinics. "We were excited to see just how many staff members from our Vision Hospital Group day surgeries, Vision Eye Institute clinics and our corporate office wanted to be a part of it."
The ongoing, broader attention on sustainability has, without doubt, made a mark on people everywhere, whether you are a nurse, a receptionist, a central sterile supply department technician or in the corporate office. Now, our staff feel empowered to make a difference in a place that has direct significance to them – their workplace."
Every Little Bit Helps
Ms Lopreiato, the organisation's Company Secretary, said some sustainability initiatives were already in place at various locations through the company's OneVision environmental, sustainability, and governance (ESG) program.
"Recycling, reduction of single-use plastics, and energy-saving measures are common measures," said Ms Lopreiato. "A company-wide move towards digitising our patient journey via electronic records and online forms has also had a significant effect on our daily paper use. Instead of starting from scratch, we are bringing these projects together in a more collaborative, uniform approach across the entire group."
Initial brainstorming of the sustainability working group resulted in quick and easy actions to implement, added Mr Fox. "Knowing where to start can be overwhelming, but we need to remember that every little bit helps.
"Simple things include turning off lights and computers at the end of the day, ensuring each site has a recycling bin and encouraging staff to use them, using a refillable water bottle, and recycling used batteries instead of sending them to landfill.
We are also connecting with friends and family to discover practical ideas that are being used elsewhere."
Ms Searle, who oversees VEI's clinics in North Queensland, said the input and participation of staff at the group's clinics, day surgeries, and corporate office will also be invaluable in identifying simple measures to improve sustainability. "The staff involved in the day-to-day operations at our various locations will be able to readily identify opportunities to reduce our environmental impact at a grassroots level," she said.
Strategic Partnerships
With the company's core business being healthcare, Ms Lopreiato said the working group quickly realised external support would be required for this transformation. "Becoming an environmentally sustainable organisation is a long-term project that requires specific expertise. That's where GGHH comes in."
Global Green and Healthy Hospitals (GGHH) is an international network of hospitals and healthcare facilities committed to reducing its environmental footprint while promoting public and environmental health. The network's formation reflects global interest in addressing the healthcare sector's impact and unites the sustainability efforts of individual healthcare organisations worldwide.
"What drew us to the GGHH network was the fact that it has over 1,700 members in more than 80 countries, who are using innovation, ingenuity, and investment to transform the health sector and foster a sustainable future," said Ms Lopreiato.
"Vision Hospital Group is proud to be a member and join other healthcare companies that are united in improving the environment for future generations.
"We have ready access to tools and resources that can help in the successful implementation of sustainability initiatives and projects. Members across the network also share expertise and knowledge, as well as engage in pilot projects and research to scale best practices and cutting-edge strategies. Being in the same industry means that the ideas shared between members are more likely to be transferable and this helps with engaging stakeholders."
Out of the 10 interconnected goals that underpin the GGHH framework,1 Ms Lopreiato said the sustainability working group has selected four for the first phase:
• Leadership: Prioritise environmental health,
• Waste: Reduce, treat, and safely dispose of healthcare waste,
• Energy: Implement energy efficiency and clean, renewable energy generation, and
• Water: Reduce hospital water consumption and supply potable water.
"These will be our initial goals for the coming year and targets will be established once a more detailed assessment is undertaken of what is reasonable and achievable," she said. "Our progress will then be measured over time in an iterative process."
Knowing where to start can be overwhelming, but we need to remember that every little bit helps
Ms Searle said ongoing collaboration, networking, and knowledge sharing between private healthcare organisations are crucial to achieving meaningful results.
"This sector is an established and vital part of the healthcare system and needs to stay that way if Australia is to meet current and future healthcare demand," she said. "The future of healthcare is caring for humans and for the environment. We all have our part to play."
Mr Brown put it more bluntly. "If we, as an industry, do not take this seriously, the results will be catastrophic. The healthcare sector, paradoxically, will end up being the cause of health issues for the communities we are supposed to be caring for, as well as our own doctors and staff.
Vision Hospital Group's commitment to reducing our environmental footprint means a commitment to protecting the health and wellbeing of local communities."
References
1. Global Green and Healthy Hospitals. Sustainability Agenda, 2023. Available at greenhospitals.org/goals [accessed 3 May 2023].
2. Arup and health care without harm, health care's climate footprint: How the health sector contributes to the global climate crisis and opportunities for action. 2019. Available at noharm-global.org/sites/default/files/documentsfiles/5961/HealthCaresClimateFootprint_092319.pdf [accessed 5 May 2023].
3. Our World in Data. Climate change and flying: what share of global CO2 emissions come from aviation? 2020. Available at ourworldindata.org/co2-emissions-fromaviation [accessed 5 May 2023].
4. Malik, A., Lenzen, M., McAlister, S., McGain, F., The carbon footprint of Australian health care. Lancet Planet Health. 2018;2(1):e27-e35. doi:10.1016/S2542-5196(17)30180-8.
5. World Health Organization. Health-care waste. 2018.Available at who.int/news-room/fact-sheets/detail/healthcare-waste [accessed 5 May 2023].
6. PwC Health Research Institute. Action required: The urgency of addressing social determinants of health. 2019. Available at pwc.com/gx/en/healthcare/pdf/pwc-social-determinants-of-health.pdf [accessed 5 May 2023].
Healthcare and Environmental Sustainability: a Complex Relationship
• Healthcare organisations face unique challenges to operating sustainably, particularly in the wake of the COVID pandemic. Notably, there is a great reliance on infection-control measures – disposable masks, rapid antigen tests, and single-use disposable instruments, for example.
• Research has shown the healthcare industry is one of the largest consumers of energy and water resources, directly contributing to greenhouse gas emissions and climate change. It is estimated that the global health sector contributes 4.4% of greenhouse gas emissions;2 more than double that of the aviation industry (1.9%).3 Contributions per country vary, with Australia's healthcare industry responsible for 7% of the nation's emissions, versus 3% in the United Kingdom.4
• Hospitals and healthcare facilities generate a significant amount of waste, including hazardous waste, which can have harmful effects on both the environment and human health. It is estimated that hospitals produce 5kg of waste per person per day, with 85% of this being non-clinical waste.5
• Research undertaken by the PwC Health Research Institute into the social determinants of health suggests that the environment contributes as much as 10% of an individual's health outcomes.6
• The healthcare industry has a responsibility to promote public health. This includes taking action to address environmental issues that can have significant health consequences, such as air pollution and climate change.
• As the healthcare sector shoulders the responsibility of responding to health crises related to climate change – such as natural disasters, heat stress, and infectious diseases – the opportunity to reduce the sector's contribution to emissions has clear benefits.