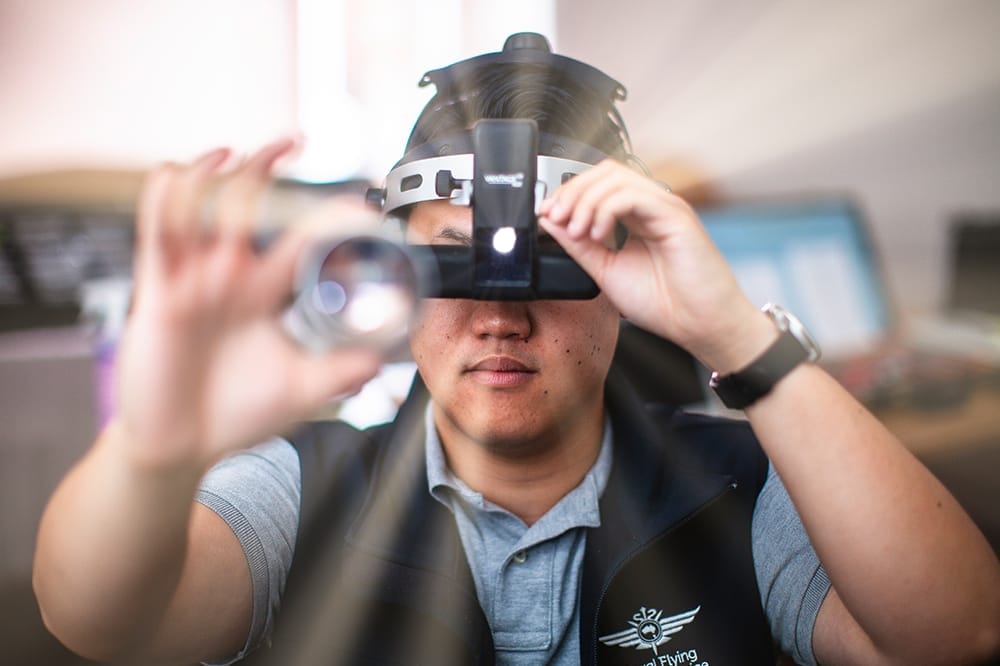 Australia is a vast country. Outside the cities and towns, we have tiny communities made up of tens or hundreds of people, who find it difficult to access the services that we take for granted in the city.
The Royal Flying Doctor Service aims for equal delivery of health care, and is highly valued by the community – it's really rewarding
Some are transient workers. Some have escaped the city in search of a more affordable or relaxed life. Some have grown up in the country and now they are ageing.
Regardless of how they got there, many find the time and cost of travelling hundreds of kilometres to see a healthcare provider a challenge.
Take Jocylen, who lives on her own in the isolated town of Murrayville, two hours from Mildura.
At the age of 80, she has been lucky with her health.
"Ten years ago, I had cataracts in both eyes. I had surgery and since then my eyesight has been wonderful. However, during COVID, I began to notice it was deteriorating."
Until the COVID lockdowns, Jocylen had been seen by Flying Doctor Mobile Eye Care, which would visit Murrayville once every two years. Coincidentally, she was responsible for getting the service out to Murrayville in the first place. In her earlier years as President of the Country Women's Association, she had led a program to sponsor their visits.
"My daughter rang the Flying Doctors to see when they would be coming to Murrayville again. Knowing that I wanted to be seen, they phoned me before they came to arrange an appointment."
RFDS Victoria set up a clinic in the old Murrayville Hospital, Jocylen had her eyes examined and the optometrist arranged for her to have laser surgery in Mildura. That was back in February this year, and she said, "I can now see again… I only use 1.5 magnifying glasses for reading".
"RFDS is wonderful for remote areas like ours… I do drive but I don't like to drive up to Mildura. My son took me there for the laser treatment; but some of the elderly people don't have anyone who can take them. And it's not just the elderly, there are young people who access the service too."
For those who do need to access specialist medical services outside their town, community transport can be organised, sometimes through the Flying Doctor Community Transport service.
AIMING FOR EQUALITY OF HEALTH ACCESS
It's no surprise that this service is highly valued, as RFDS Victoria Team Leader (GP, Specialist and Allied Health) Elizabeth Wood explained.
Ms Wood joined RFDS Victoria almost three years ago, having studied as an optometrist.
"I wanted to join an organisation with purpose. The Royal Flying Doctor Service aims for equal delivery of healthcare and is highly valued by the community – it's really rewarding," she said.
RFDS Victoria hasn't always provided health services to regional and remote towns within the state. It wasn't until 12 years ago, with the arrival of Chief Executive Scott Chapman, that the organisation took a more local approach.
"We were actively funding services in other areas of Australia, but he (Mr Chapman) observed that there were plenty of rural and remote areas in our own state that weren't being serviced," Ms Wood said.
"While these areas may not need the traditional Flying Doctors, there was nothing to stop us from funding the services and providing the vehicles and logistics that we do so well for other areas."
BIRTH OF A PARTNERSHIP
To service the state of Victoria, one of the first groups that RFDS Victoria partnered with was the ACO. And the two organisations have been working together ever since.
"We do the logistics, booking, and liaising with the host site," Ms Wood said. "They provide the services."
Optometry is one of RFDS Victoria's primary health care services. It also provides services such as dental, paediatric speech, and mental health services, as well as remote specialist services via telehealth, GP services, and the aforementioned community transport, which is provided by trained volunteers to get people to and from medical appointments and the hospital. A 'Memory Lane' service transports people in palliative care to places of personal significance at no cost.
Funding for most RFDS Victoria services comes via 'fee for service' under State and Commonwealth contracts, as well as philanthropic grants, donations, corporate support, and fundraising activities. Optometry services are 100% donor-funded.
RFDS Victoria funds the ACO optometrists to visit regional communities and perform free eye checks. The cost of spectacles dispensed is covered by the Victoria Eyecare Services (VES) with a modest contribution from the patient. Spectacles are made up at the ACO and dispatched by mail to the patient or their community nurse.
Dr Josephine Li, General Manager of Rural VES at the ACO, is responsible for working with RFDS Victoria to arrange approximately eight eye care trips to 15 rural towns each year, most of which are taken by a solo optometrist.
Each trip lasts for five days. Before COVID, the optometrist would fly out, then use an RFDS Victoria car to reach different communities; now they mainly travel by road.
"Because of unreliable commercial flights and luggage problems, we gave up on planes. It's usually a half day drive to a community; one and a half days in clinic, then another half day to the next community. The optometrist will see 35 people across the week," she explained.
With many parts of Australia being prone to fire and flooding, Dr Li said there are "a lot of occupational health and safety risks to be managed". To minimise the hazards, trips are carefully scheduled to accommodate the harsher seasons of summer and winter.
And then there's the problem of securing adequate resources.
SECURING RESOURCES
"Not everyone has the capacity to do this work. Some optometrists have small children or elderly people at home to care for, so they can't be away for a week. They might have duties in advanced clinics – like contact lenses or teaching, which means they can't be away from the ACO for a week. Some staff find it hard to work in isolation. But most importantly, they may not have the skills. To do this work, we need experienced optometrists who can be flexible, creative when things go wrong, they have to know how to handle it; how to fix it," Dr Li said.
Megan Zabell is a sessional optometrist with ACO. Working otherwise as a professional education manager with Alcon, she said the chance to get out into the country and provide eye care services is incredibly rewarding.
"My parents live in regional Australia, and so I know how frustrating it can be to access different aspects of health care.
"Working on my own doesn't bother me. It's all routine stuff – eye examinations we'd be doing anyway. It's also nice to mix things up by getting involved in dispensing, helping people choose their frames. So, it's being involved with the complete patient journey."
However, she said working in small communities does change the way decisions are made.
"If you were attending a patient in the city, you might choose to review them (at a later date) to see how they're going, but you can't do that when you're only seeing people once every year or two. So, you need to back yourself with your clinical decisions.
"The ACO is a fantastic team – there is always someone on the end of the phone to help you with ordering or making a decision."
She said keeping other healthcare practitioners in the loop with patient diagnosis and management – whether they are outreach providers or permanent healthcare staff working from a bush nursing centre – is particularly important in areas where visits are infrequent.
A REMOTE EXPERIENCE
Optometrist Austin Tang, who joined the ACO in mid-2021 and started working with Flying Doctor Mobile Eye Care in May last year, said his experience working in country NSW as a graduate was excellent preparation for the remoteness of working on his own, most often with vulnerable patients.
"Despite the challenges there is a lot of support. In the smaller towns, we set up in bush nursing centres and the good thing is a lot of the staff have been on site for a long time, so there are good existing relationships. This helps build awareness of our service and the patients are eagerly awaiting our visit every year or so.
"RFDS is really supportive with booking appointments and managing logistics. I had a burst tyre on my first trip – and they got on to that quickly."
Although it would be easy to feel stressed or even overwhelmed by the number of people requiring an eye examination in many towns, Ms Zabell said it's a case of prioritising. This is something RFDS Victoria is proficient in, collaborating with bush nurses or community GPs to ensure that the most vulnerable people are seen first.
"I don't feel pressured, I don't want to lessen my service, but I do want to see as many people as possible because I know I'm not going to be there again for a while. So, I will do what I can," said Ms Zabell.
"On one recent trip, one patient who was booked in showed up 90 minutes late as I was packing all my equipment. I had a long drive back to the ACO and I had to get back to drop off the equipment. Nevertheless, I ended up seeing her because I knew that getting her to pop back in another time wasn't an option."
PART OF A TEAM
Having been part of with Flying Doctor Mobile Eye Care for just over a year, Mr Tang said he is excited about visiting communities for the second time.
"I'm looking forward to seeing patients I have seen before and will be seeing again – especially those I've referred off for specialist care. It will be good to find out about their outcomes and understand the qualitative impact on them; to see how they've gone," he said.
And then there's the opportunity to catch up with other travelling service providers – many of whom are also are funded by RFDS Victoria.
"The RFDS car is so recognisable. You drive into a town, and everyone is waving at you – members of the community, podiatrists, dentists, dieticians – we're a team," Ms Zabell said.
Patient Outcomes
Between July 2022 and June 2023, the RFDS/ACO partnership delivered 253 occasions of service1 across 14 communities, saving over 500 travel hours for patients. This led to 147 script changes, 80 new glasses ordered and 23 specialist referrals.2
In a survey of service recipients:
100% said mobile eye care made it easier for them to access eye care services,3
100% said mobile eye care helped them access a service with less travel time,3
90% said mobile eye care helped them access a service at no cost or a more affordable cost.3
References
FY2023 Primary Health Care Dashboard.
FY2023 Eye Care optometrist data sheets.
2023 Primary Health client feedback survey – 10 responses for Mobile Eye Care.