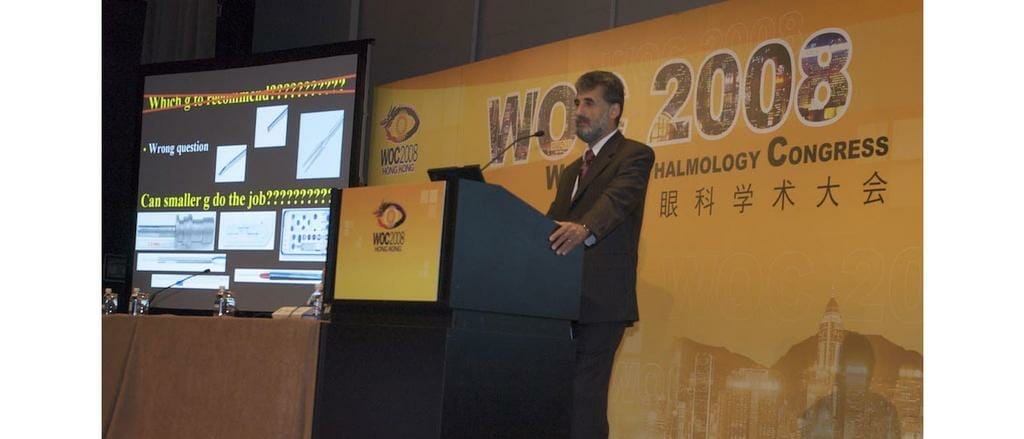 Vision Eye Institute ophthalmologists Dr. David Ng, Dr. Jeff Friedrich and Dr. Colin Chan attended the recent World Ophthalmology Congress (WOC) 2008 held in Hong Kong. They share their thoughts on some of the most interesting subjects discussed at the world's leading ophthalmology congress.
There were 1200 speakers, 2,000 exhibitors and over 10,000 delegates at the WOC. It was truly an international smorgasbord of information.
Cornea and Refractive – Dr. Colin Chan
Keratoconus dominated the Cornea and Refractive Symposia. The main focus concerned corneal collagen cross-linking with riboflavin and UVA, with five of 30 of the symposia devoted to this topic alone. International research groups from Germany, Italy, Egypt, Greece and Turkey presented their study results which confirmed that cross-linking, with a few exceptions, does appear to halt progressive keratoconus. Dr. Theo Seiler, one of the original inventors of the treatment, presented a case of endothelial infarction from cross-linking which emphasised the importance of the safety aspects of the treatment.
A more innovative use of the treatment was presented by Dr. John Kanellopoulos of Greece who is performing same day cross-linking and PRK in patients with mild keratoconus. To date, visual results are excellent, but long term stability is yet to be established. Controversy continued over whether removal of the epithelium is necessary for the treatment, with partial removal by various means such as Excimer laser, or partial scoring of the epithelium being researched.
The trade off seems to be in exposing the patient to more surgical interventions and complications following phaco-trabeculectomy
A related topic, the Ocular Response Analyser also had new data presented about its ability to predict and diagnose sub-clinical keratoconus. Although original studies concentrated more on the traditional parameters of corneal hysteresis (CH) and corneal resistance factor (CRF), more attention is now being paid to the waveform. The analogy given by Dr. William Dupps Jr. was of an 'EKG of the cornea'. Dr. Aylin Ertan of Turkey showed the changes seen in the waveform after cross-linking (Figure 1).
Other interesting talks included Dr. Ron Krueger from the Cleveland Clinic who presented early results of animal studies conducted on restoring the accommodative amplitude of the lens by Yag laser. Yag laser performed in certain sectors of the lens, based on complex crystalline fibre modelling, can allow the lens to increase its diameter under the action of the zonules during accommodation. Accomodating IOLs such as the Synchrony and a newer version of the Crystalens (Crystalens HD) are showing favourable results and may soon start to compete with multifocal IOLs.
Medical Retina – Dr. Jeff Friedrich
As expected, Medical Retina, and in particular, Age Related Macular Degeneration (AMD) took centre stage in the Retina Sub-Speciality Day and Retina Symposia with the following highlights.
Professor Paul Mitchell opened the Retina Sub-Speciality Day with a balanced overview of the pathogenesis and epidemiology of AMD. He identified three main drivers:
(i) an exponential relationship with age,
(ii) a high genetic predisposition with the discovery of Complement Factor H and other genes, and
(iii) known environmental factors. He identified new proven systemic risk factors such as nutrition and smoking. The Blue Mountains Eye Study and other studies supported the beneficial role of antioxidants such as zinc and lutein, but he explained that beta carotene may be potentially harmful. With respect to the glycaemic index (GI), a high GI diet is associated with an increased risk of AMD, and a low GI diet is associated with a lower risk. Prof. Mitchell quoted studies which indicated that smoking increases the risk for AMD and was associated with an increased odds ratio of up to 3.0 (and of up to 4.0 in Asian populations) for current smokers, and up to 1.7 for past smokers, and of about 9.0 for heavy smokers (defined as smoking more than five packets of cigarettes a week).
Dr. Kang Zhang spoke about genetic predisposition to AMD. He said the effects of Complement Factor H (CFH) and the HTRA1 risk allele were additive, such that if you were homozygous for both, there was a sixty fold increased chance of developing AMD and the disease was five fold more likely to be bilateral than unilateral. He emphasised the fact that smoking posed a further environmental risk factor.
Dr. Peter Kaiser confirmed the proven benefit of Ranibizumab (Lucentis) monotherapy for neovascular (wet) AMD and the continuing trend for Optical Coherence Tomography (OCT) guided treatments. He explained that currently there were two treatment regimes in common practice:
(i) Treat and Observe (i.e. treat until dry and withhold treatment until fluid recurs), and
(ii) Treat and Extend (i.e. treat until dry and then keep treating, but at extended intervals.
However the optimal dosing scheme has not been defined.
Dr. Kaiser also spoke about triple therapies with bevacizumab (Avastin), photodynamic therapy (PDT) with verteporfin and steroids (dexamethasone) giving similar results to ranibizumab (Lucentis) monotherapy, but with a reduced need for re-treatments. However, he explained that the results he presented were not statistically significant.
Several speakers confirmed the higher incidence of Polypoidal Choroidal Vasculopathy (PCV) in up to 20 per cent to 25 per cent of wet AMD cases in Asian populations, the preferred imaging with Indocyanine Green Angiography (ICGA) to confirm diagnosis and optimal treatment with PDT.
Dr. James Klancnik proposed that a third lesion type be added to the current Gass classification of choroidal neovascularisation (CNV) to include Retinal Angiomatous Proliferation (RAP) lesions. RAP lesions account for 15 per cent of new CNV lesions , are more easily diagnosed with ICGA and higher resolution spectral OCT, and require less injections, but have a poorer visual result as invading retinal vessels damage the retina. Some presenters recommended PDT as the initial treatment for RAP lesions.
The topics of diabetic retinopathy and other retinal vascular diseases were well covered with significant contributions being made by RANZCO fellows, including Prof Paul Mitchell, Professor Tien Wong and Professor Ian Constable who was specially acknowledged as the recipient of the Arthur Lim Award.
Updates on vitreoretinal surgery confirmed the benefits and increasing uptake of 23 and 25 gauge instrumentation. Some hope exists that stem cell transplantation may have a future role in some retinal treatments.
The list of retinal gems and pearls is too long to include but what was clear at the Congress was that anti-angiogenesis strategies will remain a dominant but not unchallenged player in medical retina.
Glaucoma – Dr. David Ng
Glaucoma as was to be expected was well covered at the Congress. A sub-specialty day kicked off on the Saturday. Topics ranged from Glaucoma Diagnosis and Medical Management, Lessons learned from the clinical trials and Glaucoma Surgery. Many of the sponsored symposia also featured glaucoma.
Medically, the existing IOP lowering medications were discussed, some in combination form. The search for neuroprotection continues. Interest was particularly focussed on the diagnosis of open angle glaucoma and the use of imaging modalities to aid early diagnosis and to monitor for progression of the disease.
The South East Asia Glaucoma Interest Group (SEAGIG) held a symposium on Angle closure glaucoma that was particularly interesting. Historically angle-closure glaucoma has been less well studied than open-angle closure glaucoma. It is more prevalent in Asian populations than Caucasian populations.
Professor C.Y. Tham from the Chinese University of Hong Kong and his co-workers are currently involved in a multi-centre clinical trial examining the surgical treatments for angle-closure glaucoma. He presented some of his data looking at patients who had both cataract and angle-closure glaucoma. One group underwent phaco-trabeculectomy with Mitomycin C and the other underwent phacoemulsification only.
Phacoemulsification and lens implant surgery results in a deeper anterior chamber and an opening up of the drainage angle when compared with combined phaco-trabeculectomy. No statistical difference was found in the amount of IOP lowering. No significant difference was found in visual acuity or progression of glaucomatous damage. However 0.8-1.2 less medications was required post phaco-trabeculectomy.
The trade off seems to be in exposing the patient to more surgical interventions and complications following phaco-trabeculectomy. He therefore, suggested that phacoemulsification surgery alone was a viable alternative to phaco-trabeculectomy, irrespective of whether the initial IOP was controlled or not.
In another session, Professor Dennis Lam also of the Chinese University of Hong Kong, echoed these thoughts and his emphasis was on the timing of such phacoemulsification surgery – whether it should be performed as first line treatment instead of laser peripheral iridotomy or some time later. He suggested that phacoemulsification surgery about four weeks after an acute attack of angle closure glaucoma was the preferred time frame.
Vision Eye Institute ophthalmologists:
Dr. David Ng is a specialist cataract surgeon. He is a general ophthalmologist with a special interest in diabetic eye disease and small incision cataract surgery. Dr. Ng consults at Vision Eye Institute Chatswood and Cremorne.
Dr. Jeff Friedrich specialises in medical retina (including Age Related Macular Degeneration) and glaucoma. Dr. Friedrich consults at Vision Eye Institute Chatswood and Cremorne.
Dr. Colin Chan is a refractive, cataract, and corneal surgery specialist. His areas of expertise are laser eye surgery, dry eye and new treatments for keratoconus including corneal collagen cross linking with riboflavin, Intacs and Kerarings. Dr Chan consults at Vision Eye Institute Bondi Junction and Chatswood.