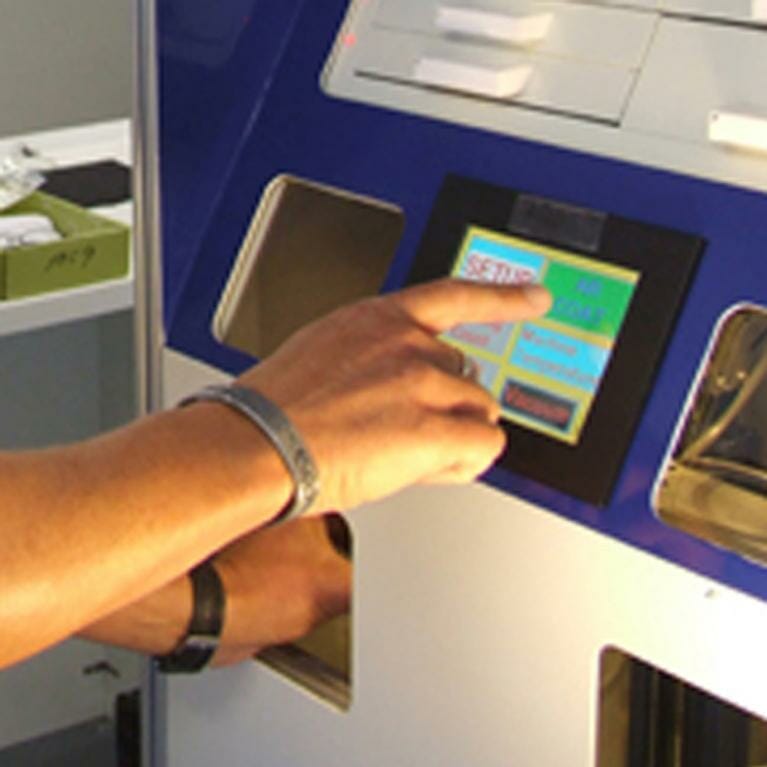 An Investment in INDEPENDENT OPTOMETRY
In the second half of our two-part series, focussing on the viability and sustainability of independent optical laboratories, we speak with CR Surfacing, Shaan Labworks and Precision Optics.
Local independent labs, faced with the task of providing products and services that are on par, or better, than that of their large competitors, have stepped up to the mark.
Offering premium products and services, local independent labs are distinguishing themselves by offering value in areas the multinationals will increasingly find difficult to compete with.
[/vc_column_text][/vc_column]
"Offering premium products and services, local independent labs are distinguishing themselves by offering value in areas the multinationals will increasingly find difficult to compete with."
Since 1976, CR Surfacing Laboratories, the family-owned and operated company, has launched itself into the forefront of lens processing.
Director, Adam Fletcher, believes one of CR Surfacing Laboratories' key points of difference, is its ongoing investments in the latest German technical processing equipment. Boasting the latest online ordering service – CR-Connect, enables them to compete on the same playing field as the multinational labs.
Injecting significant funds into Freeform lenses, and its Melbourne lab's surfacing technology, has dramatically decreased the company's operating costs.
"Due to our continual equipment upgrades, we are the only independent lab in the world to be accredited to produce Teflon Easycare coating, and the only lab in the southern hemisphere to produce toric surfaces, utilising Trueform technology," Adam claims. "This is cutting-edge technology and, while we don't want to be the biggest in our field, we certainly strive to be the best."
It's About Time
Adam credits part of the company's ongoing success to client loyalty and rapid turnaround service time. "This is a critical factor for any independent lab. The independent optometry practices are now in competition with companies such as Specsavers," he explains.
"We can ensure our services are as fast as possible due to our local manufacturing labs, whereas most multinational labs tend to use overseas labs, resulting in longer in delivery times.This means they simply cannot compete with our faster turnaround service times."
Adam claims Freeform lenses take "approximately three to five working days to produce locally, as opposed to a time frame of up to two weeks from an overseas lab".
"As an independent lab, it's absolutely crucial to offer a complete service to keep ahead of industry standards and developments," Adam says.
A full-service independent lab, Shaan Labworks, specialises in frame and lens packages for their retail clients, producing premium products using qualified staff. They strive to assist optometrists establish their own independent business with infrastructure consultancy, product and management support.
According to Neil McColl, director of Shaan Labworks, the company has been experiencing an upward trend. "Our growth rate is still in excess of 30 per cent per annum. December was a record month for us and January and February shaped up similarly.
"In fact, we have had several multi-store practices enquiring about using our services. Unfortunately, we've run out of space at this time and cannot physically increase our machinery or staff, without adversely affecting our current clients' delivery times – and that's unacceptable," he says.
One Stop Shop
Neil believes having a premium grasp of the retail sector, is paramount in understanding what is required from a wholesale viewpoint. "Our staff supply pertinent advice and product knowledge to clients; we are versatile in our business dealings, exercise rigorous product control, and customer support in a one stop shop."
"Rather than being just one facet of a package, our reps are taught to multi-task, specialising in frames and lenses, and plan strategies to assist each customer. Due to our vast optical experience, we feel we are not merely a supplier of frames and lenses, but rather, a wholesale support company."
WORKING WITH BOTH: Working with both Independent and Multinational Labs
Optical Warehouse

Peter Wheeler, owner of nine Optical Warehouse retail outlets throughout Queensland, has been a frequent client of both independent and multinationals over the past five years.

"We've found a balance in employing local independent optical labs as well as the majors for our business, as in my opinion, both provide their own specialties depending on our requirements," says Peter.

"Shaan Labworks are one of our independent suppliers, providing superior fitting, very good edging, excellent service and a good selection of frames. We're able to simply send through the order by email or fax and receive prompt, efficient and personalised service."

Peter cites the most lucrative advantage of dealing with a smaller lab, is the ability to speak directly to the owner.

"Being able to pick up the phone and directly converse with the business owner, or the same person in regards to reporting a problem or to compliment a job well done, is virtually unheard of with some of the larger companies.

"Service is generally simpler, more efficient, you don't need to deal with company routine or going through a number of different departments to solve a crisis, and you can often work out a private system according to your specific needs."

However, according to Peter, the jury's still out on frames. "No one particular lab does every aspect of a job faster than another lab, that's for sure. While one independent may have numerous advantages in particular areas, pertaining to why we use them, they may not be as efficient in other respects, such as providing the same quality, or range of services or products as another," says Peter.

"While they cover most aspects of the job pretty well, they may outsource any areas they may not specialise in."
Eco-Friendly
Shaan's generator is dry cut, ensuring waste can be disposed of in industrial rubbish. With lens blocking, free bond or wax is safe to use and is recyclable. In addition, the fitting department's edgers run off a pump and tank system. Solid waste is removed using fine filters, and tints, UV and neutralisers are of the green variety, preventing any harm to waterways.
Future Frontiers
Neil says that Shaan expects to expand their offices to accommodate new technology, machinery and staff: "We've recently added a new multicoat machine, which produces a superior product regarding peeling due to heat effects." According to Neil, grind uncuts for single vision, bifocals and progressive lenses take from 24 to 48 hours, provided the semi-finished blanks are in stock. "We add a further 24 hours for edging or hard multi-coating, whereas some companies may take up to five working days. At this stage, we outsource Freeform lenses and timing is approximately five to eight days," explains Neil.
In terms of specialising in frames and lenses, Shaan offers a range of prescription lenses including single vision stock and grind, bifocal and progressive, and carry a range of Transitions stock in hard coat and Crizal A2.
They also receive numerous requests for abnormal products in high powers.
"We are unique in having one lens price. Our million dollar customers generally pay the same as our AUD$12,000 customers. The volume discounts are picked up in the frame pricing. Different? Yes. Effective for us? Absolutely."
Marian O'Neill, co-owner and director of Precision Optics, says her husband and practising optometrist, Ted O'Neill's dissatisfaction with the process of lens production was the reason for the company's formation 25 years ago. Ted's vision was to bridge the gap in the then, relatively expensive, non-competitive and lengthy turnaround in lens production.
"Precision Optics' longevity is a triumph for us. Beginning as a small, independent business, we initially took on the Vision Care program for the Department of Community Services, supplying eyewear for lower income earning families. This has morphed into fitting, grinding and producing lenses to our lab's optimal daily capacity," says Marian. "Our goal is to provide a high quality, first class, grinding, surfacing and fitting service, and to stay on the ball with the latest technological developments."
Utilising Satisloh, Gerber Coburn, Nordic and Weco technology, the company has recently complimented its complete Rx laboratory with the purchase of additional automated generator, polishing and edging equipment. The company manufactures and supplies most Freeform single vision and progressive lenses for leading brands, including Kodak, Hoya, Essilor and Sola.
Marian claims they can offer a multicoating and fitting service of between five to seven days, while generic lens production has a 24 hour turnaround time.
Company Philosophy
Precision Optics retains its niche position in the independent market, through its one-on-one, personalised client service coupled with competitive rates.
According to Marian, the notion of personalised service may not initially appear unique or advantageous to some retail businesses. Others are adamant it can be the deal breaker when choosing between a smaller independent or multinational lab.
"My retail clients, who have broken ties with the larger players and moved to our team, tell me it's one of the most important factors in their day to day business. Consistently dealing with various staff doesn't build rapport, but rather, can waste time, energy, resources, and most importantly, you're your unsatisfied clients," Marian says.
"Our future focus revolves around gradual expansion, in terms of using the latest technological equipment, and employing internationally trained technicians. Our lab manager, Pietro Gerache, for instance, has practiced in both Italy and South Africa," says Marian."We will also continue to provide our ongoing, on the job training courses for staff, in optical mechanics and optical dispensing."
At the time of going to press, Precision Optics announced, as part of its continued expansion, 30 per cent of its business is now corporate owned. Marian says "the day-to-day running will still be the same, as will be the every day decision making, which will still be handled by both Ted and myself."
Company: CR Surfacing Laborities
Principal/Director: Adam Fletcher
Lab manager: Dunstan Shepherd
Based: Melbourne, VIC; Christchurch, New Zealand
Founded: 1976 • Number of staff: 35
Equipment: Optotech, Satisloh
Daily lens turnover: On application
Clients: On application
Phone: AUS (03) 9878 7599
Email: adam@crsurfacing.com.au
Company: Shaan Labworks
Principal/Director: Neil McColl
Lab manager: Noel Harris
Based: Brisbane, QLD
Founded: 1983
Number of staff: 14
Equipment: Essilor
Daily lens turnover: On application
Clients: On application • Phone: AUS (07) 3205 3324
Email: service@shaan.com.au
Company: Precision Optics
Principal/Director: Marian and Ted O'Neill
Lab manager: Pietro Gierache
Based: Taree, NSW
Founded: 1984
Number of staff: 14
Equipment: Satisloh; Gerber Coburn; Nordic; Weco
Daily lens turnover: On application
Clients: On application
Phone: AUS (02) 6552 5468
Email: ted@precisionoptics.com.au