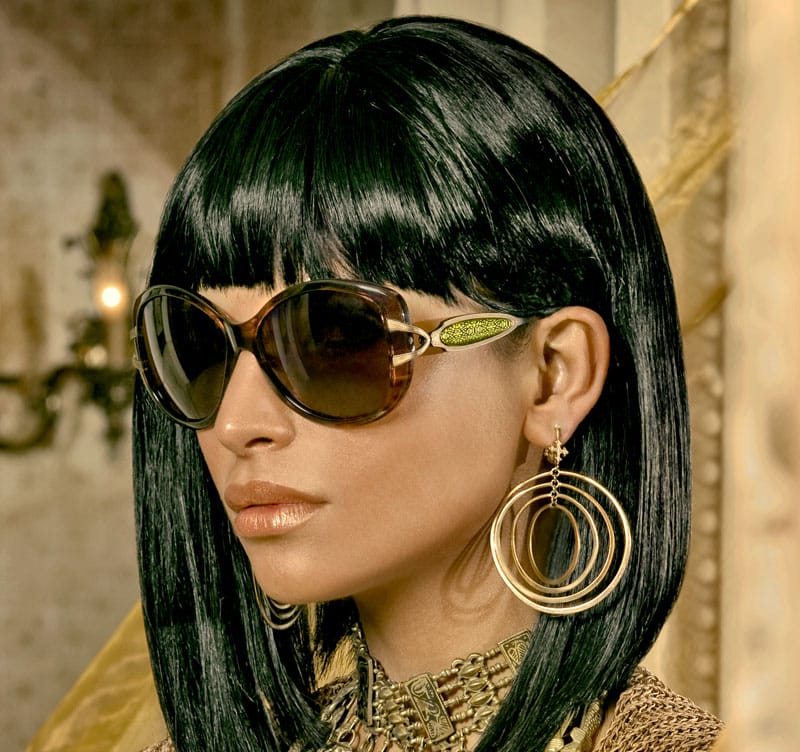 In this issue, we explore just what makes the cut as "the new black" this season as we preview the latest looks and trends in eyewear on display at Odmafair in July.
It seems like 'big' continues to be 'best' in sunglasses – from the sexy mystery they inspire through to the added sun protection of deeper lenses. This look has longevity, even in the fickle world of fashion accessories. Vintage continues to enjoy the 'must have' look! As for referencing other periods for inspiration, this season the web of inf luence has expanded from the narrow 1950s and 1960s geek chic styles of previous seasons'. The latest styles now encompass aspects from the 1930s through to 1970s.
While we have recently explored the relatively new concept of subtle motifs and disappearance of large logos and bling, this season sees some brands wave a rebellious finger to the economic woes of the world. Instead, eyewear is being celebrated as a jewellery item, with the use of precious jewels and metals along with elaborate temple decorations – audacious and hot! Colour is also bright and fresh. Comfort and technology continue to be heavily integrated into frames ensuring the wearers' pleasure is gained from both form and function.
William Morris London (ProOptics)
William Morris London was established in the UK in 1997 by Robert William Morris. It has grown into one of Britain's most successful independent frame company's with Robert William Morris very much at the helm and inspiration behind the brand. William Morris London is very much an 'English' brand which strongly contributes its appeal. The unisex William Morris London range is being launched in Australia at Odmafair by ProOPtics. ProOPtics Managing Director Jacque Katsieris, said this range caught her eye in Milan when looking for something new and a good saleable shape that will suit the Australian wearer.
The range includes the latest titanium technology combined with great styling and vibrant colours. The collection is original incorporating superb designs with individual shapes.
ProOptics is also launching three new ranges designed in Italy at Odmafair. These are Amici, Scotta and Beta. (Distributor: ProOptics – view the William Morris London range at Stand G08 at Odmafair)
Dirty Dog Rx (VMD)
Dirty Dog RX is a fusion of fashion and technology with a focus on fresh contemporary designs. The collection has been developed to accommodate prescription lenses if required. Dirty Dogs has an innovative approach to eyewear and a philosophy of remaining true to quality and aesthetic, while providing a product that is both functional and stylish. As an independently owned and operated company, Dirty Dog is able to provide the quality and reputation to reach the international market, yet at an affordable price.
[/vc_column_text][/vc_column]
Dirty Dog RX models are equipped with lenses made of CR39 world renowned as the best optical quality plastic material available. Dirty Dog RX use high quality metal frames guaranteed by their sophisticated electroplating and powder coating technologies in combination and epoxy coatings. This provides high grade resistance to oxidation and corrosion, resulting in frames that will outlast many others. Dirty Dog RX plastic frames are crafted from lightweight acetate, regarded by Dirty Dog as the best RX frame material available.
While Dirty Dog RX frames are known for a superior fit due to our design process, they are also fully adjustable as the acetate can be easily adjusted by an optician dispenser.
(Distributor: VMD – view the Dirty Dog range at Stand 229 at Odmafair)
Sama
Sexy Luxe. One of the most exciting brands I have come across in some time. The latest collection from this brand will definitely get the fashion-savvy clients' hearts racing! Sama is manufactured, assembled and finished by hand in Japan and is created by Sheila Vance. The collection is an amazing array of jewel or art-like frames.
Sama's 'Pyramid of Diamonds' frame represents the pinnacle of luxury fashion eyewear. The entire frame, including the sculpted nose pads and miniature screws, have been crafted using 18 carat yellow or white gold (rose gold is available upon request). Then symmetrical channels are cut into the temples, tiara bridge and end pieces into which white diamonds (or coloured if preferred) are set by a jewellery – the result being, a pyramid of diamonds.
(Distributor: Opticare – view the Sama collection at Stands 234 and 237 at Odmafair)
Givenchy
The latest luxury addition to the OPs stable is Givenchy – a brand made famous by Audrey Hepburn. The latest collection succeeds in breathing new life into the iconic French fashion house. The eyewear collection features some of the most characteristic details of the latest Givenchy accessory collection, for a stylish, haute-couture look. The buckles found on this season's most striking bags delicately decorate the temples of the milled metal model with acetate or crocodile leather temples, producing an original, elegant style. Another interesting element taken from Givenchy's leather bags is the shoulder-belt chain, here connected to the front piece by a leather or enamel trim and by the iconic 4G logo which is accompanied by a new Givenchy Crest – newly introduced in the 2009 sunglasses collection.
(Distributor: OP's Optical Products – view the Givenchy collection at Stand 305 at Odmafair)
Rodenstock
Rodenstock's latest collection is the result of significant design and research. Their use of specialty materials and finishing decals means that many more people will get to enjoy the luxury of wooden temples without the usual high price tag. Rodenstock's new range is a marriage of materials and technology and this is best demonstrated with their new men's collection that combines the Rodaf lex self-adjusting temple in combination with either titanium or natural wooden elements. It's a strong styling statement.
This collection also uses more colour including layering of contrasting colours and metal inlays of temples. The frame styles themselves, are offered in combinations of rimless, full-frame and nylon combinations with greater demand for the later two. The focus is definitely on temples, with bold colours and greater detailing. I love the new unisex bold R 5224c – the deep set tort frame front with gunmetal temples is finished nicely with tort temple tips – so modern and so European looking. This frame would be at home on many an architect or structural engineer – simple and sophisticated.
(Distributor: Rodenstock Australia – view the Rodenstock collection at Stand 206A at Odmafair)
Bollé
Bollé ticks all the boxes with their latest optical release. Their new acetate frames, Bastia and Dreux are about as far away from the traditional beach style as you can get. Instead, ref lecting the latest in European styling and sophistication. With the retro/geek chic look still a big trend within the optical market internationally, Bollé has rewritten the rules and successfully refined this look by steering away from the ostentatious and overly large/thick frames. By refining the thicker full rim acetate frame to a slightly less heavy look, Bastia and Dreux make a stylish statement while still being lightweight and ultra comfortable.
The incorporation of the new metallic Bollé logo plaque enhances the premium look and feel of the collection. Featuring new frame colours, these styles deliver the ultimate in comfort and performance for the discerning customer, who may or may not be a traditional Bollé wearer.
(Distributor: Bolle – view the Bolle collection at Stand 200 at Odmafair)
Cogan
Another French designer who is more inf luenced by architecture than fashion trends is Cogan from Mimo's portfolio. Yves Cogan has been designing eyewear since 1994. Based in the heart of the French Jura region, close to the international hub of Geneva, Yves Cogan and his team of designers get their inspiration from architecture, furniture and automobile designs. It is the f lamboyance of the Cogan collection's temple design that makes each piece of Cogan eyewear a fashion necessity.
Cogan has reduced the width of the temple in order to make a very easy-to- wear style with openwork end pieces that give excellent lateral vision. The hinges are concealed from the front and the angle of the trim gives a much lighter look to the face. It is easy to see that frames YC 2135 and YC 2136 were inspired by the Geneva Motor Show, with beautiful sports car-like ventilation along the temples.
(Distributor: Mimo – View the Cogan collection at Stand 136 at Odmafair)
Guess
For sexy Italian jean brand,Guess by Marciano, less is never more – this brand is truly a global phenomenon which has continued to represent sexy street style for over 25 years. Guess has become famous for its 1950s style bombshell campaigns and using muses in their advertising images.
The latest eyewear collection again shows why this brand continues to be relevant, driven and passionate. Models Vixen (angular oversized) and Daredevil (shield) offer chic and modern silhouettes with the focus on the 'Quattro G Logo' emblems emblazoned on the temples, complementing the latest Guess apparel and accessories collection.
(Distributor: General Optical – view the Guess collection at Stand 212 at Odmafair)
Beausoleil
How wonderful to actually learn directly from the designers what their inspiration was for their latest collection! We have been able to do just this with French brand Beausoleil, who claim that it was the combination of: "the quality of materials, the choice of volumes and the diversity of colours are the fundamentals in my collections, in order to give the frames the Beausoleil signature. Our optical frames and sunglasses are available in many volumes, varying from light forms and flashy tones to curved forms and warm tones".
Beausoleil have included eleven acetates in their new range. The company says: "You will find soft pearly tones layered on matt opaques. We have also included Golden horn, which gives our vintage collection a fresher and more modern feel. The biggest trend in acetate is for curved forms, transparency and diversity of colours!"
My favourite acetates include the vintage tort round with thin temples 012-850, the smokey dip-dye Windsor in 0246-005 and the drop sided temple with oversized lenses (and sparkle) of S240-300ST.
For metals, Beausoleil have replaced traditional three-piece rimless styles by replaced by frames in stainless steel and acetate combinations. My favourite metals in the collection include M620-BRU with half-nylon metal frame front, turquoise temples with metal "lacework" look overlay for women and the M623-ABR, a striking metal frame with horn inserts in temples and a half nylon gunmetal frame.
(Distributor: Tam Tam Distributors – view the Beausoleil collection at Stand 218A at Odmafair)
Aviva Optical Supplies
Aviva's portfolio of international brands includes Centrostyle, Live Eyewear, Ziko, Liliana Molano and Edge-it. The range covers a broad spectrum of products such as eyewear accessories, spare parts, workshop tools and equipment, over Rx sun wear, magnifiers, lens cleaning products and sports eyewear.
Special guests at the Aviva Optical stand during Odmafair will be Ester Brena and Giacomo Colombo from Centrostyle Italy, Karen Zappia from Live Eyewear USA and Veronique Tjon from Edge-it, Hong Kong.
(Distributor: Aviva Optical Supplies – view Aviva Optical's range at Stand 317 at Odmafair)
European Eyewear
European Eyewear is an Australian family-owned company. It is Australia's primary supplier of magnification and a major supplier of quality eyewear.
Both magnification and eyewear are from the German firm, Eschenbach Optik, Germany's number one supplier of eyewear and the world's number one supplier of magnification.
For 37 years, European Eyewear have been Eschenbach's Australian agents. Recent years have seen an enormous expansion of the Eschenbach eyewear brands in the Australian market. Last year marked 20 years since European Eyewear introduced Eschenbach's Titanf lex eyewear to Australia's optometric professions. This Odmafair marks European Eyewear's 17th consecutive time exhibiting at Odmafair.
(Distributor: European Eyewear – view the Eschenbach range at Stand 316 at Odmafair)
Eurostyle Eyewear
Eurostyle Eyewear is privileged to have exclusive distribution agreements with Grosfilley France. Established in 1950, Grosfilley is one of the famous French eyewear companies with a portfolio of international prestige brands designed to cover all lifestyles. The Ferdinand Menrad Group, was founded in 1896 by Ferdinand Menrad and is a leading company in the area of design, production and distribution of high quality spectacle frames and sunglasses. Other brands include Azzaro, Thierry Mugler, IKKS, Charriol, Francesco Smalto, Davidoff, Jaguar, Menrad, 2chique and Joop!.
(Distributor: Eurostyle Eyewear – visit them at Stand 228 at Odmafair)
Matrix Eyewear & Tiger Vision
The Matrix Eyewear-Tiger Vision Group is a highly successful eyewear distributor and innovative design house that has been trading since 2000. Our designs are combined with a strong imagination and passion for eyewear.
As well as our successful Australian brands (Wayne Cooper and Leona Edmiston), we have international brands that are produced in Europe and distributed throughout Australia and New Zealand. The Matrix Eyewear-Tiger Vision Group also distribute in the U.S.A., U.K. and Singapore.
(Distributor: Matrix Eyewear-Tiger Vision Group – view the collect
Maui Jim
Open your eyes to a whole new world of colour with Maui Jim Sunglasses featuring PolarisedPlus2 lens technology, with colour enhancement. Maui Jim's patented multi-layered lens design allows more usable light to be transmitted to the eyes. It wipes out glare completely and injects the view with unrivaled visual acuity, colour, clarity and contrast. The latest technological breakthrough from Maui Jim, the new Maui Passport, provides prescription sunglass wearers with clarity, acuity, colour enhancement and glare protection across the entire field of view.
(Distributor: Maui Jim – view the Maui Jim collection at Stand 232A at Odmafair)