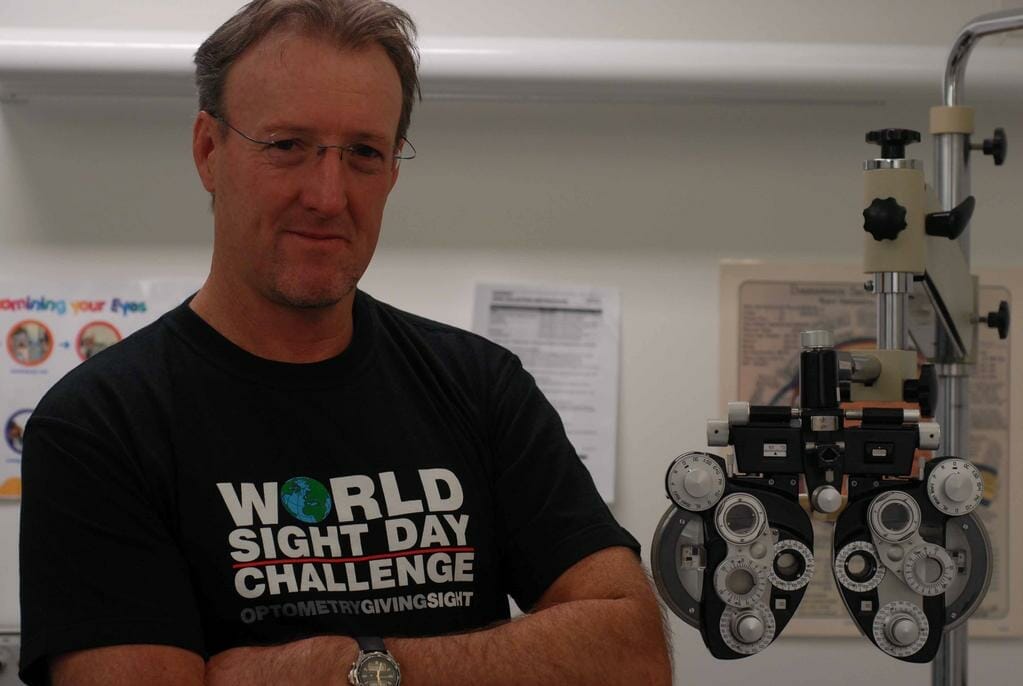 Over the last five years, optometrists and staff, optical corporations, the Optometrists Association Australia (OAA) & State divisions have committed to ending refractive error blindness by making Optometry Giving Sight their charity of choice.[/vc_column_text][/vc_column]
What are some of the significant global achievements in the last five years? Nearly everyone would have a different answer for such a subjective question.
Perhaps the election of the first African- American President of the U.S.; some would argue that the commercialisation of the iPhone should make the list – but what about the provision of life transforming eye exams and glasses to people who can now see to learn, work and care for their families? If you have donated to Optometry Giving Sight, the last one is something that you can personally take some credit for.
Donations from thousands of optometrists, optical corporations, staff and students have already been used to screen more than 450,000 people in developing communities around the world including Indigenous Australia, East Timor, Latin America and Southern Africa. They are also used to train eye care professionals including optometrists, vision and spectacle technicians, and to educate school teachers to recognise uncorrected refractive error in children in Zambia. Funds have been allocated to the creation of new schools of optometry in countries such as Malawi. Furthermore, three vision centres have been set up in Sri Lanka alone, in which newly qualified eye care professionals can be employed and provide eye exams and glasses to the local community.
Donations from thousands of optometrists, optical corporations, staff and students have already been used to screen more than 450,000 people in developing communities
Imagine how many people each eye care professional will see each day, month and year. So in fact, Optometry Giving Sight supporters will be directly responsible for changing the lives of perhaps millions of people over time.
Optometry Giving Sight in Australia celebrated its fifth anniversary at the SRC: "We want to thank each and every person who has given to Optometry Giving Sight," said Bob Lees, Chair of Optometry Giving Sight Australia.
"We have achieved a huge amount but there is still much to do. The Global Vision Impairment Due to Uncorrected Presbyopia study has added presbyopes to the estimation of how many people suffer uncorrected refractive errors, raising the figure to 670 million. The results really reinforce the need for our profession to provide training and infrastructure support as a way of seeking to eliminate this backlog by the year 2020. Together we can make a huge difference."
Life Transforming Experience
Geoff Hurren, Queensland Territory Manager for Ciba Vision Australia, recently volunteered in Mozambique as an optical dispenser and photographer for Lúrio University's 'Campaign for Quality Vision'. The visit was sponsored by Ciba Vision to give one of their staff the opportunity to see how the company's global sponsorship of Optometry Giving Sight was helping to transform the lives of people in need.
In just two weeks more than 1,200 school children and 1,250 adults were refracted and in excess of 1,000 readymade spectacles dispensed.
Geoff described the experience as life transforming, and was amazed to see how an eye exam and glasses could completely change a person's life. He describes the impact on one of his patients below:
"With -11.00DS in her right eye and -16.50DS in her left eye, 15 year old Celia da Silva couldn't see well enough to do much at all; even playing games with her seven brothers and sisters at their home in Mozambique was difficult. She sat close to her school teacher but it was still nearly impossible for her to see to do her schoolwork. Celia's new glasses will help transform her life and will allow her to follow her dream to become a teacher."
The 'Campaign for Quality Vision' was implemented by Lúrio University, the International Centre for Eyecare Education (ICEE), Brazilian Optometric Association and Irish Aid. Optometry Giving Sight looks forward to working with these partners to fund the development of a Regional School of Optometry in Mozambique in 2009.
Back in 2003, three of the leading blindness prevention agencies around the world collaborated with the express purpose of forming a global fundraising organisation that would fund programs focused on correcting refractive error in communities that had little or no access to vision care. The World Optometry Foundation, ICEE and the International Agency for the Prevention of Blindness launched Optometry Giving Sight.
Today Optometry Giving Sight raises funds in the U.S., Canada and the U.K., as well as here in Australia. The Norwegian Optometry Association has also just launched Optometry Giving Sight in Norway.
Lending Their Support
One way many optometrists are choosing to support Optometry Giving Sight is through the World Sight Day Challenge (WSDC). The Challenge will be launched at Odmafair this year and singer/songwriter and optometrist, Sophie Koh, will be adding her support to the campaign.
"I am delighted to be supporting the World Sight Day Challenge. I volunteered in East Timor a few years ago and so have seen firsthand the difference an eye exam and pair of glasses can make to people who have never seen clearly before," commented Sophie.
"I also appreciate the need for vision care here in Australia having practiced in Darwin where I worked with Indigenous communities. By working together we can eliminate uncorrected refractive error in developing communities and I believe that Optometry Giving Sight is the vehicle through which we can do it."
Cricket legend and optometrist, Geoff Henry Lawson, became the first Optometry Giving Sight WSDC Ambassador in 2008.
"Australian optometrists joining forces and participating in the World Sight Day Challenge is indicative of the Australian mentality," commented Geoff. "Rising to the Challenge and helping others is something Aussies do so well and I am proud to be associated with the Challenge for a second year. I look forward to meeting more WSDC participants this year."
Thanks to the support of corporate sponsors, including Ciba Vision, the Institute for Eye Research, AMO, mivision and others, Optometry Giving Sight guarantees that 85 per cent of funds from optometrists, their staff and patients go directly to programs.
World Sight Day is an initiative of Vision 2020: The Right to Sight and their global theme is 'gender and blindness'. Optometry Giving Sight works in support of Vision 2020's goals. Come meet Sophie Koh and Geoff Lawson at the WSDC launch at our stand at Odmafair.
World Sight Day Challenge
Optometry Giving Sight invites optometrists to take part in the World Sight Day Challenge (WSDC) by donating their eye exam fees on World Sight Day, 8 October (or any other day in October), or by making a personal or practice donation.
Practices can also celebrate the WSDC with staff and patients. Many patients are happy to make a donation into the collection tin when they know the practice is also giving.
Optometry Giving Sight can supply a free kit with posters, counter cards, leaflets and a donation tin to display in practice. The WSDC is a great way to promote the practice's charitable giving and Optometry Giving Sight provides a template press release and can assist with placement in local newspapers.
Find out more about how you can lend your support Optometry Giving Sight by calling 1300 881 073, visiting: www.givingsight.org or emailing: australia@givingsight.org