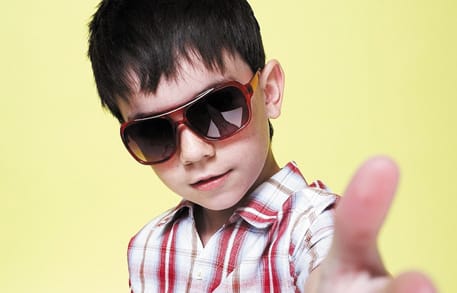 When I was growing up, it was a terrible thing for 
a kid to be told they needed glasses. Kids at school would be called 'four eyes' and bullied with their frames baring the brunt of lunch time scuffles. What's more, parents would despair 
that their children would hide or 'lose' their frames rather than wear them. Nowadays, it is quite 
a different scene in the playground.
Today, film and television characters like Harry Potter and Ugly Betty have made wearing eyewear trendy for children. There are serious implications if vision impaired children go undiagnosed or refuse to wear their prescription frames, so it is helpful that eyewear is now viewed more as a stylish accessory or an extension, of a child's personality.
Optometrists need to work with parents to encourage regular eye examinations for their children in order to address any possible eye problems.
Shirley Loh, Optometrist and National Professional Services Manager, Optometrists Association Australia (OAA), says regular eye examinations should be part of every family's back to school regime.
These kids know what they want and parents are willing to pay for them, in the bid to ensure they are both worn & cared for.
"Every child should be given every opportunity possible before they enter school and if they happen to have vision problems, well, that's a barrier for them 
to progress.
"It is a problem that is so easily found, so easily prevented and so easily treated and makes a great difference to their general well being as well as their academic performance. It helps with their self confidence in the way they deal with other children and how they interact with others."
Loh says many optometrists have seen children come out of their shells as soon as they've had their vision problems corrected and is concerned that "parents don't have their children's eyes checked because they are not aware of any problems and kids don't know they have problems. It's not as obvious as a sore tooth. As a child, you don't know what normal vision is and what isn't normal."
She says every individual optometrist needs to do their part by asking parents: "Have you had your children's eyes checked?"
"They should give parents all the information about kids' eye health and hopefully they will have brochures to pass on to parents which explain it all."
In March each year, the OAA runs a campaign to encourage parents to get their kids eyes checked. It is important the whole eye care community gets behind this initiative to encourage parents to get their children's eyes tested when they start back at school next year.
Sun Exposure
Aside from kids needing to wear eye glasses for vision correction, they also need their eyes protected outdoors.
Unprotected sun exposure to young eyes can lead to corneal sunburn (photokeratitis), which can be very painful and lead to temporary vision loss and, if the eyes are unprotected over many years, it will lead to cataracts later in life.
A way to tackle these issues is by creating eyewear that appeals to children. For instance, toddlers are easily convinced to wear licensed characters such as Spongebob Squarepants or Dora The Explorer frames. However by the sophisticated age of six, they may insist on modified versions of what older kids, family members and celebrities are wearing. They may be selecting Vintage and Retro frames, slim-line Geek Chic styles in classic shades of tort or black over the saccharine sweet traditional kiddy frames in candy pink or blue. The older girls will want frames that complement their wardrobes while the boys will tend to opt for Clark Kent square or sleek and sporty. These kids know what they want and parents are willing to pay for them, in the bid to ensure they are both worn and cared for.
Latest Kids Optical Fashion

Centrostyle
The Centrostyle sunglass collection is a large range designed for children aged two to 12 years. Some models in flexible material, and all are supplied with polycarbonate lenses.
Active Frame with Curl Temple is a unisex frame which is suitable for under 12 months to ten years. Made with flexible Grilamid TR90 material on the outside for durability, it features soft rubber on the inside for comfort.
Available in blue, pink or purple in a 40 and 42 eye, and an adjustable temple length in sizes 36 to 43, frames are supplied with a spring cord to keep the frames in place.
Distributor: Aviva Optical (AUS) 1300 850 882
Youpi
Designed in Holland, all Youpi metal frames are made of stainless steel and plated with nickel free coatings making them hypoallergenic and extremely durable. Plastic temples are made from grylamid, a highly flexible and light weight material, making it ideal for children's frames. For girls six and over, models YO04, YO13 & YO14 are fresh, feminine and anything but 'cutesy'. They feature spots, florals and geometric splashes of colour with lovely modified rectangular flat frame fronts.
Distributor: Matrix Eyewear (AUS) 02 9557 3122
RM Williams
Recently launched, the RM Williams 'Colts & Fillies' collection featuring six styles; each in three colours. Three styles are unisex in shape, but each style offers colours suited to either male or female. CF304, CF305 and CF306 are designed specifically for girls who are looking for a frame that is exciting, young, feminine and trendy. Each frame features small horseshoe charms attached to each temple which can be removed and used as a bracelet charm. Durability is essential in kids frames, so the addition of heavy duty spring hinges, double welding on the bridge and Italian epoxy clear-cote over the colour all ensures a sturdier, harder wearing product.
Distributor: Sceats Eyewear (AUS) 02 9519 0022
Tartine et Chocolat
The French children's designer offers a high-end collection of fashion frames for three to 13 year old trendsetters. Created in 1977, the French lifestyle label has been focused on dressing children in comfortable, chic and unpretentious clothing. The optical and sunglass 
ranges have arrived in Australia 
through Modstyle.
The range is contemporary and very European in design, different from the many candy bright frames available. Favourite optical: for unique colour combos for boys – look at blue and red pinstripe model 2910.
Distributor: Modstyle (AUS) 03 9387 9411
ic! berlin
ic! berlin's first children's eyewear range is designed 'by kids, for kids' with each of the seven prescription models inspired by a real child aged between seven and 12. Each child selected the shapes and colours, and then tested and rated their very own specially designed glasses.
These frames are ultra-light at ten to 16 grams, flexible, high quality and virtually indestructible. They also offer flexible temples which can be individually adjusted by dispensers. Materials are a combination of spring steel and/or acetate, while the designs include slogans engraved onto the temple: "kids rule", "holidays forever" and they even offer a limited edition book as a gift with purchase!
Distributor: Eyemakers (AUS) 02 9960 7766
Bollé
Designed for the two to seven year old, Bollé Kids collection sunglasses are manufactured using only the finest grade nylon available, ensuring strong, yet lightweight and flexible frames. Made from B – 20.3 polycarbonate lenses that are ultra light weight and virtually shatterproof, this premium lens is 20 times more impact resistant than glass.
Tough and resistant to extreme temperatures, there is also the addition of Thermogrip – made of hydrophilic Megol rubber, it offers amazing moisture absorbing properties that ensure a 'stay-on-your-face' fit for the most rugged outdoor play. The lenses also feature specially developed carboglas coating which offers superior strength and optical precision with high quality scratch and impact resistance.
Distributor: Bollé (AUS) 03 8558 1000
Eschenbach
Identifying kids that want to wear 
grown-up style frames, Eschenbach 
unite 'grown-up' design with the 
colourful world of kids. oio models 830008 and 830009 are full frame 
glasses with two-layer acetate temples 
in all the colours that girls adore – from light turquoise and pink right through 
to bright red and berry tones.
The oio collection features a material 
mix which combines TITANflex with acetate and all models have milled lugs and openwork temples. For boys, oio offers full frame models with broad acetate temples and attractive colour contrasting on the lugs and temples. 
oio frames are available in two lens 
shapes which have been anatomically optimised especially for kids.
Distributor: European Eyewear (AUS) 02 9877 7956
adidas
adidas combines their cutting edge technology with minimalist 'grown-up inspired' designs in their latest kids eyewear collections. 2D Inspired and Powerflex NG (Next Generation) are the perfect solution for vision correction in active kids. Made from Performance Steel, these models combine strength and flexibility, lightness and comfort whilst being 100 per cent hypoallergenic.
2D Inspired feature specially engineered temple ends incorporating Traction Grip – a patented rubber that will provide grip during the most rigorous of activities. There is also a ventilation system, inspired by adidas' ClimaCool ventilation technology, which allows for more airflow in sweat prone areas.
Powerflex NG is adidas' latest release with contemporary unisex shapes in shiny colours that will appeal to active kids and teenagers alike.
Distributor: Mimo (AUS) 02 9970 1800
J.F. Rey
Designer Jean-François Rey offers a colourful new line for kids that acknowledge children as sophisticated style arbiters (and potentially lifelong clients) and are specially created as 'mini me' versions of his best sellers.
For girls, the gorgeous 'Daska' or 'Dancing' frame has an incredibly ornate and flirty silhouette with the looks of stylised plants and modern blossoms suspended to lenses, placed like a refined decoration. The new line aims at young girls who completely assume their style and do not care about the stereotypes. It is over-the-top glamorous, yet very grown-up in a tutu obsessed little girl's mind.
Distributor: My Optics (AUS) 03 9527 1336
Guess
The Guess Tweens collection is sought after by young girls with a forward thinking, fun and individualistic approach to fashion. The eyewear collection is based on striking visuals and contemporary designs utilising beautiful colouring and detailing. It fits the profile of a fashion loving, glamorous, energetic and adventurous girl.
Disney's Princess brand brings beloved princesses Cinderella, Snow White, Ariel, Sleeping Beauty and Belle to the eyewear world. Ideal for girls aged two to nine years old, they are fun to wear, coming in the colours pink, purple and blue with fairy dust in the temples. The frames have heart shapes embedded in them, and the temples come with a hanging charm.
For active boys aged six to 14 years, X-Games eyewear reflects the attitude and style of the X-Games athlete with progressive shapes and sporty, unique colors. Designed for enhanced flexibility and endurance, the collection is best described as daring, rebellious and adrenaline charged. The frames feature: spring hinge, clips in fashionable colours, sleek styling and Flexon in many styles.
Distributor: General Optical (AUS) 02 9699 8080
Julbo
The Heroes Collection is the latest offering from the French Eyewear manufacturer. The 120-year-old brand is built from a rich history in alpine-mountaineering which places them at the forefront of optical and action sports prescription eyewear.
Drawing on this vast experience, Julbo creates a comprehensive range of eyewear which caters for infants through to teenagers. Across the entire children's range the key features include hinge free frames, temples that adapt to head growth, shape memory materials, wide coverage for eyes that need a large field of vision, adjustable or integrated bridges, and high quality allergy free materials.
Distributor: Mont (AUS) 02 6162 0900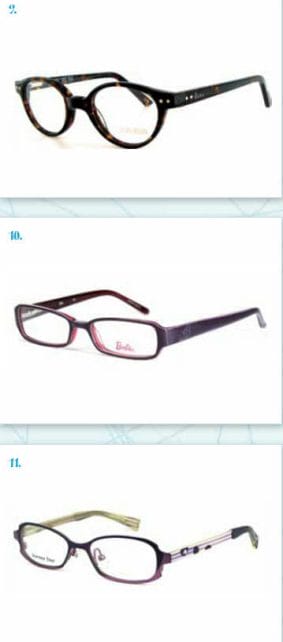 1. JF Rey, My Optics (AUS) 03 9527 1336
2. Colts and Fillies, Sceats Eyewear (AUS) 02 9519 0022
3. Centrostyle, Aviva Optical (AUS) 1300 850 882
4. adidas, Mimo (AUS) 02 9970 1800
5. Centro, Mann Optics (AUS) 07 3279 4766
6. Eschenbach OiO, 13 European Eyewear (AUS) 03 9877 7956
7. Linea Kids, Mondottica (AUS) 02 8436 6666
8. ic! berlin, Eyemakers (AUS) 02 9960 7766
9. IKKS, Eurostyle Eyewear (AUS) 07 5559 2144
10. Gen Op Barbie, General Optical (AUS) 02 9699 8080
11. Tartine et Chocolat, Modstyle (AUS) 03 9387 9411
Click here to view mivision's gallery of Kids eyewear from the November 2009 edition of our magazine.