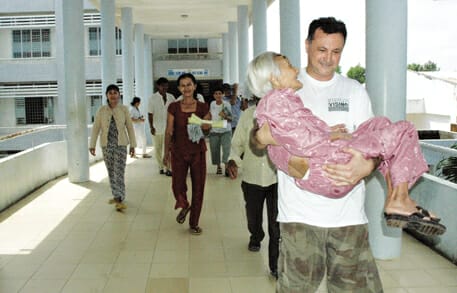 Seven years ago, Sydney-based general practitioner Dr. Vo Van Phuoc and computer consultant Le Duc Hong decided they wanted to do something for the people of their homeland, Vietnam. Aware that many poor people in Southeast Asia suffered from cataract blindness, a condition that is easily reversible, they founded the benevolent group Vietnam Vision.
A report from the Health Ministry of Vietnam in 2001 revealed that 463,552 people were suffering from bilateral blindness and 889,276 people had blindness in one eye. These alarming figures were of great concern to Dr. Vo Van Phuoc and Le Duc Hong particularly as most of those who are blind live in rural areas are poor and have little or no access to medical services.
By utilising the skills, experience and advanced technologies from Australia, Dr. Vo Van Phuoc and Le Duc Hong pulled together a team of likeminded volunteers who were practicing medicine, optometry, pharmacy and other professional fields, to help reduce blindness from cataracts in the disadvantaged areas of Vietnam.
From humble beginnings in 2003, Vietnam Vision has become a major and well respected annual project. They have now operated on more than 3000 cataracts for the poor in rural areas of Central and South Vietnam and Cambodia.
After the operation the peasant declared: 'It's like a miracle. Now I can read the words on signs and I can count money!
The Latest Trip
Recently, a team of 44 volunteers, made up of ophthalmologists, optometrists, general practitioners, pharmacists, anaesthetists, nurses and support staff, returned from Vietnam and Cambodia, having treated 338 cataract sufferers in Vietnam and 185 in Cambodia.
"This is our seventh year in Vietnam and second in Cambodia and we have treated well over three thousand of the poorest cataract sufferers – people who were going blind who can now see," says Dr. Vo with great pride.
"When we plan the trip we notify the authorities in the areas to which we are going and they let the local community know we are coming. The local hospital then advertises to let the locals know we're on the way.
"A lot of people turn up and we treat the poorer people, the local peasants, who fit into our criteria. We know who the poor are by how they look.
"When you look at their hands and feet of the local peasants you see that the skin is very thick because they are farmers and workers. The wealthier people can afford to pay the AUD$800 for the operation."
Dr. Vo says that as well as performing the operations, they leave a lot of medical supplies and instruct local health authorities on exactly how to use it.
Dr. Vo points out: "In Vietnam, up to one million people face blindness from cataracts and there are about 200,000 in Cambodia. In Cambodia there are about 4,000 cataract operations a year and they have to rely on foreign medical specialists like us. In those countries there are not enough doctors or equipment to deal with the problem.
In Australia, most cataract sufferers are over 60. In Vietnam it's about 45. That's because many people are very poor and don't get enough nutrition. Women are the biggest sufferers because they live longer. In Vietnam and Cambodia, many men died because of wars and there are still more women in these places.
More Than a Career
Dr. Vo, for whom medicine is not just a career but a passion, worked as a doctor in Saigon before fleeing the country as 
a refugee in 1981.
"I saw people, and even my relatives, die for no reason but I was not allowed to help, so I escaped."
Dr. Vo fled the country on a 12 metre 
boat with 100 other people, and during 
the seven-day journey to Malaysia the boat was robbed by Thai pirates five times.
When he arrived in Australia, he studied medicine at the University of 
New South Wales in a special program 
for refugee doctors.
Co-founder, Dr. Hong, considers himself to be "very fortunate, blessed and gifted 
so it is my responsibility to look after those who are less able."
"What's unique about our project is 
that we go to rural areas where the 
people can't afford surgery, because 
there is no free health care in Vietnam, even in public hospitals. We also provide eye care similar to Australia, where we enjoy a good standard of care with very little complications," says ophthalmologist and team member Dr. William Trinh.
"The difficulty for us is rejecting patients who aren't appropriate as they may be blind from different causes," said Dr. Trinh.
"The majority of people we see are women and the elderly, but we also see people who have eye injuries from working on farms without protection."
Dr. Vo recalls a 75-year-old man in a remote rural area in the Ca Mau Province who had heard about people having a free cataract operation and had been asking about when and where he could get one ever since.
The father of 14 learned of the upcoming cataract operation project at the local market and travelled the 15km to Thoi Binh Hospital on a three hour boat trip. After the operation the peasant declared: "It's like a miracle. Now I can read the words on signs and I can count money!"
For the past few years, Austcare has been one of the supporters of Vietnam Vision. Catherine Dobson, Austcare's International Program Officer, has no doubt that the team's dedication is a major factor contributing to its success.
She describes the Vietnam Vision volunteer team as "some of the most passionate, dedicated and selfless people 
I have ever come across."
No one could possibly dispute that as 
Dr. Vo and his team plan for their next foray into Vietnam and Cambodia to deliver the gift of sight.