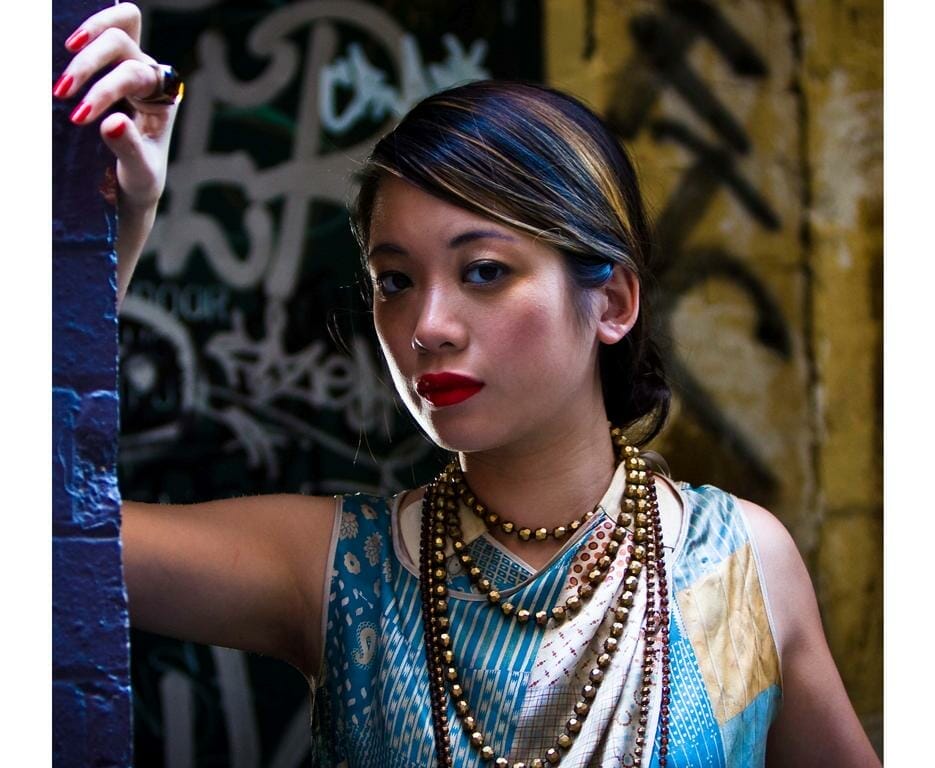 Sophie Koh is a contradiction. Not only is she a qualified and dedicated optometrist who has worked with remote communities but she's a rising recording star. She has won a clutch of music awards, but she remains passionate about the profession and now intends helping those needing the gift of sight by using her talent and celebrity to highlight the cause. Here, mivision speaks to Sophie and gets a glimpse into the life of the singing optometrist!
She was born in New Zealand of Malaysian parents, spent her early life in Singapore before moving to Australia where she lives in Melbourne. Her name is Sophie Koh and she is "the next big thing" on the Australian music scene.
She is also a qualified optometrist who, although a full time muso, still has a passion for eye care and those who need it.
Ideals Becoming Reality
For Sophie, song writing and optometry share an unlikely symmetry.
"…for someone to put on their glasses for the first time and just snap. Many optometrists often forget that… they often forget those lifechanging moments."
"I was always very scientifically minded and maths-minded, and that's probably why I like music as well as optometry, because I think it's quite mathematical," she says.
Explaining how she got into the optometric profession Sophie says: "I wanted to do optometry since I was about 15, and I wanted to work in Third World, underprivileged environments. I got into the course and my first job out of Uni was going up to Darwin and actually working with indigenous communities.
"I worked in a practice in the metropolitan area as well, but every six weeks or so I would fly in a small plane or drive in a fourwheel drive with the local eye specialists and actually get out to the communities.
"It's really quite interesting because I never really thought I would end up doing that work… it was always more of a childhood ideal!"
The Romance in Optometry
Sophie feels that she found a natural connection to optometry, and also sees it as a "romantic" profession, compared to other careers in health care.
Whilst a lot of optometrists 'accidentally fall' into optometry when they originally wanted to be dentists or doctors, this wasn't the case for Sophie.
"No I never ticked those boxes. Not at all," she says.
"Because I had bad eyes since I was very young, I was very short-sighted so I've been in and out of optometrists since I was about seven. I wanted to be in healthcare and I sort of knew that looking into people's eyes was a bit more romantic than looking at people's teeth… so that appealed to me too.
"Plus you give people good news rather than bad news!"
Music to Her Ears
However, a career in optometry wasn't her only pursuit after completing university. Sophie headed north after finishing Uni. "I just wanted to get away," she says. Her musical talents were publicly recognised in 2003, when she won Triple J's Unearthed competition in Darwin. It gave her the confidence to pursue a career in music.
Sophie remembers wanting to play everything on her debut album. Having played the classical piano since she was fiveyears- old, one of her hobbies was to learn different instruments. She ended up singing and playing guitar, harmonica, keyboards, viola and accordion on the album.
"I remember the first time 'Easily Broken' came on the radio, I was driving my car and had some friends with me. I tried to turn off my CD player, thinking that I had left my demo CD in there, but, of course, I couldn't. The song was on the radio, it was unreal."
Sophie speaks about how she has always wanted to be a musician since she was a young child.
"I've always juggled the two since school, even at Uni, I did a music degree while I was doing an optometry degree and I had to drop out of the music one. I had to run from one side of the campus to the other because no one else is doing music and optometry and my lectures used to clash."
Giving Sight
Along with juggling two careers, she is also an ambassador for the international charity, Optometry Giving Sight. She describes what it's like to be one of the public faces of the organisation.
"I was very privileged and happy to be involved when I was asked, and it's kind of interesting because I've never had the two, music and optometry marry before, and Optometry Giving Sight sort of brought the two together, in a very sort of ideal way. I've always wanted to support the work that Optometry Giving Sight does, and now I can use my music and public profile to help them.
"More and more so in the music industry, people know about me being an optometrist now.. and I was recently on this show called 'Spicks and Specks' on the ABC and I didn't even tell them that I was an optometrist and they ended up bombarding me with questions on camera about me being an optometrist, and asking me all these questions about eyes. More and more I think it's clashing.. .in a good way, and this organisation can only benefit that."
Making a Difference
Whilst it is quite obvious for general practitioners, or surgeons – optometrists sometimes forget that they do make a difference. Sophie sheds light on this subject, and tells of how providing eye health can change a person's life:
"I wouldn't be an optometrist if I didn't think that I could make a difference. I think of all the senses, the eyes are the most important. I think that it gives you mobility, it gives you a livelihood and it gives you independence.
"I've always thought, if worse comes to worst, and I had to choose between all the other senses, the eyes would be the only one I would – if I could choose – I'd choose the eyes. It gives you a chance for education and learning as well… and work.
"A lot of people in Australia have the opportunity to have an eye test. We are very fortunate. It's funded by the Government and eye care is easily accessible. That's sort of motivated me to look at other areas as far as the indigenous communities and overseas with Third World and developing countries.
As a student in the final year of her course, Sophie had a chance to go overseas to the clinics. She ended up going to East Timor with ICEE twice – once as a volunteer and once as a student – and was taken aback by the lack of eye care. She described her experiences over there:
"East Timor was a population where they don't have optometrists and they don't have anybody looking at people's eyes. They employ eye specialists that come into the capitol city once in awhile, so for such a big population and not having eye care, it's just amazing.
"One time, we had shut the clinic for the day, we were seeing about 900 people a day and we had been there for a week – we were just tired by the end of it.
"At the end of clinic day, we stayed just beside the clinic and late one night, we get a knock on the door and it was this elderly man who just walked hours from a remote village because he heard that we were in town.. and he had one eye nucleated – it was actually taken out due to injury and he only had one eye left.
"I was a student at the time and the supervising optometrist said 'Oh, I'm really tired, you can deal with it?'
"I felt a bit nervous seeing as I was by myself and it turned out that he was about a -3, -4, that's moderately short sighted. He had a big cataract in that eye, and he only had one eye so when he got these glasses, we had some ready-made glasses and he put them on and he totally just hugged us!"
That kind of impact and wow-factor is unbelievable. Sophie points out that it's not something you get in dentistry or as a general practitioner, but for someone to put on their glasses for the first time and just snap. Many optometrists often forget that.. they often forget those life-changing moments.
Sophie feels that we have a great system for anyone with vision impairments in Australia, which is why she likes to do a lot of her work in Third World countries or indigenous Australia.
For her, being an ambassador for Optometry Giving Sight is all about delivering care to these people that can't access it.
A Change of Perspective
These days, Sophie travels the country performing and recording mostly her own compositions.
"I like to imagine pictures in my head when I write songs," says Sophie, "the songs I write are not just about me. They're not all autobiographical."
It all started for her when Sophie left university and headed north to Darwin.
"I just wanted to get away," she says.
Returning to Melbourne, she launched her debut album 'All The Pretty Boys' in 2005. Since then, Sophie has regularly been asked to play high profile events in Melbourne and around Australia. Last year she released her second album 'All Shook Up'. Up til recently, not many of her fans knew that Sophie Koh is also a qualified optometrist, and an ambassador for charity, Optometry Giving Sight.
Sophie has now been out of university for seven years and when asked if her perspective on the industry has changed since the time she was studying, she says:
"I was lucky when I graduated from Uni that I went into a job that was not just in a shopping centre or in a retail environment… I sort of mixed and matched a little bit of that and my passion to do this sort of work. So I feel as a musician, I'm incredibly lucky to have optometry as something that I enjoy. I actually enjoy it a lot more because I get to do music sometimes and I can go back to work with a smile on my face.
"I just love the contrast of it, and I think seven years out of Uni, I still really love it but I have a few classmates that are dropping out and doing other degrees. But they're the ones that worked full-time from the very start, and in one place.
"They felt burnt out and they feel like the job doesn't give them any variety. But a lot of optometrists aren't aware that there is other work and it's kind of disappointing.
"I think that with this program, being an ambassador, I should let people know that there is other work out there, just to motivate you as professional… to show you that there's other ways to actually apply your skills and make them see that optometrists can really make a difference."
Facts About Sophie
Just last month Sophie Koh and band performed her popular song 'Anywhere' on Channel 10's Neighbours, to be screened in 2010.
Sophie's version of the Split Enz hit 'Charlie' sold over 75,000 copies as part of the 'She Will Have Her Way' CD compilation.
Last year, Sophie took home the coveted Best Female Artist Award in the 2008 The Age Music Awards (beating Kylie Minogue and Gabriella Cilmi).
Sophie's appearance on Spicks and Specks this year, co-hosting with Adam Hills, was the most watched ABC television show of the year to date (1.6 million viewers).
Sophie has supported acts such as The Eels, The Go-Betweens, Paul Kelly, Betchadupa, Pete Murray, Alex Lloyd, Paul Dempsey, Howie Day and Mick Thomas.
Reviews of Sophie's second album 'All Shook Up' have been rapturous: "Intensely mesmerising." 4 1/2 stars – Eleven Magazine
"A major talent arriving fully realised." – Inpress
"Sweet… seductive… Koh is an excellent storyteller." – MAG (JB HIFI)
"Sublimely beautiful, well-crafted and instantly likeable." – The Daily Telegraph
Sophie Koh's album All Shook Up is available at all good music stores or online at www.sophiekoh.com