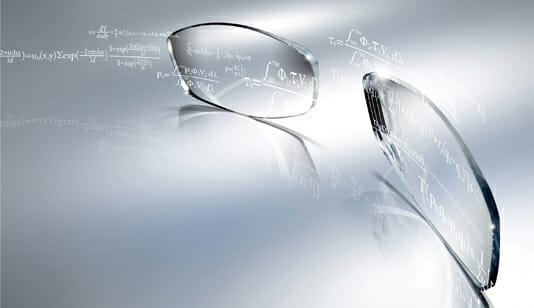 Lenses come in a large variety of designs, materials, coatings and treatments, but for the customer, there is not much visible difference. They have their eye test then stroll through display cabinets to find a brand of frames they like.
With its brand Nikon, Essilor is aiming at engaging your customers beyond the choice of frames by not only offering Nikon state-of-the-art lens technology but also with their trusted brand name.
You may own a Nikon product, but even if you don't, you'll know the name. 'Nikon' is the brand famous for high quality cameras and lenses used in a large portfolio of consumer and professional optical products. However, one thing your customers may not yet associate Nikon with is spectacle lenses.
Nikon lenses have almost a 100 years history. Established in Japan in 1917, the company makes special high precision lenses for cameras, binoculars, microscopes, scanners, inspection equipment… and spectacle lenses! In fact, Nikon spectacle lenses were first produced in 1946, two years before the first photographic camera was released. "It is from products such as professional-grade and consumer cameras where a lot of enthusiasm for the Nikon brand emerges," explains Essilor's Nikon Business Development Manager, Robert Springer.
We want to replicate the enthusiasm for the Nikon brand in the spectacle lens segment. We want to make it a unique and established brand offering that eye care professionals can use as a marketing tool
"We want to replicate the enthusiasm for the Nikon brand in the spectacle lens arena. We want to make it a unique and established brand offering that eye care professionals can use as a marketing tool. By incorporating Nikon branded lenses into a practice offering, the practice can use this brand as a way to enhance the practice positioning within today's challenging market, as people recognise the name and attribute it with high quality."
Brand Power
Marketing using an established consumer brand provides practices with a unique opportunity to capitalise not only on frame brands, but also lens brands.
"Nikon is an opportunity for practices to look at marketing lenses strategically towards consumers that react to brands. We call this 'brand sensitivity'."
Mr. Springer explains that if you examine the shopping experience; consumers are usually more responsive to a brand name product.
"In the current day, the trend for the optometry market is being driven more and more by the experience offered to the customer… And there is no doubt that more customers would be more inclined to trust a product and pay a premium if they recognise the brand and its origin."
Essilor, with its brand Nikon, is in a unique position in this department as they have this brand recognition established… and it has been established for over a century. The brand Nikon is being further developed on an on-going basis with large scale consumer campaigns in the camera segment. Nikon spectacle lenses benefit from these initiatives as the recognition of the overall mother brand is increased with such campaigns.
Nikon Presio GO Digital
The newest addition to Nikon's progressive portfolio is the "Presio GO Digital", a product which follows the technological footsteps of the previous Presio-i design philosophy. Presio GO Digital now offers advanced, digital precision – in everyone's reach.
Nikon Aspheric Technology
This new back surface design benefits from Nikon's proven aspheric technology. Nikon initially developed high-end aspheric technology for its camera lenses in order to produce the best quality lenses possible. As the company moved in to the realm of ophthalmics, it then decided to apply this same technology to the design of its aspheric spectacle lenses.
Today, aspheric technology makes Presio GO Digital lenses lighter, flatter and thinner, whilst creating the best possible visual sharpness and clarity.
"As aspheric designs themselves are derived from more than 90 years of optical know-how, it is important to make your customers realise the benefits and how they translates directly into spectacle lenses," says Mr. Springer.
Nikon Calculation Engine
Nikon Presio GO Digital is optimised by the unique Nikon Calculation Engine. The Nikon mathematical algorithm is only fully calculated and completed once the order with the individual wearer's RX is received. The optimisation process starts by analysing and calculating point by point what the wearer power should be. The process is repeated many times in order to correct visual aberrations as much as possible. The surface is optimised by reducing aberrations for more controlled visual areas for the wearer.
Nikon Digital Surfacing
Nikon Digital Surfacing, is the backbone of Presio GO Digital.
It is Nikon's sophisticated and unique processing technology that brings to life the unique mathematical algorithm that is developed by the Nikon Calculation Engine.
These three key features of Nikon Presio Go Digital enable superior precision for increased image resolution.
For the wearer, Presio GO Digital offers sharper and wider fields of vision in far, intermediate and near vision. Essilor states that with Nikon Presio GO Digital the far vision area is increased by up to 12 per cent and the near vision area by up to 50 per cent compared to conventional progressive lens designs.
Presio Go Digital is well suited for any presbyope, their individual lifestyles and frame choices as the product is available in a standard corridor (FH: 17mm) and a short corridor design (FH: 15mm) with the design available in 1.50, 1.60, and 1.67 materials, in clear and Transitions.
"Presio GO Digital offers wearers access to the benefits of highest quality digital technology – and with eye care professionals can benefit from this new product – with the advantage of a proven consumer brand." says Mr. Springer.