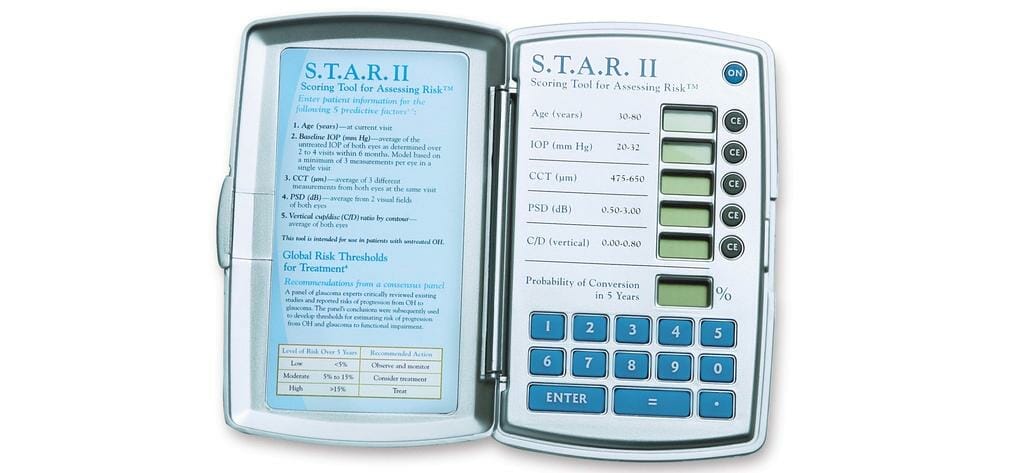 While it has been estimated that over 300,000 Australians are currently living with glaucoma, only half of these have actually been diagnosed (Glaucoma Australia 2008).
The Scoring Tool for Assessing Risk (S.T.A.R. II) calculator has been developed for use by eye care specialists as a validated approach to glaucoma risk assessment (Medeiros 2005, Kass 2002). By assessing five key risk factors – including raised IOP – eye care specialists can help determine the risk of conversion from OH to glaucoma within the next five years for an individual patient. Treatment can then be optimised accordingly for patients stratified as low, moderate or high-risk.
If you would like more information on how to use or receive the S.T.A.R. II calculator contact Pfizer Australia on (AUS) 1800 675 229.
Note: The S.T.A.R. II calculator, uses a predictive model based on comparative data collected at the University of California San Diego Diagnostics in Innovations in Glaucoma Study, and compared with data obtained independently in the Ocular Hypertension Treatment Study (OHTS) and European Glaucoma Prevention Study (EGPS) (Medeiros 2005, Kass 2002, OHTS & EGPS Group, 2007).
While the S.T.A.R. II calculator provides information that aids in managing a patient with OH, it is not meant to replace the expertise and clinical judgement of an eye care specialist.
References
Beware of a silent thief prowling rural/regional Australia. Glaucoma Australia Media Release, August 2008

Weinreb RN et al. Am J Ophthalmol 2004; 138: 458-467

Medeiros FA et al. Arch Ophthalmology 2005; 123: 1351-1360

Kass MA et al. Arch Ophthalmol 2002; 120: 701-713

The OHTS and EGPS Groups. Ophthalmology 2007; 114: 10-19
[/vc_column_text][/vc_column]