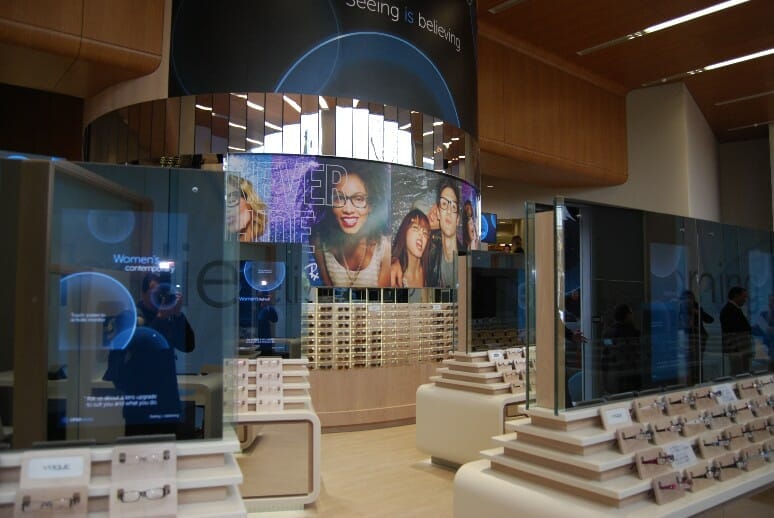 In launching the Eye Hub, OPSM has done for retail optics what Apple did for technology when they launched the Apple Store
e2 Creative Director Alex Ritchie said the store design was "all about vision and the inspiration for the Eye Hub's design was based on the retina of the eye."
This is a destination retail store where you can go with your family to buy your eyewear and just hang out. It's a blend of eyewear, eye care, entertainment, education and retail.
In launching the Eye Hub, OPSM has done for retail optics what Apple did for technology when they launched the Apple Store.
The OPSM eye hub is a completely integrated customer experience from the time you walk into the store to the time you leave. It is technologically advanced and experiential.
There are seven optometrist rooms including pre-test rooms in different themes. The store takes into consideration all facets of our lifestyle. There is a fun kid's play area; the Oakley Pressure Chamber and the Revo Elements Room where sports enthusiasts and pro-athletes alike can put their eyewear to the test and then, there is The Vault.
The Vault is the store's centrepiece. Here, the fashion forward and luxury seekers will be met with a collection of stunning and exclusive designer eyewear. Fashion stylists will help customers match their frames to their lifestyle and can select anything from the latest Dolce & Gabbana frames to a pair of hand chosen Bvglari sunglasses, made from gold and studded with diamonds, retailing for a cool AUD$18,000.
This store is huge. There are 2,000 pieces of eyewear on display here with another 3,000 in the cabinets. The Eye Hub is the biggest optical retail store in the southern Hemisphere, if not the world.
Chris Beer, Luxottica CEO, Asia Pacific, Greater China & South Africa, in coming up with the concept with his team in Sydney over the last two years, said: "We wanted to change the way retail works globally".
"The OPSM Eye Hub has been built by the customer," he said.
"Typically retailers tell the customer what's going to happen when they walk in the store. This concept relies on the customers dictating their own shopping experience and includes telling a concierge, who meets them at the door, how they want to shop and what they want to spend time on.
"Importantly, we've used extensive customer research to create something for each demographic and spent a significant amount of time designing it so it feels very personal and welcoming.
"The things that are not here don't need to be here and the things that need to be here are here.
"Connectivity with the customer is what is important to us. For example, optometrists told us they wanted an area that's quiet where they can speak to a person about confronting things like losing their vision and being told they may not be able to drive home today because of this. We have created this."
"We wanted to raise the bar in retail, not just in optics. Our plan is to roll-out this concept in China and the United States."
Futurologist Ian Pearson from the UK, who has an 85 per cent strike rate in predicting future business and technological changes, said at the unveiling of the OPSM Eye Hub, that Luxottica wanted to "build the future of what could be… and, they have got it spot on.
"The customers, from the time they walk into the store will have a unique customer experience. We're going back to the future to focus on the customer experience," he said.
"When retailer look after shoppers in store and give them the best possible experience, they will keep coming back; it really is as simple as that.
"How can retailers serve the new generation of shoppers?" he asked. "The smart ones will be part of what I cal the 'Care economy', integrating technological personalisation with human interaction.
"These shops will offer a full, emotional human experience, seamlessly fusing the virtual and real worlds to develop an incredibly personalised shopping experience with an ongoing relationship with the customer. They will have a lifetime attachment to their customers, offering compassionate consumerism which extends from 'cradle to the grave.
"Technology is only as good as it is interactive and this store provides this.
"This store is the future of retail," he said.
The OPSM Eye Hub is located at 174-176 Burwood Rd, Hawthorn, five kilometres from Melbourne's CBD.