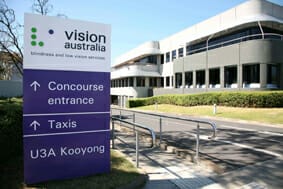 For the first time in history, Australian voters who are blind or vision impaired will have the option to complete their ballot papers in secret.
When a person who is blind or has low vision presents at a designated polling station, a call will be put through to the Australian Electoral Commission (AEC) contact centre.
The contact centre will record the vote, but will not be told who is calling; this information will be kept at the polling station.
Blind or low vision voters will also have the opportunity to lodge an early vote at a seven pre-polling stations from Wednesday 4 August.
"While this method of assistive voting is not as independent as we'd like, it certainly affords people who are blind with a higher level of secrecy," Vision Australia CEO Mr. Gerard Menses said.
"This is a step towards ensuring that people who are blind or have low vision will eventually have the opportunity to exercise their constitutional right to vote both independently and privately," he said.
The system was developed by the AEC, in collaboration with Vision Australia, the Australian Human Rights Commission, and Blind Citizens Australia. An electronic system is planned for future elections.
A number of polling booths will be located at Vision Australia centres. These booths are also for pre poll and absentee voting.
The seven (7) locations open from Wednesday 4 August 2010 are:
NSW: Vision Australia, 4 Mitchell St, Enfield, NSW 2136
VIC: Vision Australia, 454 Glenferrie Rd, Kooyong, VIC 3144
VIC: Vision Australia, 79 High St, Belmont, VIC 3216
VIC: Vision Australia, 2A Mouritz St, Warragul VIC 3820
QLD: Queen Alexandra House, 347 Old Cleveland Rd, Coorparoo QLD 4151 (adjacent to Vision Australia's new premises at 373 Old Cleveland Road).
WA: Association for the Blind – Guide Dogs WA, 61 Kitchener Ave, Victoria Park WA 6100
SA: Royal Society for the Blind, Blacks Rd, Gilles Plains SA 5086
On polling day 21 August 2010, telephone voting will be available in selected locations across Australia to enable electors who are blind or have low vision to cast a secret vote.
The seven locations will include Australian Electoral Commission (AEC) divisional offices and blind service provider sites in capital cities. For more information phone (AUS) 13 23 26 and ask where your nearest AEC Divisional office is and whether it will have telephone voting or visit www.visionaustralia.org.
[/vc_column_text][/vc_column]