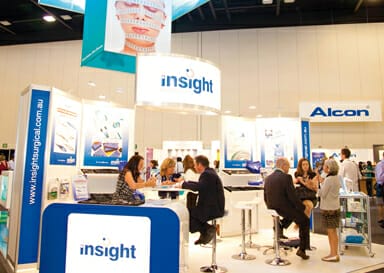 Sir Winston Churchill once famously said "we make a living by what we earn, but we make a life by what we give".
Churchill's words were quoted by Royal Australian and New Zealand College of Ophthalmology (RANZCO) president, Dr Richard Stawell during his address to the newly graduated fellows of the college at a ceremony held at the majestic Adelaide Town Hall as part of the 2010 conference proceedings.
In a speech that focused on the challenges and pressures faced by modern doctors working in Australia's healthcare system in maintaining professionalism in the face of commercialism, Dr Stawell encouraged the new graduates to "contribute to public healthcare".
"We need to strive to make (public) hospitals special places to work, rather than walk away from them…Public care and the teaching and mentoring that go with it can be very rewarding," he said.
He was subsequently proved right some 20 years later when, after the rubella virus had been isolated, there was a worldwide epidemic which resulted in 20,000 cases of congenital cataract in the U.S alone
Back to the Future
On the subject of rewarding contributions to public health the Norman Gregg Lecturer, Professor Paul Mitchell spoke about how population studies of eye signs and eye diseases have informed clinical practice.
He led into his talk with an anecdote about the eponymous Norman Gregg, a paediatric ophthalmologist from the Royal Alexandra Hospital for Children in Sydney early last century.
Gregg had overhead two young mothers, whose babies had been born with congenital cataracts, talking in a hospital corridor about how during their pregnancy they had contracted German measles.
He and his colleagues searched records and deduced that out of 78 babies born with congenital cataracts in 1941, 68 had been exposed to rubella.
He reported his hypothesis of a link and, despite a Lancet editorial in 1944 saying Gregg hadn't proved his case; he kept digging and demonstrated a very strong association.
He was subsequently proved right some 20 years later when, after the rubella virus had been isolated, there was a worldwide epidemic which resulted in 20,000 cases of congenital cataract in the US alone.
According to Professor Mitchell this was the beginning of the study of teratology.
Subsequent to Norman Gregg's research, large, population-based studies of eye signs and eye diseases have been conducted in Australia, particularly during the last two decades, in both adult and childhood samples totalling over 20,000 individuals.
These studies, including the Busselton Health study and the Blue Mountains Eye Study, have added much to what is currently known about ageing and macular degeneration (AMD).
Professor Mitchell also spoke about genetic research that has found CFH and LOC polymorphisms are each independently related to progression from early or intermediate stages to advanced stages of AMD after controlling for demographic factors, smoking, and body mass index.
Genes: Not One Size Fits All
Establishing a genetic locus for primary congenital glaucoma to pave the way to better diagnosis is part of the research work being undertaken by Associate Professor Robert Casson and colleagues who presented the findings of a study investigating the molecular basis of PCG in a consanguinous Cambodian family.
The family comprised 11 siblings four of whom harbour a severe disease phenotype and the researchers have theorised that the disease is secondary to a homozygous mutation in a novel gene.
Further study to isolate the causative gene is ongoing.
Genetic research featured strongly at the congress and treatments for age related macular degeneration (AMD) may soon be tailored to a person's gene type. However, age is a confounding factor in this according to Professor Robyn Guymer, co-author of multiple papers on AMD.
One study presented to delegates focused on the changing genetic association between age – Apolipoprotein E (APOE) and AMD.
Professor Guymer and her colleagues studied almost 1,500 individuals with early or late AMD compared to 1,500 controls. They determined APOE allele status and grouped genotypes.
They found that there was a significant effect modification from both age in years and age group. The APOE e4 group was associated with a reduced odds of AMD in the younger age group only, whereas the e2 allele group was associated with increased odds of the disease in the older group (over 75 years) only.
The authors concluded that age has a significant effect modification on the effect of APOE, which may be due to changing genetic backgrounds with age, which may modify APOE gene expression.
They said their findings should prompt caution in extrapolating genetic associations across age groups, particularly in the creation of predictive models or personalised medicine for AMD.
Pandamonium
An early highlight for the delegates to the 42nd Annual Scientific Congress of the Royal Australian and New Zealand College of Ophthalmologists was the Welcome Reception held in the Panda Bamboo Forest at Adelaide Zoo.
Those attending had the unique experience of enjoying cocktails and canapés in the purpose built environment of the zoo's Giant Pandas Wang Wang & Funi.
Of course Adelaide is the place for wine and the Congress dinner was held at none other than The National Wine Centre in the city's Botanic Gardens.
Dinner guests were entertained by Chad Romero, known as 'the International Lounge Lizard and Connoisseur of CHEEEZ' and his hip, happening party combo Cabernet Cabaret.
Phil Stoney
On the subject of wine, the man the RANZCO Organising Committees sought out for advice on sourcing wines and choosing menus for the RANZCO conferences for many, Phil Stoney, sadly lost his battle with cancer just after being honoured with an award at this year's conference.
Phil Stoney or "Still Phoney" as he used to quip to people, was bestowed the RANZCO Distinguished Service Award by the College Council "for his years of voluntary service well beyond the call of duty".
As a provider of ophthalmic devices and part owner of an ophthalmic supply company, Phil was associated with ophthalmology and ophthalmologists for nearly 40 years.
According to the citation for his award "Philip has not only added an extra dimension to the appreciation of some of the finer things in life, but also helped foster a great sense of camaraderie and fellowship in the ophthalmic community".
His award was accepted on his behalf by two of his closest friends Lois Olsson and Beth Weldon.
RANZCO to host APAO
With the congress over for another year RANZCO is now preparing to host the 2011 Congress of the Asia-Pacific Academy of Ophthalmology.
The meeting will be held in Sydney's Darling Harbour Convention and Exhibition Centre and the Scientific Program Committee, under Professor Charles McGhee, is assembling "a stimulating scientific program, which will enable both comprehensive ophthalmologists and sub-specialists the opportunity to update their knowledge and skills".
According to Professor McGhee there will be more than 200 individual symposia as well as 500 free papers. Two live surgery sessions streamed to the Congress venue will be major features.
"Among the speakers there will be many who are at the top of their profession, representing all ophthalmic subspecialties," he said.
"The combination of APAO's standing in the ophthalmic community and Sydney as a destination have been very powerful drawcards. There will be big delegations from China, Korea, UK, USA, France, Germany, Spain, Greece, Japan, Italy and Canada. The Asia-Pacific region and the Northern Hemisphere are well-represented."
There will be a number of associated meetings held before the APAO Congress. These include the meetings of the Australia and New Zealand Cornea Society; the International Council of Ophthalmology (ICO); and Academia Ophthalmologica Internationalis (AOI).
Congress President, A/Prof Ivan Goldberg, says the international-standard scientific program is being coupled with a social program which promises to be second-to-none.
"No-one who attends APAO in Sydney in 2011 will be disappointed. There is a sense of excitement and anticipation for a well-run, world-standard meeting offering a broad range of educational opportunities and technological updates through a huge exhibition and a fun social program."
To register for APAO, held in Sydney from 20 to 24 March, go to http://apaosydney2011.com/Registration.htm
Laura Macfarlane is a professional journalist, member of the Australasian Medical Writers' Association and a trained ophthalmic nurse.