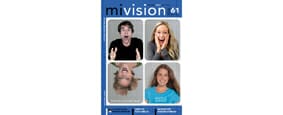 Timing is everything. As the doors opened to ODMA this year, the shock jocks brought news of yet another "global market meltdown". The threat of a double dip recession and predicted doom and gloom that could ensue had the potential to cut ODMA buyers' budgets.
Yet from the start of the Fair, confidence seemed high and orders were being taken. The overwhelming sentiment that emerged from eye care professionals attending this year's ODMA was that, amid or perhaps in spite of, global economic fear and uncertainty, corporatisation of the optical retail sector and the continual threat of online sales, confidence is starting to creep back into the industry.
There was a lot of talk about consumers turning away from the "cheap and cheery" to opt for quality, more conservative products that last – purchasing one or two quality pairs of specs that will suit every occasion, instead of buying several frames to reflect every mood.
Perhaps even more importantly, independent optical business owners are investing more heavily in their practice and buying quality equipment and technology.
Certainly, this is a decision that will enable them to distinguish themselves from their competitors. It signals a commitment to their business, staff, the eye care profession and, even more importantly, the vision of their customers. When you look at it like that it is an obvious investment.
While times may be tough, you only need to think of the Horn of Africa to realise how truly blessed we are here. Drought, soaring food prices and armed conflicts have combined to create one of the worst famines in decades. How amazing then, to find a group of Australian-based eye care professionals already on the front-line, doing what they can to make a difference. Our report from Ethiopia where they are restoring sight to the world's poorest poor is both heartening and sobering.
Also in this issue, we look at your personal brand and what it's saying about you. Today, we are all so connected. Facebook, Twitter and Google+ have changed the game. Branding used to be the domain of big business but not anymore. Like it or not, you have a personal brand and it is wise to ensure that yours is 'on message'.
Speaking of wisdom, business guru John Lees argues that while many of us are proud to proclaim we've got great customer service, it should be the start, and not the end goal for building business growth.
This leads me onto the growth of the Japanese optical industry. Murray O'Brien reports from Sabae on how Japanese optical workers are producing frames that are really setting the standard. The level of craftsmanship involved in each and every piece – from the designers, to the tumbler operators and packing staff – is truly amazing. It is no wonder that the phrase "handcrafted in Japan" has become synonymous with quality and excellence.
We also speak to Australia's first Indigenous optometrist; hear from the Optometry State divisions, as well as the guys from ADOA, as well as Dr.Naroo from the UK who brings us our CPD article on Sperical Aberration, plus so much more in this issue of mivision.
Enjoy.
Mark Cushway, Editor
| | | |
| --- | --- | --- |
| | | minews: All the latest news from issue 61, September 2011 |
| | | mistory: A Bird's- Eye View of the Land of Optics: Despite significant changes to the profession and the media predicting GFC Mk II, the optical industry looked robust and stable at ODMA. Read more… |
| | | mistory: femtosecond laser for selected cataract and refractive lens exchange patients indicates that the technique is as safe and effective as standard cataract surgery. Read more... |
| | | mistory: Horn of Africa: One Melbourne based eye care group is doing everything it can to respond to the extreme needs of the region's people. Read more… |
| | | mifeature: Adam Maher never dreamed he'd be a trailblazer, now he's found out he could very possibly be Australia's first Indigenous optometrist. Read more… |
| | | mifeature: Seasonal Allergic Conjunctivitis (SAC) can be frustrating, painful and disruptive. While we can't change the seasons, we can help patients to minimise the impact that allergic eye diseases have on their day-to-day lives. Read more… |
| | | mifeature: World Sight Day Challenge: Optometry Giving Sight is working hard to raise funds to support sustainable eye care programs that give hope and transform the lives of millions of people around the world. Read more… |
| | | mioptometry: Happenings from Australia and New Zealan, September 2011. Read more… |
| | | miview: In Bangladesh millions are scrambling to break through the poverty trap, a shortage of fundamental services like eye care prevents those talents from ever being realised, writes Geoff Lawson. Read more… |
| | | mieyecare: A new monthly consulting fee based model for optometry services introduced by Shelly Bansal, has helped him not only compete head-to-head with online and discount eyewear merchants but increase his revenue and profit margins. Read more… |
| | | mieyecare: Many eye care professionals are being urged to consider options such as aspheric lenses when formulating their treatment plans.Read More… |
| | | miophthalmology: Eye on ARVO 2011: An Australian Perspective: May this year – explored the impact of modern genetics on eye healt. Read more… |
| | | |
| | | midispenser: Certificate IV for Optical Dispensers has changed significantly over the years, trainers say it's all to meet the needs of an evolving profession for dispensers. Read more… |
| | | mifashion: Murray O'Brien visited the unique city of Sabae where 95 per cent of the country's glasses manufacturing takes place.Read more… |
| | | mifashion: the new season's ranges presented at ODMA were dominated by rectangular and retro styles, bright colours and patterns, all with a modern twist. Read more… |
| | | mifashionnews: All the latest fashion news from September 2011, issue 61. Read more… |
| | | mibusiness: it's well worth thinking about how you want to be perceived in your personal and professional life before you hit the keyboard. Read more… |
| | | mibusiness: Good customer service is the starting point for business growth, not the end goal. Read more… |
| | | miproducts: All the latest products from September 2011, issue 61. Read more… |
| | | Thelastword: In the 1950s, French author Jean Giono penned an allegorical tale, The Man Who Planted Trees. Read more… |
| | | |
| | | |
| | | |
| | | |
[/vc_column_text][/vc_column]