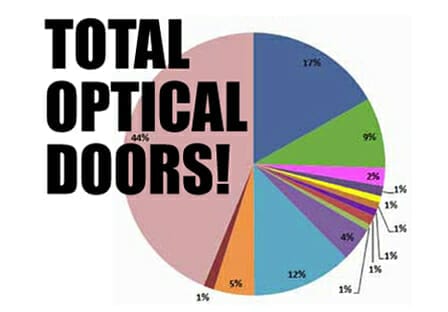 Between the Australian Bureau of Statistics, IBISWorld and ODMA, the statistics on the number of optical doors in Australia, owners of market share and industry revenue, all vary widely, as mivision recently discovered. So who can you trust – which figures can you use as the basis for your business planning… and exactly where is the industry heading?
Regardless of whether your business operates in eyewear or eye care retail, manufacturing or wholesaling – or you deliver professional eye care services – to effectively plan and move your business forward you need to work with reliable industry data.
Yet the information available is so conflicting that it's very difficult to get a clear picture of where the industry is at, at any one time.
Many attempts have been made, but no one source can confidently report on what the optical market and its potential looks like – there is no one source for complete, accurate or reliable data.
Most sage industry leaders would describe an optical door as an outlet that carries stock, dispenses and is open at least three days a week…
Five Sources Of Data
There are five main data sources that the industry relies on to provide analysis of optical market trends. At the big picture level are the Australian Bureau of Statistics (ABS), IBIS and ODMA. Then there's Medicare, which paints a picture of those who provide eye testing and Eye Talk, which provides data on the independent optometry sector.
The ABS has only ever prepared two industry reports – the first 'Summary of Operations by States and Territories, Optometry and Optical Dispensing Services' was published in 1998 and the second was released in July this year (covering the 2010 financial year). This latest report found that there are 2,170 individual businesses operating from 3,689 locations in Australia turning over revenue of AUD$2.54 billion, which equates to an average turnover per location of AUD$689k p.a.
It would be fair to assume that the ABS revenue figure would be accurate as it's based on tax returns from the 2,170 individual optical businesses, each of which has its own Australian Business Number (ABN). However, we need to remember that in all likelihood each optical business' revenue, as reported to the Australian Taxation Office (ATO), can be misinterpreted in a number of ways. Many practices have multiple ABN's or multiple locations under one ABN, leading the ATO to misinterpret income attributed to each ABN and therefore the number of potential doors and potential revenue.
So can we say with confidence that the industry turns over around AUD$2.54 billion?
Many industry leaders create projections based on the IBISWorld 'Optometry, Optical Dispensing in Australia: Market Research Report'. The IBIS industry analysis and industry trends summary published online (July 2011) states the "Optometry and Optical Dispensing industry is expected to generate revenue of AUD$1.57 billion in 2011-12, an increase of 1.6 per cent on the previous year", however their "Industry Stats & Forecast" figure is AUD$2b from 1,236 businesses – two different revenue figures on the one page and both significantly different to the ABS data.
In ODMA's 2011 'Analysis of the Australian Eyewear Industry' which is updated every couple of years Alistair Perry of F.R. Perry & Associates, who prepares the data for ODMA, said "there are 2,626 optical doors made up of 1,122 corporate retailers and 1,504 independents".
Mr. Perry said the "store numbers are always an estimate" and that there was an "estimate made of the independents". In the ODMA report he said the "average revenue for an optical practice in Australia is AUD$711k" and the industry's total annual revenue was approximately "AUD$1.867 billion".
If you look at the 2010 Medicare data, national payments made on behalf of patients for initial, comprehensive, subsequent and diabetic consultations total almost AUD$271 million.
Whereas traditionally the industry would have referred to 20 per cent of revenue being generated by consultations and 80 per cent from dispensing, industry leaders including Michael Jacobs CEO of Eyecare Plus, believe this rule-of-thumb no longer applies: "independents are very much eye care focussed but corporates are more dispensing oriented – while they pump through a lot more consults they also sell lot more spectacles. I would say 15 per cent would be a safe estimate, or even 10 to 15 per cent."
Based on this, we've decided to err on the side of caution and use a figure of 13 per cent. Therefore, if Medicare's figure of AUD$271 million from eye tests makes up 13 per cent of industry revenue, the total revenue must be AUD$2.08b.
But, who's right? Who really knows where we are at as an industry?
According to conversations we had with members of the profession, the answer is 'no-one'. Everyone we spoke to was frustrated by the lack of accurate and decent data on the industry.
Chris Beer, CEO Asia Pacific, Greater China & South Africa at Luxottica Retail, summarised what most were telling us: "the market data available is unreliable, inaccurate and differs from each other to the extent that we conduct our own research on a periodical basis through our research company."
With an obvious need for more reliable data to be collected and presented, we, at mivision, decided to have a crack at the data ourselves. While we thought it'd be a quick exercise, it turned out to be a very long exhaustive process.
We've had many discussions about the figures with the major and medium tier optical retailers as well as wholesale suppliers. We've spent weeks trying to work out how many optical 'doors' we have in Australia. We've poured over the figures and made many adjustments. We've gone back to our sources to tweak and rework the numbers.
We know we'll have our detractors but we've based our data on what we, and most large wholesalers we spoke to, believe is sound methodology.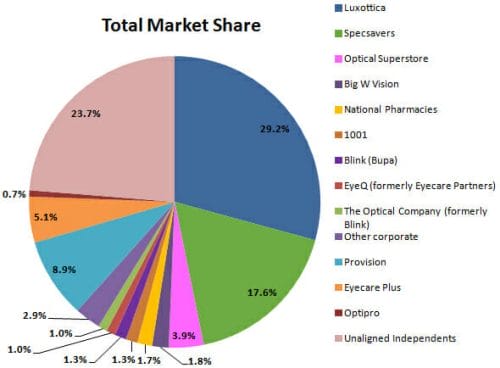 Our Methodology
Most sage industry leaders would describe an optical door as an outlet that carries stock, dispenses and is open at least three days a week.
We beleive the companies who'd have the most accurate data on the number of doors would be those who have the greatest number of sales reps on the ground talking to optical retailers on a daily basis or an accessory company like Aviva Optical who supplies something
to nearly every optical store.
The motivation for suppliers to have accurate data on the number of doors is high because their sales reps need it to make sales. Additionally, those looking to bring a new brand into Australia are always asked how many 'doors' we have because this figure can indicate the brand's market potential.
We spoke to seven of the largest wholesale suppliers, including Aviva Optical, and asked them for their figures on the number of doors they have on their database.
Aviva Optical which distributes to every door in Australia, except for Luxottica businesses, says its database numbers are 2,460. Add the 507 Luxottica doors and we get a total of 2,967 doors across the country.
Our discussions with the other suppliers identified that the number of doors ranged from 2,500 to 3,244 – which gives us an average of 3,016 as our base figure.
Once we settled on this figure, we needed to determine the breakdown of corporates vs independents. To do this we scoured the websites of corporates and spoke with most of them about their numbers as at 1 October 2011 to come up with our figure for the amount of corporates in Australia of 1,135. This left us with a figure of 1,881 independents.
We then compared this figure with adjusted published figures from March 2009.
Data Summary
In the two-year period we looked at, our data indicates that corporates have grown by 6.6 per cent, independents by 8.4 per cent and the total unaligned independents by 11.9 per cent. The total number of corporate doors is 37.6 per cent with independent doors making up 62.4 per cent.
While there is no debate that the number of corporate doors has grown, it's not quite so easy to believe that in the current environment of consolidation, the number of independents has increased by as much as 8.4 per cent.
Dr. Jim Kokkinakis, owner of the Sydney based independent Eye Practice believes it would be difficult for new optical businesses to establish themselves
right now.
"There will always be exceptions but generally I believe that a new independent business will be disadvantaged by reduced consumer spending habits combined with the corporate "bait and switch" offers which are cannibalising market share," he said.
Perhaps one of the real reasons behind the disbelief in the figures is the noise that has recently been emanating from the corporates. With their large, consolidated marketing budgets, they've been able to conduct high profile consumer campaigns to promote their market strength and popularity. On the other side of the ledger, the growth of independents with limited marketing power and therefore very little voice, has remained largely unheard.
This is why accurate data on the industry from one central source is so important. We're not saying our data is right, but then again, we're not saying it's wrong. We're just putting it out there.
Lee Pepper, Business Manager of Optical Manufacturers, a company that supplies independent businesses around Australia, is one industry member who believes that the figures that mivision has come up with could be correct. In fact, he says the numbers that reflect a growth in independent optical doors, don't
surprise him.
"Within the scope of Medicare and health insurance, independents have seen the opportunity to differentiate. They realise that they don't have to rely solely on eyewear for income anymore – so they're acquiring better equipment, getting better knowledge and beginning to charge a reasonable fee that reflects the worth of their services," said Mr. Pepper.
Optical Retail Movement
In the two-year period analysed by mivision, Luxottica's acquisitions included 53 Just Spectacle stores from Hal Holdings. Despite this, after consolidation the company has grown by just eight stores from 499 to 507.
When speaking about Luxottica's growth during this period Mr. Beer said: "In the past few years, we have made a number of acquisitions and, over the past 24 months, the company has looked at a number of opportunities to consolidate, relocate and continue to ensure that the stores are correctly located in high-growth areas and are branded to meet the needs of our customers. Like the rest of Luxottica's operations around the world, we have also worked hard to ensure the business has adapted to suit current market conditions so we are strongly positioned for further long-term growth across the regions in which we operate."
In the same time, Specsavers has grown from 160 to 261; the Optical Superstore from 56 to 67; 1001 from 20 to 27; LensPro is up from eight to 13; Big W Vision who has grown from 14 to 38 (but mostly within Big W premises); Costco has entered the market with two stores; and National Pharmacies has grown from 22 to 23 stores.
Charles Hornor, Director of Communications at Specsavers in Australia puts his company's growth down to two elements. "Firstly, our growth has been led by demand from Australian and New Zealand consumers who have been incredibly quick to embrace the Specsavers combination of professional eye care and affordable, fashionable eyewear. Secondly, optometrists and dispensers – many of whom believed they might never be involved in store ownership – have embraced our partnership model."
The health funds have remained consistent except for NIB, which dropped from five to four stores. Merringtons has closed all of its 23 stores; Paris Miki has closed 19 of its 31 to take its figure down to 12; Blink sold 27 of their practices to Bupa and has rebranded its remaining 21 stores under the banner of The Optical Company Pty Ltd. Eyecare Partners are down from 41 to 35 and have rebranded as EyeQ.
A question hangs around the ValueVision dispensing product offered in 50 Terry White Chemists. After many calls to head office we weren't able to find out any more about this product than what it says on the website, which informs customers to bring in their "eyewear prescription (from your optometrist), choose your frames, and we'll call you when you're glasses are ready".
Movement within independent buying and marketing groups has been varied. While ProVision dropped from 401 to 369 members; as did Optipro from 51 to 39, Eyecare Plus experienced 48 per cent growth from 102 to 151 members.
Michael Jacobs, CEO of Eyecare Plus says his group has focussed on supporting its independents in the face of increasing corporate activity. "At Eyecare Plus we have invested heavily in staff training over the past two years to both reinforce our long-standing clinical focus and to better understand the true nature of the "special offers" from the retail focused corporate groups. The result has been a growth in membership and an improvement in the sales of the average member. This has provided our independent members with the confidence to continue doing what they do best," he said.
Other independent optometrists have formed their own smaller groups by either horizontally or vertically integrating to strengthen themselves against growing pressures of competition and the economy.
Jim Papas, owner of the award winning Melbourne optical business eyeclarity has developed a partnership model of five optical stores, which, he says, has allowed the optometrist partners to "increase efficiencies, gain economies of scale and, as a result, re-invest in delivering a better customer experience and service."
Brad Bairstow, the Managing Director of Hoya Lenses, agrees some balance will come back into the equation with "more consolidation of independents into small retail groups or joining independent buying groups".
Jonathon Lewis, the Managing Director at General Optical says that in the current retail environment, this type of arrangement will be beneficial. "Due to increased pressure from the corporate side of the market, generally speaking, independents will look for support with buying or marketing groups that can add value to their businesses," he said. "Independents that are not aligned or do not have a sustainable business model will face the increased pressures such as price, margin and overheads from the corporate players, and therefore there may be some consolidation of the independents in the future."
The Optical Company Pty Ltd (formerly Blink Optical Pty Ltd) has established itself as a vertically integrated business. Colin Kangisser, who heads up the company, believes this is critical to the group's success. "You can't rely on just having a retail front – you have to be vertically integrated – we have a great group of branded retail outlets and we have our own very good sub brands that are well known in the market. While we can't and won't compete with the cheap deals put out there, having our own quality brands allows us to offer consumer's high value deals."
There is no doubt that integration has its advantages, but business consultant Mark Overton warns it also carries risks. "I'm supportive of, but very cautious of, the push towards consolidation and integration. Independent optometrists that form into a small group, of say three practices, can work well together by sharing information, dealing with suppliers together and even agreeing to share staff when a crisis occurs," he said. "But like any business advantage there are potential risks attached… It's important to weigh up the strategic and business risks, to understand the true ownership and plans of the businesses you are forming relationships with… to ask yourself how these relationships could impact your business or your independence down the track."

Market Share
The real story here, however, is not only the number of optical doors in Australia but the market share.
Mr. Beer said: "The measurement on which we focus to develop our business, eye care and staff development strategy is market share rather than door numbers. As such, we do not rely on any single source for our market data. The only really reliable and independent source of information is from Medicare on the number and type of eye examinations conducted annually."
In the last couple of years, independent optical retailers as well as Luxottica, which remains the number one player in terms of size, have reduced market share, whilst Specsavers, which has grown by approx. 20 per cent in this time, appears to have taken the difference.
One of the biggest threats in the industry is to the medium chains, which over the last couple of years have experienced several closures.
The problem for the medium chains is that because they have such large store numbers, big overheads and they're playing a low-cost game, they're likely to either be in, or moving into, a negative profit position. Big W Vision, with its Big W budget, is the exception here.
Big W Vision who has grown from 14 to 38 stores in the last couple of years is developing its optical business model and has a strong customer base. They quietly started trialling optics a few years ago from Big W stores in Adelaide, and in the last couple of years, have kept refining their model. If they're happy with it, and it seems that they are, they'll continue to roll it out. With over 150 stores around Australia, Big W knows how to play the low-cost game and could be a threat to Luxottica and Specsavers.
Market Share Stats
So what can we deduce in terms of market share?
Eye Talk Consultants conducts online surveys of independent practices around Australia. They explain that "on a quarterly and annual basis, optometry practices contribute their retail growth rates and other data in comparison to the previous year. To eliminate distortions, only practices established for more than five years are included". From a respondent group of 258 independents Eye Talk reported in its latest annual survey
(1 October 2011) that average gross revenue per independent practice per annum is AUD$373,649.
Andrew McKinnon, OAA NSW CEO, says he believes that figure is an accurate reflection of the independent average.
"Some independents are good business people and are doing exceptionally well turning over seven figures but the mid-line would be closer to AUD$500k."
He said that while he hasn't seen or heard of many independents closing their doors, there are those at the lower end who are just running their practices to cover wages. "Many small practices just have an optometrist and a receptionist and they may even be sharing with another professional like a podiatrist".
Based on the most accurate data available to us, we can estimate that (in order of total annual revenue) Luxottica, Specsavers, Optical Superstore, Big W Vision, National Pharmacies, 1001, Blink (Bupa), The Optical Company, HCF and Teachers Eyecare each turn over between AUD$1m to AUD$1.5m per door.
Next (again, in order of total revenue), Provision, Eyecare Plus, EyeQ, Icontact, Paris Miki, Optical Warehouse, Westfund and NIB generate between AUD$500k and AUD$800k per annum. The remaining independents, and Lens Pro, turn over an average of AUD$373,649 while Terry White generates approximately AUD$150k per store. .
Our figure for total industry revenue is AUD$2.081b. Divide this by 3,016 doors and our average per door is AUD$690k. This comes close to ODMA's figure of AUD$711k, and even if you divide the ABS total revenue figure of AUD$2.54b by its reported locations the figure is AUD$689k p.a. per door. Despite all the difference, when it comes down to it, we are all roughly on the same page about at least one thing.
While corporates only take up only 37.6 per cent of total optical doors they hold 61.62 per cent market share
The Future
Mr. Bairstow believes "independents need to define what their vision is and stick to it. Yes, they need to have a budget offer on the stands in the back corner but that can't be their focus.
"They need to differentiate themselves on service and product, not price. It's imperative independents get away from thinking small with their business strategy. They need to think about their optical retail store as a business as a whole, not as an income for the family. Personal income is only one part of the total business pie."
Mr. Beer agrees. He said "anyone who can service customers well, has good quality products, well-trained and skilled optometrists, and has invested in the latest eye care equipment will be the winners in the Australian and New Zealand eye care markets.
"Many retail groups in the optical industry have become increasingly focused on price with the effect of moving the market into two main spaces, namely price and secondly quality. While there is a place for price, there is also an enormous opportunity to differentiate through quality and service. Retail customers, overall, are looking for an experience with which they can connect, and to which they will return time and time again."
Planning for Your Future
Compiling and analysing the data available from Australia's five major industry sources, then taking it to optical leaders for discussion has been a mammoth task. Yet we're still left with the harsh reality that the figures we have come up with are in no way absolute.
Going forward, let's hope that a more reliable, conclusive set of data can be collated. In the meantime, we suggest that rather than basing your business decisions on just one data source, you take the time to analyse and cross-check all the information available to get the most out of it, and then supplement it with your own market research.