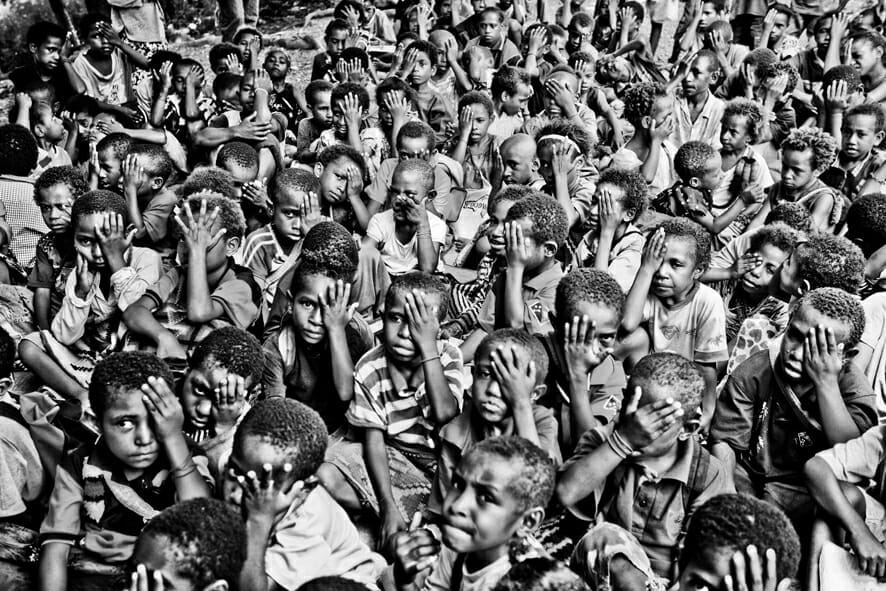 Papua New Guinea (PNG) has doubled access to local eye care with the opening of a new Vision Centre.
The opening of Rabaul Vision Centre at the Nonga General Hospital, is the third new Vision Centre to open as part of a scheduled increase in vision care delivery through remote and rural PNG.
The urgent need for basic eye care in PNG is the focus of an ongoing initiative between PNG Eye Care, the International Centre for Eyecare Education (ICEE) and the PNG and Australian governments to develop sustainable systems providing increased access to eye care for all local people. Blindness and poor vision has a serious impact on individual lives in PNG, leaving a lasting effect on the economy of communities and the country, leading to loss of productivity, greater unemployment and increased health care costs.
Chief Ophthalmologist at the Port Moresby General Hospital and PNG Eye Care Board Member, Dr Simon Melenges believes that Vision Centres are a crucial step in building a sustainable eye care system in PNG. "By creating Vision Centres, associated with local hospitals and staffed by trained local personnel, this collaborative effort is establishing an eye care system that will continue to serve PNG's disparate population beyond the involvement of the governments and aid organisations," Dr Melenges added.
Tricia Keys, ICEE Programmes Manager for Asia Pacific applauded the collaboration of both governments, with PNG Eye Care and ICEE, saying that collectively they are making an important difference to the lives of people in PNG. "When the Australian government announced the Avoidable Blindness Initiative in 2008, it was an important step toward development of greater access to eye care in the Asia Pacific region. With the help from the Global Consortium, PNG has greater opportunity to reduce the high levels of vision impairment and avoidable blindness," she said.
"Too often we see a devastating and, sadly, unnecessary toll on communities and individuals alike which could have been prevented with access to eye care. Vision is one of those basic health care requirements that we must continue to work together to address and increase access within PNG," Ms Keys added.
Attending the opening of the Vision Centre is Eileen Tugum, PNG Eye Care Operations Manager. "The local staff trained through ICEE collaborations with PNG Eye Care, are offering the much needed eye examinations and prescribing spectacles in the Vision Centres to the people of PNG. By using the existing structure of the regional health services we are creating a sustainable programme to achieve greater access long term. Over time this work will contribute to poverty alleviation by enabling people to engage fully in education and work opportunities. There are also the jobs and new skills provided by the new Vision Centres," said Ms Tugum.
All six Vision Centres in PNG are supported by the Australian Government's Avoidable Blindness Initiative (ABI) through Vision 2020 Australia Global Consortium. The six centres, supported by ABI funding, have been opened in Port Moresby, Lae, Mount Hagen, Buka, Mendi and now Rabaul. These partnerships are making progress in delivering eye examinations, prescribing spectacles and offering early eye disease detection to the people in most need with the aim of improving their quality of life.
The Global Consortium is a partnership of nine Australian eye health and vision care organisations working to eliminate avoidable blindness and vision loss in the Asia-Pacific region under the Australian Government's Avoidable Blindness Initiative (ABI). The Consortium, through supporting partnerships, provides eye care, spectacles, low vision services for people who would not otherwise have access.