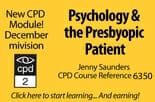 While most of your patients won't know what presbyopia is until it is diagnosed, sooner or later it will happen to everyone. Understanding the psychology of patients with 'ageing eyes' who still want to look and feel young and healthy could help you offer your patients solutions that leave them more satisfied, and transform your practice at the same time.
The basics of business are customers, products and services. Success comes when you know how the last two satisfy the first. Most practices focus on presbyopes and spectacles, but new research reminds us
it might be time to 'think differently'. That sounds like Apple!
The Presbyopia Report, surveyed 422 Australian women aged 40-55 years, to understand current attitudes to spectacles and contact lenses.1 Commissioned by Ciba Vision, the research pinpoints the presbyope's frustration with spectacles and the best way to present contact lenses.
Look at your appointment book or your Medicare data and presbyopes are common and over-represented
Along with the Ciba Vision Air Optix Aqua Multifocal and Here&Now evaluations, this latest research confirms multifocal lenses are different from other contact lenses.2,3 They're not technically difficult to fit, but need a different practitioner mindset. Here's a summary of what we've learned.
Presbyopes: Your Most Important Customers
Look at your appointment book or your Medicare data and presbyopes are common and over-represented. Patients aged 35-54 account for 34 per cent of 10,900 consultations versus 28 per cent of the normal population.4,5 Run a ranking report and presbyopes are also likely to be over-represented in your top customers. Female presbyopes, who make most of the health decisions in a household, are also often good referrers. Focus on these top customers and look for ways to broaden your offering.
Presby-what?
Presbyopia is a disease that affects everyone, but at diagnosis, few know much about it. The Presbyopia Report shows only 17 per cent of 40-44 year olds are aware of the word 'presbyopia', increasing to 49 per cent for 50-55 year olds. Presbyopia comes from the Greek word presbys, meaning 'old eyes' and that's not what patients are ready to hear. Newly diagnosed presbyopes still feel young and healthy, often acting as though they're the first to experience such a challenge. They think the visual change is sudden and involving more than near acuity, with 52 per cent reporting a decline in distance vision.1
Presbyopia is a frustrating experience that might be difficult for the young, pre-presbyopic optometrist to fully empathise with. I recently briefed journalists about presbyopia and while the older journalists nodded, the younger ones just didn't get it. As I approach presbyopia myself, I am surprised at my reluctance to get help. I can see well enough – if I turn up the lights, give up sewing and cut all children's fingernails outdoors. The Presbyopia Report says I am not alone, with 42 per cent of respondents, who don't use eyewear, admitting a correction would probably help. We don't like change and the psychology of middle age explains why.
We Want to Feel Young
At 40, the psychologist moves you from 'young adult' to 'middle age'.6 Thrilling! The 20s and 30s are over, your vision for life is set and you are settling and looking for the motivation to reach your goals – career and personal. Family life is full and as you try to keep up, you still put effort into your appearance. Physical strength, flexibility and reproductive success have peaked, but you're yet to experience major disease or the effects of senescence.
So the beginning of presbyopia and middle life can feel like a line in the sand. You look at younger people reading without glasses and think, 'I used to be able to do that'. For those who don't cope well, they start thinking about goals not accomplished and humiliation among more successful people, which increases the desire to feel youthful. Cupboards are filled with face creams and hair dye.
Spectacles Can Be Annoying
Spectacles aren't what they used to be, but The Presbyopia Report shows there are still many situations where patients find them annoying. Of the 40-55 year olds who wear glasses, 25 per cent wear them full time, 54 per cent use them for close work and only 12 per cent will wear their glasses out socially.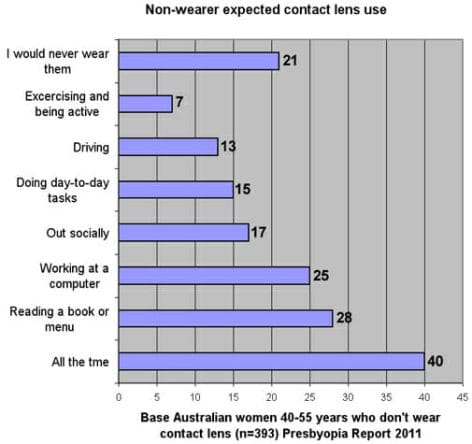 Nearly all (89 per cent) see glasses as a 'functional necessity', with the top complaints being:
46 per cent find it a hassle taking glasses on and off
43 per cent find it hard to find glasses they like
29 per cent don't like wearing glasses when going out socially
34 per cent find it difficult to find glasses that are comfortable
27 per cent feel younger without glasses
Imagine ringing patients in your practice and hearing this level of frustration:
"I just hate going into the Boardroom, with all the young executives around and having to slip my glasses on before I can contribute anything useful."
"If I'm going out for dinner and I put makeup on, it just doesn't look good with glasses – it's too cluttered, too busy."
"On, off, on, off – it's an ongoing headache."
While there are no surprises on the list, this does remind us of what is top of mind when you offer contact lenses.
Perceptions About Contact Lenses
Penetration, particularly of presbyopic contact lenses, is low. Only 10 per cent of respondents in The Presbyopia Report were contact lens wearers. From the 2009 Morgan study, only 16 per cent of new fits were in monovision or multifocals, versus 46 per cent of the population being presbyopic.7,8 When presbyopic women were asked why they don't wear contact lenses, the top reasons were:
Having to take them in and out every day (47 per cent)
I don't like the idea of touching my eyes (41 per cent)
Don't think they are right for my eye problem (30 per cent)
Am used to glasses now (27 per cent)
Think they are more expensive (21 per cent)
This segment of the community is also poorly informed about multifocal contacts. In The Presbyopia Report, unprompted awareness of multifocal contact lenses was almost negligible.
Once prompted, 30 per cent of respondents – mainly existing contact lens wearers – had heard of this type of contact lens. Patients take much longer than we think to catch up on technology; awareness of 'bifocal glasses' was still reported ahead of 'multifocal glasses'.
Consumers see multifocal contact lenses as specialised, with survey respondents saying they are:
For people with distance and near corrections; not for presbyopic emmetropes
Difficult to get used to
For those with quite poor eyesight.
Practitioner Recommendation Works
European research shows women in their 40s are motivated to wear contact lenses, with 50 per cent feeling contact lenses could have a positive effect on their quality of life. Forty-one per cent said they would try multifocals if their optometrist recommended them.9 In the locally run Air Optix Aqua Multifocal evaluation, seven out of 10 patients accepted a trial fitting, showing the power of personal recommendation.2
Left up to the patient, once aware of multifocal contact lenses, 42 per cent of existing contact lens wearers and 27 per cent of spectacle wearers say they would initiate a discussion with their optometrist about trying multifocal contact lenses.1 The other third of undecided patients want additional information before they would try; on issues of cost, optometrist advice about suitability and information on replacement frequency. There was no barrier to paying $1.60 per day for multifocal contact lenses. 'That's only half a cappuccino, that's fine'. The research revealed that promotional offers are not required; patients just want good information and advice.
Extent of Contact Lens Use
The Presbyopia Report shows presbyopes like the idea of full time contact lens wear. Existing presbyopic contact lens wearers use their contact lenses often – 47 per cent wear their lenses seven days a week and 48 per cent wear them for 11 hours or more per day. If non-wearers were able to wear contact lenses, 40 per cent said they would wear them all the time and for 39 per cent the use would be situational. The likelihood of full-time wear is significantly greater for those with astigmatism. Only 21 per cent of non-wearers said they would never wear contact lenses, showing the huge potential for multifocal contact lenses.
Chair Time and Success Rates
Fitting multifocal contact lenses takes no longer than fitting monovision, requiring an average of three trial lenses.2,10 Although monovision shows the best performance in the consulting room, multifocals perform better in the real world.2,3 Jill Woods' study of early presbyopes showed multifocal contact lenses are better on all subjective tasks – especially watching television, changing focus, and day and night driving.11 The only consulting room test that predicted success was to allow patients to take a short walk wearing the lenses, showing we must not rely too heavily on objective tests. This is the main change in practitioner mindset that's needed to be successful.
In the Air Optix Aqua Multifocal evaluation, 75 per cent of trial fittings led to a prescription being dispensed and 70 per cent of patients who trialled said they would buy. In the Here&Now evaluation, 65 per cent of patients who trialled bought. Compared to a low-key approach like the EASE method,12 fewer presbyopes trial, but more end up buying. Presbyopes also purchase longer supplies than astigmats fitted in the same practices and are less likely to take their prescription elsewhere (see Table 1).3 Success rates are also higher for emerging presbyopes and if you give patients more time to adapt.2,3
Presbyopes are not fully satisfied with glasses, have low awareness of multifocal contact lenses and if fitted are more loyal than other wearers.
Presbyopic patients are already in your practice and even if you only target females, this is the sort of financial impact you can expect:
34 per cent are 35 to 54 years old = 340 females
70 per cent will trial multifocals = 238 fittings = about one per day
46 per cent of who you ask will purchase in-store = 156 buying
If average sale per new wearer is six months (AUD$200)
Revenue is 156 x AUD$200 = AUD$30,000
Using Patient Psychology
Start the 'conversation' early
Fitting success is based on gaining the patient's trust so that you can find out what they need. New research in psychology says accuracy is what drives trust.13 A failure in trust is more likely to be forgiven if it is seen as a failure of competence, rather than dishonesty. Pre-warn patients about presbyopia before it occurs, set realistic expectations about contact lenses and fit patients early. Here&Now 'best-practice' optometrists fitted patients two years earlier (average 50+/- 8 years).3
Be organised
A structured, ordered environment creates trust.14 Trust allows you to exchange information and show you care. Trust drives feelings of security and optimism. Get to know two multifocal brands well and train your staff how to talk to patients about availability, ease of use and pricing.
On the patient's terms
Motivation is driven by a patient's deeply held values.15 Patients will pay attention and be motivated if what you say is relevant to their basic desires. Self-reporting of values is reliable, so just ask more questions. Focus on the patient goal, not yours. It might not matter if they can't read 6/6. Here&Now success was more likely when the optometrist asked lifestyle questions and focused on the patient goal.
Frame your message
How you present a situation has a powerful impact on how people respond. Kahneman and Tversky won the 2002 Nobel Prize in Economics discovering how people make decisions.16 Patients think they make decisions rationally, but when observed they are much more sensitive to loss than to gain, and will behave to avoid a loss. Would you prefer to avoid a 10 per cent surcharge or get a 10 per cent discount? Same amount of money either way, but you're more motivated to avoid the loss. Explain multifocal lenses are the closest to natural vision. Show patients how reading glasses blur distance vision. Talk to patients about the hassle of taking spectacles on and off and ask them if there are any situations where they would prefer not to wear glasses. Avoid talking about 'anti-ageing', which is a gain of wearing contact lenses. Provide 'how-to' information to make contact lenses look easier.
Set realistic expectations
No test is black and white and no optical device fixes everything. Explain that more than one appointment may be required to find a solution that best fits the patient's vision and lifestyle (Here&Now average was 2.2 visits). Undersell what multifocal contact lenses can do and that the best solution may be contact lenses and part-time glasses.
Keep it positive
Don't get into a habit of focusing on the negative. Keep expectations realistic but be positive by summing up what went well in the fitting. "You're seeing better than I expected", "You learned that quicker than most patients".
Make a firm recommendation
The more choices people have, the more likely they will do nothing.14 If patients 'want to think about it', explain the cost of doing nothing.
Same day service
The longer people defer decisions to buy, the less likely they will get over their hesitation.14 Make your contact lens service immediate with same day fittings, inventory and/or home delivery.
Quote prices as annual supplies, not boxes
'Buy an annual supply so you will never be without lenses' (loss aversion). The Here&Now evaluation showed the format of a quote dictates how much a customer buys. If you quote a six-month supply, the customer usually purchases six months. Pantry loading helps compliance and is one of the easiest strategies to defend against online retailers. For example, my husband bought a bulk load of silicone earplugs. He has so many earplugs he is never caught out, and as a sufferer of swimmer's ear, he doesn't care if they are falling out of the cupboard. He's long forgotten the cost.
Give patients time
People learn skills by going through a cognitive or understanding phase, then a practice phase and finally an autonomous phase where they become faster and more accurate. Here&Now 'best practice' was to provide an extended trial of at least four days' duration.3
Pre-book the next appointment: No timeframe makes a decision very unlikely.14
Most of this is common sense, but reminds you of the effectiveness of good communication. Modern multifocal lenses are quicker to fit, which gives you the time to spend on education.
Technical tips
Over the past three years we have collected data on nearly 600 multifocal cases, from 150 practices and can confidently say the fitting guides work.
Manufacturers base their guides on large-scale trials and using the guide is an easy way to get early success.
Fit the right patients
Talk to your emerging presbyopes, long-term glasses wearers, existing contact lens wearers and dissatisfied monovision patients. Check they have low cylinders, adequate pupil sizes and corneas not too steep. Good vision depends on the lens centering well to ensure the patient is viewing through the correct part of the optic. Also ensure the patient has a healthy ocular surface, or treat beforehand, as dry eye is more prevalent with age and may impact on successful lens wear.17
Follow the fitting guide
The fitting guide essentially says that after you have selected the initial trial lenses, any adjustments you make are more likely to be to the distance power than the Add.
Update the patient's refraction and select the initial trial lenses based on the guide.
Do a binocular over-refraction using flippers – push plus in the distance, but check the dominant eye sees well. If checking monocular visual acuity, then fog the other eye.
Check near vision binocularly – if unsatisfactory adjust distance power first before thinking about changing the Add. Use real-world visual tasks and a short walk wearing the lenses to help you predict success.
Send patients for an extended trial in the correct powered lenses, as a 0.25 change in distance power can have a big impact on distance or near vision.
Explain simultaneous vision
If you are fitting a simultaneous design, teach patients how the lens works, so they understand how the brain learns to select the right image. Get patients to wear the contact lenses every day, for two weeks. Explain the near-centre design and how pupil size affects vision, for example, explain: "Good light makes the pupil smaller and highlights the centre of the lens (reading)." "Sunglasses or night time makes the pupil bigger and highlights distance vision."
Troubleshooting vision
Understand what the patient is trying to do so you can fine-tune the prescription to that situation. If they want the contact lenses mainly for work, they will probably prefer the vision tuned to near and accept a compromise for distance vision. "I can give you more vision here (near), but we'll lose a bit out there (distance)." When troubleshooting distance or near vision problems, try adjusting the distance power before altering the Add. Occasionally a lens fails because of poor centration or inadequate pupil size, but this is usually detectable at the fitting.
A Changed Paradigm
Presbyopes may have reached middle aged, but they are still holding on to the goals and aspirations set in their younger years, and that's a good way to think about them. Changing your habit from fitting contact lenses to young patients who ask, to older patients who don't, sounds like a big change. But it is this turning the paradigm on its head that will distinguish your skills and your practice. You wouldn't need to see any additional patients, just provide a broader service to the patients that are already your top customers. Have a look at your customer report and see how many patients you have in the 40 to 55 year old bracket. What difference could multifocal contact lenses make?
Jenny Saunders Moptom MSc is an optometrist and consultant to the ophthalmic industry. She coordinated the Air Optix Aqua Multifocal and Here&Now evaluations, and wrote this article on behalf of Ciba Vision.
References
1. Presbyopia Report, Stethoscope Research, Ciba Vision, data on file 2011.
2. Air Optix Aqua Multifocal 'Incredibly Liberating', mivision, September 2009.
3. Ciba Vision Here&Now Evaluation, mivision,
January 2011.
4. www.medicareaustralia.gov.au/about/stats/index.jsp.
5. www.abs.gov.au/websitedbs/d3310114.nsf/home/Population per cent20Pyramid per cent20- per cent20Australia.
6. E Erikson, Childhood and Society, p 255.
7. P Morgan et al., International contact lens prescribing in 2009. Contact Lens Spectrum, February 2010.
8. Population pyramid from www.census.gov/population/international/data/idb/country.php
9. D Challinor, Presbyopia plagues daily life claims new research. Optician, 2005; October.
10. J Woods, CA Woods, D Fonn, Fitting Soft Center-Near Design Multifocal Lenses, Contact Lens Spectrum, March 2010.
11. J Woods, CA Woods, D Fonn, Early symptomatic presbyopes – what correction modality works best? Eye & Contact Lens 2009; 35:221-226.
12. Atkins et al. Enhancing the approach to selecting eyewear (EASE): Contact Lens and Anterior Eye. 2009; 32(3)103-107.
13. M de Rosnay, Trust and the latest in psychology from Norway, 702 ABC Radio, 6 September 2011 available at: http://blogs.abc.net.au/nsw/2011/09/dr-marc-de-rosnay-trust-and-the-latest-in-psychology-from-norway.html.
14. A Furnham, 50 psychology ideas you really need to know, Quercus, London, 2008.
15. Sn Reiss, The normal personality (2009).
16. D Kahneman and A Tversky (eds), Choices, values and frames. (2000).
17. ES Bennett, Contact Lens Correction of Presbyopia. Clin Exp Optom 2008; 91(3): 265-278.
Promoting Multifocal Contact Lenses
In-store signage: 'Multifocal contact lenses available now'. Signage ensures you are committed to offering the service and conveys a message of being up-to-date.
Educational materials: Update your messages to say that multifocal contact lenses are available in most scripts and are easy to use.
Email newsletter:For existing spectacle wearers, promote convenience of contact lenses over spectacles and for new presbyopes, show contact lenses are easy to use and give a price per day to show affordability.
Patient history: Try adding a new question to your history to understand individual patients. 'What do you like about your current glasses?' When do you find them frustrating?'
Delegate insertion and removal of contact lenses: Get your staff trained so that you never hesitate about fitting a new wearer.
Pricing: Update your price list to quote annual supplies (not per box)