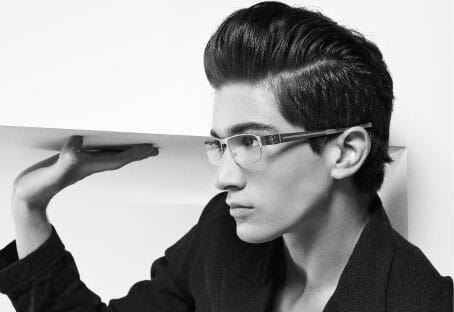 One of the most exciting aspects about the more relaxed dress code in today's office environment is the freedom it has given people to express themselves through their eyewear. We used to expect to see the creative department wearing the more out-there frames and suits, geek-chic, now the reverse is often true.
What new looks are on the way to help your customers express their personality in the workplace?
In many offices around town, suits and ties have been replaced by smart jeans or pants and a polo or casual shirt. The new uniform brought to life by accessories which make a personal statement. The watch, pen, belt, shoes, pocket-handkerchief, cufflinks or handbag, all say something about where the wearer comes from and their values. But, what says more about a person's personality at work is more often than not, the frame they're wearing.
According to British based designer Robert Morris, of William Morris Eyewear, a frame can say much or little about the wearer.
"When I meet a person, especially for the first time, the frame they wear tells me a lot – for example, a strong retro look says the wearer is a confident, creative individual." Mr. Morris believes that while the retro look will continue, professionals may end up turning away from the trend of dressing down.
People want to look stylish in glasses. They want to have fun wearing cool spectacles, so I believe colourful frames are what people will look for, not only in 2012 but years after
On the runways of New York, retro influences continue to steal the spotlight. However the new looks in eyewear are teaming up with tailored herringbone or hound's-tooth suits, slim fitting pants and collared shirts.
Next season expect to see retro eyewear styles of the last few years being tempered and refined. Circular shapes – true rounds and rounded squares –are starting to dominate. Thin wire frames, semi-rimless styles with a simple, clean approach are also popular.
Tomek Bartelik is the founder and designer of Radical Eyewear, an up and coming UK eyewear designer currently looking for global distributors. In his view, eyewear is being crafted from new materials and shapes are becoming more minimalist, but they remain influenced by the 60s, 70s and 80s.
"It could be a combo of a 70's shape created with very modern materials and in vibrant colours" he says.
"Imagine a butterfly shape for women in very modern, carbon materials, or the 80's geek style morphed with some of the current days' shapes and produced with a colourful crystal acetate front, a flat bridge and high-end titanium temples. Just great!"
Suzie Elasmar from Melbourne based Hawk Union says futuristic vintage designs and materials will be big in the coming season. "The next 12 months will see optical and sunglasses designed to exude power and glamour. Individuals can express culture and lifestyle through the styles, shapes and colours out there in the market, yet retain a point of difference."
Ms. Elasmar says, "style and elegance will shine through with every colour imaginable including clear acetate.
"Many styles are unisex – allowing the individual to express their personality and ensuring their choice is not an unnoticed accessory."
"The collections that sell will not be mass produced but hand-made with care and attention to detail. Functionality is pivotal as consumers demand more for their money. Styles are not over-sized this season. Shape is integral, however its colours and materials setting the high bar."
colourful frames are what people will look for, not only in 2012 but years after. Stripes, gratings, transparent colors – this is what I think we're going to see also on the streets next year. As people become more daring, they will choose more quirky shapes."
Ms. Elasmar said celebrities are setting the trend for individuality. "The gorgeous Parisian, Thierry Lasry prides himself on incorporating an updated, modern avant-gardist image – no oversized logos appear on the temples yet they are still chosen be many celebrities world wide for their individuality and forward vintage designs."
When it comes to helping your customers select frames to wear for business, it all comes down to helping them project the image that best suits where they are in life – and where they want to be in the future.
"Image in the professional arena, like it or not, is crucial," said Mr. Morris.
He gives the example of two friends. "Two very close friends of mine, both male, both in their early forties, both professionals (one is a corporate lawyer the other a head school teacher), decided they needed to visit their local optometrist for an eye examination.
"Neither were concerned about the examination, neither was concerned about the lens. BOTH were very concerned about the frame selection and what kind
of image or look they should go for and the advice they would get from the optician relating to this.
"As the school teacher said to me 'What a strange business, science meets fashion' and after 25 years in the industry I could not have put it better myself!" he said.
ByWP
ByWP is an ultra-light German made collection that features wafer thin stainless steel and an innovative hinge design with no screws or welding. As a testament to its success, ByWP has received several prestigious design awards including the Red Dot Design Award, Good Design Award and IF Product Design Award.
It's a great frame for the sophisticated, professional person.
For more information, contact Luxol Eyewear Merchants: (AUS) 07 3847 5500
Marc O'Polo
Natural, simplicity, quality, personality and innovation – these are the keywords Marc O'Polo uses to define its Premium Casual Brand. 'Natural' underlines the designer's love of natural materials and natural beauty. Marc O'Polo Eyewear presents spectacles manufactured to a high quality, in fashionable yet timeless designs that enhance the wearer's natural look.
Absolute functionality, quality materials and workmanship and a timeless, purist design characterise these frames which are oh, so suited to the serious professional.
For more information, contact European Eyewear: (AUS) 03 9877 7956
Christian Lacroix
Drawing inspiration from Christian Lacroix's universe, this strikingly colourful, fun-filled eyewear collection reflects the creativity and design details that have contributed to giving the brand its iconic status.
For more information, contact Mondottica Australia: (AUS) 02 8436 6666
Golden Circle
Silhouette's Golden Circle rimless eyewear for women is handmade in Austria using high quality materials and harmonious colour combinations. This sophisticated frame is distinguished by a delicate pattern of interwoven titanium circles along the temples, reminiscent of elegantly simple necklaces and bracelets. The Golden Circle collection comes in the following gorgeous colours: cool, royal silver-purple dreams, striking ivory-gold glamour, reserved-fine brown elegance and classic grey-gold shadows.
For more information, contact Mimo: (AUS) 9970 1800
Black Forever
McCann Optics presents a timeless classic with a modern twist. That's the theme behind the Black Forever range of acetate frames. With a large range of styles; from sharp and modern, to classic retro, there's something to suit the most discerning professional.
Contact McCann Optical Parts: (AUS) 03 8773 4500
Convertibles
Sometimes things just click… that's the sound of Convertibles Eye Wear. What better way to move from the bright glare of a summer's day into the office than with the convenience of a pair of prescription frames that doubles as a pair of sunglasses. Convertibles Eye Wear frames are available exclusively for independent eyewear retailers across Australia and New Zealand from Optique Line. The company has supported the brand with a national media campaign throughout the summer months.
For information contact Optique Line: (AUS) 03 9853 0796 or (NZ) 0508 678 478
Typoon
The founder of Fritz Frames designed the Typoon for himself and not surprisingly, it is his favourite. "I don't want to make a statement with my eyewear, I don't want eyewear that makes statements for me. I don't need to wear a head turning peace of high fashion on my nose, at least not all the time… I want beauty and elegance, quality and function," said Fritz.
These under-stated Nordic-inspired frames are classic without being retro. Thin golden brown teak rims are crafted from a unique super strong timber composite material and the hinge is a design feature in itself.
For information contact Fritz Frames: (AUS) 07 5442 3480
Rancho Deluxe
A jewellery maker took two weeks to hand carve this design for Rancho Deluxe, an elegant frame created by Jonathan Hennessey Sceats and launched at Silmo in Paris. The sophisticated textured frame for women is crafted by combining metal and acetate. Individual frames within the collection have a unique pattern – an aspect of the design and manufacturing process that Jono says is absolutely unique.
For information contact Jonathan Hennessey Group: (AUS) 02 9362 4941
ErgoFlexx Individual System
The ErgoFlexx Individual System from Zeiss is all about choice. There are 6,180 possibilities to suit the different face shapes of men, women and children with both nylon and rimless glasses, available in different sizes and colours. The rimless collection offers a choice of five lens shapes. ErgoFlexx Individual offers five different temple lengths and four different temple colours, which instantly change the look and fit. A temple click system makes changing the temples quick and easy and a hinge with a teflon sleeve developed by Menrad creates smooth movement. Three different sized bridges ensure a perfect fit on the nose. Optometrists will appreciate the non-reflective demo lenses for exact centring data when measuring electronically. For nylon frames, demo lenses are available with 2mm extra depth for adjustments at the time of dispensing.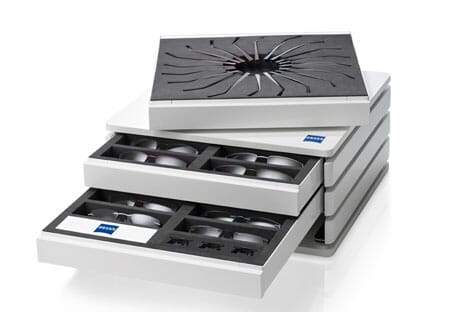 For information contact Eurostyle Eyewear: (AUS) 03 9877 7956
R.M.Williams
R.M.Williams is a staple when it comes to corporate professional style. Renowned for handmade quality, this brand's contemporary frames feature understated detailing, subtle enough to wear for any occasion, while still being sufficiently noticeable to identify the outstanding quality and attention to detail of the frames. In any professional environment the new collection with its classic angular shapes and subdued colour palette, including classic tortoiseshell and dark horn colours, is a quiet nod to the success of the wearer and their aspiration for only the best quality and design.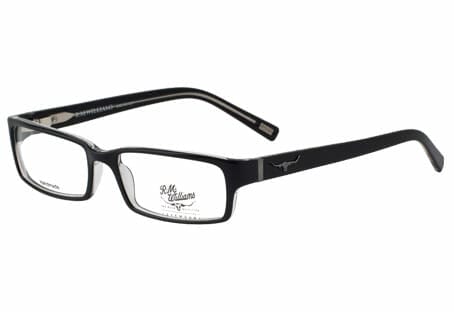 For more information contact VMD: (AUS) 07 5594 9845
OGA
The OGA range of men's frames are inspired by architectural design and are suitable for the professional man, ranging from 20's through to 60's or 70's. The designs complement the face and have strong lines and feature unique hinges and temples. The range come in several styles and varies from nylon to full frames. The model pictured (68420) is crafted from aluminium and currently one of the best sellers.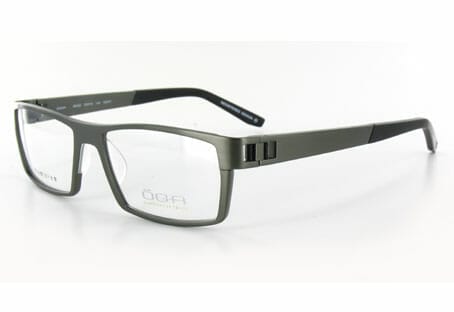 For more information contact Eyes Right Optical: (AUS) 03 9763 1333
Ermenegildo Zegna
Ermenegildo Zegna's contemporary design and high-tech materials create a sober and refined proposition for style conscious professionals. The latest collection is enriched by retro shapes and materials of the past, embellished with thick, horn-effect acetates or thin metal. Shapes conveying an unmistakably vintage look combine with elegant colours, exclusive metal pins on the end piece and the traditional key bridge.
Model VZ3223 features a high-tech frame with an NXT polymer front and wide metal temples with a chiselled logo. It's available in the refined tones of red, smoke, antique brown and blue as well as classical black and brown.
For more information contact L'Amy Australia: (AUS) 02 9428 5640
Centrostyle
These Italian designed folding half-eye frames by Centrostyle are the ultimate for the busy professional.
They're available in black or silver and supplied with a sleek, matching semi-hard case. Centrostyle folding frames are supplied complete with ready-made lenses but may also be fitted with prescription lenses if required.
Emerson
ProOptics prides itself on carrying a vast array of professional eyewear – from 50's geek styling for the hip and studious customer, to the sleek, divine titanium for the sophisticated businessman and handmade Japanese acetates as is the case with the new Emerson (pictured).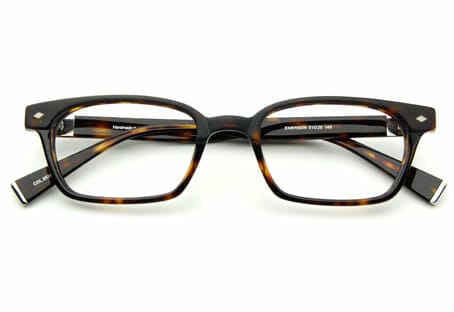 For more information contact ProOptics: (AUS) 02 8007 6041
ZeroRH+
Savvy professionals looking for different and 'smart' products that also happen to look great, could find exactly what they're looking for in ZeroRH+'s Quobo, which are crafted from acetate and cromoflex alloy.