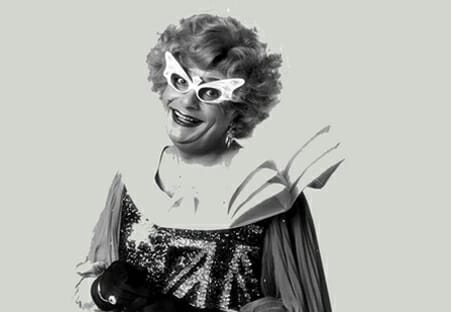 Australian comedic legend, Barry Humphries, announced earlier this year that he would retire his character Dame Edna Everage – Australia's "housewife gigastar" at the end of his current 'Eat, Pray, Laugh' tour
of Australia. We pay tribute to this great Australian icon who defines extravagance in her choice of spectacles
Created in the 1950s when comedian/actor Barry Humphries was touring Australia, Dame Edna will be officially retired from the stage at the end of this month.
It will be a sad day for all Australians, not least Humphries, when he tucks the Dame's "wisteria hue" locks into mothballs for the final time, but at the age of 78, he says he is "beginning to feel a bit senior".
Humphries announced the retirement of Dame Edna, Sir Les Patterson and Sandy Stone in March. Speaking of the roles he has performed, he said, "I love it and it's healthy for me. It's the best aerobics you could do, leaping around on stage, but it's gruelling when there are other things to do."
…the vast majority of the frames I describe were not only worn in their historic day, but would attract a ready market if re-issued today
While the 'Dame' may make the odd television appearance for her adoring fans, the current tour of Australia and New Zealand will mark the end of her long illustrious stage career.
Modest Beginnings
Dame Edna Everage is described as "probably the most popular and gifted woman in the world today: housewife, investigative journalist, social anthropologist, talk show host, swami, children's book illustrator, spin doctor, Megastar, and Icon. With Olivia Newton-John, Kylie Minogue and Nicole Kidman, she is one of a remarkable succession of female stars to emerge from Australia."1
That's lofty praise indeed, even if they do come fresh from the pages of her website. That said, they're not far from the truth.
It may surprise many to know that the Dame wasn't always a megastar.
Edna (as she is known to her nearest and dearest) started her stage career in December 1955, as Mrs. Norm Everage, an "average Australian housewife" from the Melbourne suburb of Moonee Ponds. Her early wardrobes show none of the panache and flamboyance she is famous for. Early pictures of Edna show a mousey housewife with a strange hat – and unadorned cat eye frames.
Following an elevation to 'royalty' in the 1970s, Edna's self-professed profile soured on billboards from "Housewife Superstar", to "Megastar" and finally "Gigastar".
The Dame's style and fashion sense has stopped the world's fashion designers in their tracks like the veritable doe in headlights. Her style, even studied by many astute social commentators and even… historians.
Flames and Curls
In his book, Cult Eyewear, author Neil Handley says Dame Edna Everage's eyewear became a staple part of her outfit in the mid-1960s.
"The spectacles were bought from opticians, picked up in thrift shops, or provided by Humphries's friend Stephanie Deste, a beautician and broadcaster who imported French frames for her chain of salons in Melbourne," Mr. Handley said.2
Deste, who arrived in Melbourne in 1926, had been an international silent movie star and became a favourite on local radio. She also opened a series of beauty salons and quickly became a grand dame of Melbourne society.
Her main trademark was her spectacles, which were handmade. They had great diamante-studded wings that opened up on either side, and became the inspiration for Dame Edna's eyewear style, with Humphries ordering dozens for Edna.3
The glasses provided by Stephanie Deste were an integral part of the "glamming up" of Edna in the 1970s.
In the mid-1980s, Edna met costume designer Stephen Adnitt. Dame Edna has long claimed her "face furniture" and costumes were designed by her son, Kenny. In fact, the credit belongs to Mr. Adnitt, who met Dame Edna when he was working at London Weekend Television, and was scheduled to do the series The Dame Edna Experience. It was the start of a life-long working relationship.
Mr. Adnitt said in an interview that Humphries had "two shapes which are standard specs used for Edna, one which we call 'the flames' which go outwards and the other one which is 'the curls' which curl."
"The curls tend to get used more than anything else. But there was a period in the 80s and 90s when I was doing a pair of specs to go with each dress," Mr. Adnitt said.4
Anglo American
Dame Edna was also a fan of the Anglo American brand of spectacles. In The Cult of Eyewear, Mr. Handley recounts that the firm made "an upside down snooker frame with prison bars" for an Edna skit about the TV show Prisoner, and a frame in the shape of the letters R and T, for a front cover picture on the publication, Radio Times.2 The firm also produced a frame shaped like a tomato, which is now part of a collection of Barry Humphries memorabilia, housed by the Arts Centre in Melbourne.
Anglo American used to inscribe the sides of Dame Edna's handmade spectacles with the line "A hand job by Anglo American" or "By Appointment to Dame Edna". Earlier this year, a pair of plastic multi-coloured wing shaped glasses in an abstract pink and grey swirled design with these inscriptions sold at an auction of Hollywood costumes, props and memorabilia for USD$2,880.5
Like many collections you see walking down the catwalk, Dame Edna's eyewear was, for most (other than perhaps Elton John), unwearable. However, many designers, from as far afield as Los Angeles, London and Switzerland, owe a debt of gratitude to this great fashionista from Moonee Ponds, for pushing the envelope
a little beyond our comfort zone.
Thank you Possums and to all "a good night".
References
1. www.dame-edna.com
2. Handley, N. Cult Eyewear: The World's Enduring Classics, 2011.
3. George Negus Tonight, Australian Broadcasting Corporation, 13 October 2003. Transcript available: abc.net.au/gnt/history/Transcripts/s965779.htm
4. Interview by London's museum of art and design, the Victoria and Albert Museum, www.vam.ac.uk/people/s/stephen-adnitt/
5. https://www.julienslive.com/view-auctions/catalog/id/68/lot/25563/