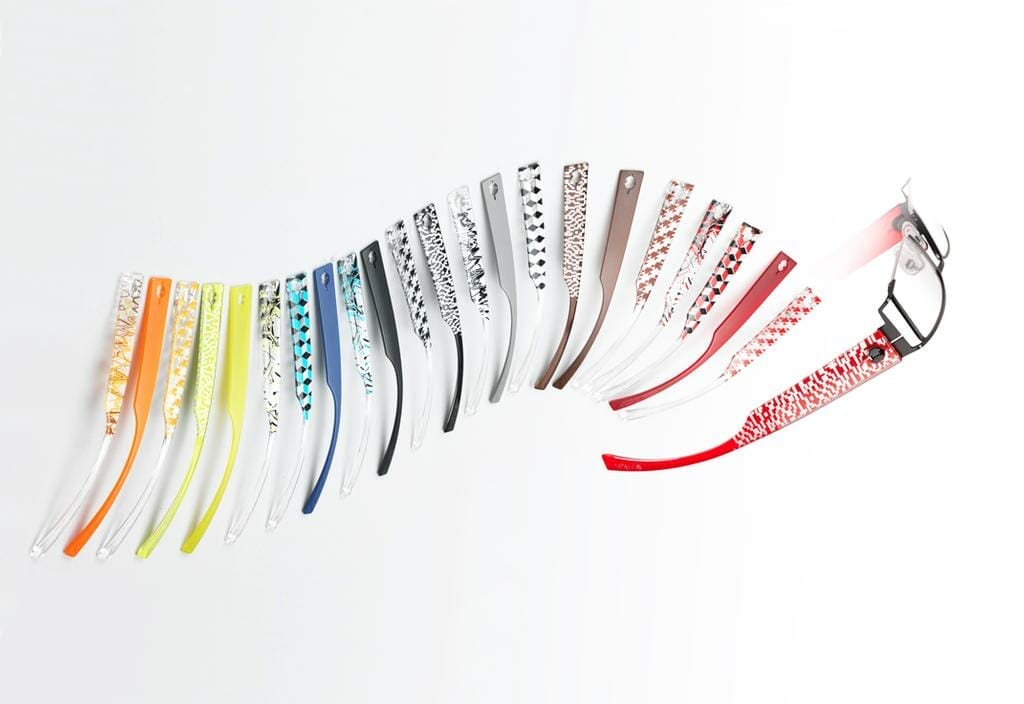 In today's fast paced world, where people are constantly on the go, travelling long distance, juggling work with family, and all the while trying to watch their expenses, the ability to change a look quickly and inexpensively makes perfect sense.
On top of that, people are constantly looking for the newest and coolest designs that attract attention and make them feel good about how they look.
Eyewear is one key fashion accessory that offers plenty of scope for change, but the problem for many is that having several quality frames in the top drawer just isn't affordable. Instead customers tend to choose one frame and stick with it over time – and in the process become bored with the way they look.
Frames with interchangeable temples offer an affordable alternative that enables constant and quick change according to the occasion, the mood or the need. With interchangeable temples, a customer can change their look from conservative to cool in seconds, monochrome to multi-colour or bold and simple to elegantly elaborate.
This option for eyewear is a 'must-have' in your practice that will encourage your customers to look at their eyewear as a fashion accessory as well as a vital visual aid. Many interchangeable frames can be bundled into packages of a front with multiple temples to entice your customers to make a purchasing decision.
the idea of designing clothes that can change depending on location, (is) very exciting.
Across the Fashion Sector
Interchangeable fashion isn't new by any means. Over many years designers have worked on the idea of interchangeable fashion for every day consumers that save time and money… from interchangeable eyewear to dresses that go effortlessly from day to night, convertible shoes that offer a variety of heel heights, and purses that can be changed to match your outfit. Some of the interchangeable fashions around are a little more eccentric…
When designer Hussein Chalayan, in 2007, designed a robotic dress with panels that mechanically separate and float upward, he left his audience of fashion critics speechless. When quizzed over his inspiration for creating garments that transform as they are worn, he said he finds the idea of designing clothes that can change depending on location, very exciting. So too is the idea of designing garments that perform more than one function.
The 'M-Dress' created by London-based CuteCircuit is another gob-stopper. This figure hugging little black dress, made from silk jersey, doubles as a soft-circuitry mobile phone, with a standard SIM card inserted into a slot beneath the clothing label and the antenna in its hem. When the dress rings, the wearer simply moves her hand to her ear to answer the call, then she moves her hand down to hang up. "Mobile phones are quite awkward to carry, especially for women, who have garments with small or no pockets," says Francesca Rosella, who co-founded the pioneering wearable technology / fashion business with Ryan Genz.
"I think in the future, there will be a complete elimination of all the little gadgets," she added. "You are the gadget that communicates. You don't need anything else because it's your body that communicates."
CuteCircuit is a serious enterprise
The forward thinking design team has created innovative, intelligent interchangeable fashion using LED technology, reflective materials and smart textiles. It's been worn on stage by the likes of U2 and Katy Perry.
Fashion Emergencies
Interchangeable fashion harks back to the 1940s, when the Germans explored the idea. During World War Two, German soldiers were issued with the Zeltbahn, a multi-purpose piece of equipment that could be combined to make tents or shelters of various sizes, used for all sorts of camouflage and as a rain cape, an improvised floatation device or an emergency stretcher.
Like the Germans, American Dr. Elena Bodnar was inspired by the threat of war to come up with an interchangeable fashion item.
In 2009 she took out the Ig Nobel Public Health Prize for her 'Emergency Bra'. The annual Ig Nobel Prizes are an American parody of the Nobel Prizes that aim to "first make people laugh, and then make them think".1 The sexy red protective device transforms from a bra into two respiratory pace masks to filter out harmful airborne particles, such as those released by fire, explosion, terrorist, radiological, biological attack, and natural disasters.
Dr. Bodnar said she designed the bra because while most people don't carry a respiratory device for emergencies, the majority of women wear a bra every day – the cups of which are already in the shape of a facemask. Seriously, stick with me here. By including shoulder straps that easily convert into adjustable head straps, flex inserts along the top rim of the cups that mould tightly around the nose and bridge area, and an inner liner that "acts like a butterfly valve during inhale cycles", she created the perfect solution for an emergency situation.
When accepting her Ig Nobel award Dr. Bodnar said, "isn't it wonderful that women have two breasts, not just one? We can save not only our own life, but also the life of a man of our choice next to us."
Women Drivers
Women's fashion has been the driver for many interchangeable products and heels would have to be one of the most practical. Candice Cabe came up with the concept when packing for a business trip. An entire suitcase was filled with her shoes. "My itinerary was packed with a tight schedule and a wide spectrum of events," she was reported to say. "For the chartered boat excursion, I had packed my short casual heels. I had my medium heels for walking around a tradeshow. For the upscale dining event, I had more elegant high heels that looked great with a dress. I realised that all of my shoes were essentially the same design with different heel heights and they were taking up a lot of space. I thought it would be great to have one pair of shoes that allowed me to interchange the heel heights. And my idea was born!"
Day2Night was the result – a pair of shoes that feature interchangeable heels of differing heights that range 4-9cm and snap in and out instantly.
In many cases, interchangeable fashion has been enabled thanks to the arrival of highly sophisticated manufacturing technology. That's particularly true when it comes to interchangeable eyewear that relies on clever interlocking parts that can be managed by any wearer in a hurry – and wont weaken or break under pressure… as is the case with the eyewear we feature here.