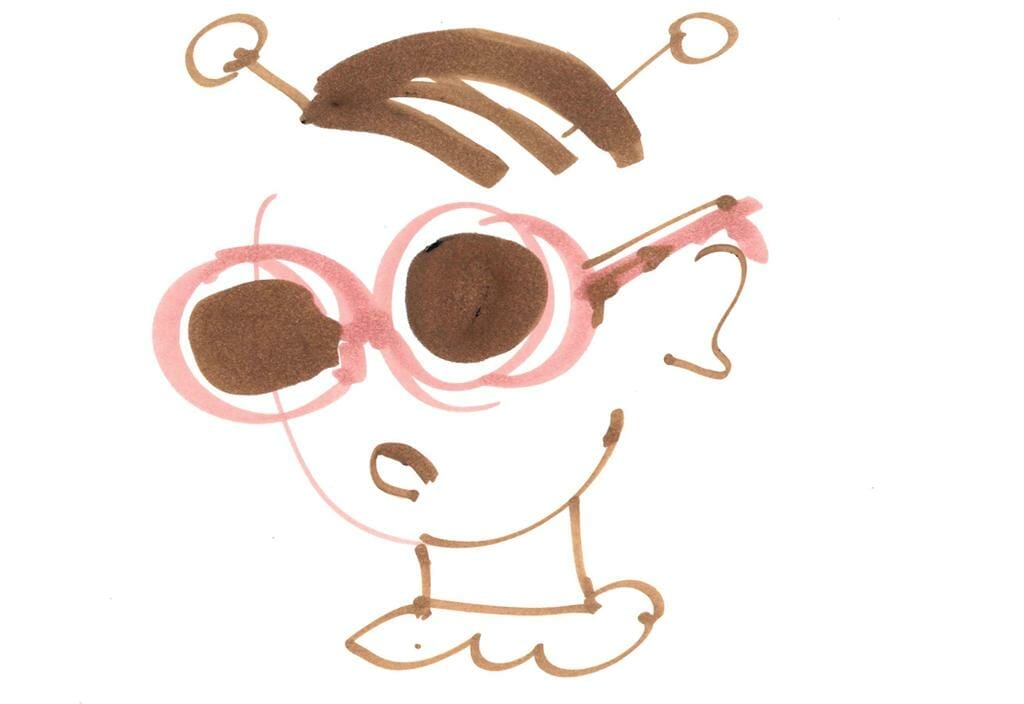 Some designers go with the flow, coming up with concepts that sit with the trends and capture the attention of the mainstream. Then there are the others – those who are unafraid to swim against the tide – to create entirely new looks that appeal to a smaller yet more passionate audience. mivision asked Antipodean designers Paul Taylor and Karen Walker how they found their direction – and where in the world it's taking them.
Karen Walker knew she'd made it big when the exclusive department store Barneys New York placed an order for her garments. Then Madonna performed in front of an audience of 200 million people at the MTV Music Awards… wearing Karen Walker pants. Next came front-page stories in the New York Times and Style.com – the girl from New Zealand was on her way.
For eyewear designer Paul Taylor, the moment came in 1997 when he saw a shot of Michael Hutchence hanging out of a hotel on the Champs Elysee, wearing his frames. The now famous photograph, snapped by London-based photographer Harry Borden, hangs in the National Portrait Gallery in Canberra. In 2011 Paul Taylor re-released the very frame Michael Hutchence wore in the iconic portrait in his Timeless Collection. In honour of the artist, who happened to be a favourite of Paul's, he named the frame Hutchence. Additionally, Paul Taylor has re-released the same style frame under the name Michael, in 12 colours and two different sizes.
While Paul focuses on eyewear design, for Karen Walker, frames are just a tiny part of her fashion empire, which was established with apparel and now includes jewellery, paint and homewares. Frames, Walker says, are a natural addition to her design repertoire because "great shoes and great eyewear frame an outfit". She points out that they're also a great entry point to the brand for new customers. As for paint and homewares, "colour is central to what I do. Plus, I've always considered myself a fashion designer and fashion today is a much wider language than just apparel", she told mivision.
People don't need more sunglasses, what they're looking for is something to lift them
Paul Taylor can also see the sense in designing other products but for now, he'd prefer to stay small and focussed. "I've thought about going into other areas of design – I'd love to – but there's only so much I can do – I'd have to employ more people and get back into retail, develop brand identities – and that's a huge responsibility. I love to enjoy life."
And enjoy life he does. When I spoke to Paul, it was over lunch in his crisp white washed apartment just across the road from spectacular Bondi Beach.
It was a sparkling winter's day and the beach was at its best. Speckled with tourists soaking up the unusually warm rays and surfers catching those world famous rollers. Paul designs here or travels north to his country retreat in the hinterland of Byron Bay.
Fell into Design
"I had no intention of designing eyewear – it happened by accident," he told me. "I'd been doing furniture restoration and had plans for a career in photography. But 18 years ago, I was managing an eyewear shop for a friend in Newtown. A girl came in, she was a bit of a hippy, bare feet, long blonde hair, about 25 years old, and looking for a cats-eye. She hadn't been able to find what she wanted so I suggested I draw it up – not that I had any idea. I drew the frame, cut it out of cardboard and put it on her face. She said that was exactly what she wanted, so I offered to have them made. There was something about her – I trusted her and didn't take a deposit but went ahead and had the frames made. She didn't come back.
"I finally apologised to the shop owner for spending money on a nonexistent customer and we put the frame on display. It sold to the first woman who came in. That's when I realised eyewear design was something I should pursue."
He continues to produce a collection of cats-eye frames, in that same style he drew up 18 years ago. It has been loved and worn around the globe by many, including the likes of Paula Yates and Sarah Murdoch.
Paul's desire to stay small and focussed is hardly surprising. His meteoric rise to success in the eyewear world saw him running two successful businesses in the mid 2000s, and almost led to exhaustion.
"I got to a point where I had 20 staff. I was designing eyewear, controlling the wholesale business and trying to run my optical retail store – Eyeballs Eyewear in Paddington. I needed time out. I took on a distributor and a business manager for my Oxford Street shop, and spent two and a half years on my property inland from Byron Bay. All I had to worry about was the shop's financial management and designing eyewear. So I was up there, up north on my property, growing vegetables and designing, and it was very good for my soul."
In 2011 he sold Eyeballs Eyewear to pursue his true passion – designing for the Paul Taylor brand. A self-confessed control freak, he also manages the manufacturing process in Italy and France and travels the country to promote his brand to optometrists.
"I'm getting a lot of interest, particularly from Victoria – they love the offbeat, bold styling of my glasses. I'm also making good progress in regional areas. A lot of people are moving out of the cities and so these country areas are becoming more diversified, the people are more open to new designs. The business owners are positive to deal with too, which is exciting – I like to work with positive people. To me, this business is about connecting, about relationships and building partnerships."
With experience in optical retail and a background as an optical mechanic, connecting with eyewear professionals is something Paul feels entirely comfortable with. "I understand where they are coming from as a business, and I understand the technical side as well as the design side – the designs that suit different face types."
Designing for Different Faces
Designing for different faces is what Paul loves the most about his job. "I don't get my inspiration from architecture or nature or art, I like to look at people's faces and design a frame to suit that face. That's why I enjoy working down here (on Bondi Beach) there are so many people out there – so many different faces… To see someone wear my frame – to see them feel good about themselves and the way they look – is fulfilling, it makes me really happy."
Paul designs with pencil and paper, preferring the immediacy he gets to the convenience of technology. "A friend spent two weeks teaching me to use (the software program) Corel. But I like the touch and feel of paper and pen," he said.
Sitting down to design can be difficult. "I have ideas in my head but I have to focus myself. I can spend a week getting myself into the mood.
"I can't have anyone around so I'll come here to Bondi or more often go to Byron Bay. For my first sunglass collection, which was really successful, I sat at the Quay Grand for a week. There I was, paying big money for a week's accommodation, and I had designer's block. So one day I walked all the way around to the Rocks to the only bottle shop that was open – and I bought a bottle of Bourbon. I had to – I had to get through the block for my first sunglass design. Another thing I'll do is I'll have a few drinks, listen to all my favourite Australian bands – INXS, Midnight Oil etc – then I get to work, I'm on a roll, until 4am."
For Paul, one of the most important elements of his design is colour. "I'm not scared of colour – most manufacturers try to be conservative because it sells, whereas me, I'm different. I like to have a loud range – it might not sell as widely but it creates interest. Like my fire engine red acetate – nobody does a red like that and it's so well recognised."
Indeed, Victoria's Supreme Court Justice Betty King is probably as famous for her role in Melbourne's gangland trials as she is for wearing Paul Taylor's red cats-eye specs. She was even painted wearing her PTs by artist Lana McLean, who submitted the portrait for the 2012 Archibald prize competition at the NSW Art Gallery.
Making Fun
Paul said he often receives phone calls from customers who are looking to buy more PT frames – the same style as the frame they're wearing – but in different colours, because they enjoy creating and wearing different looks.
It's a request that Karen Walker would understand. When it comes to designing eyewear, she says her philosophy is that every piece should be fun. "People don't need more sunglasses, what they're looking for is something to lift them. Every piece of Karen Walker eyewear is infused with optimism, fun and bravery."
Right down to the point of sale. The Karen Walker 'Candy Bar' is currently making its way around the world – a new collection of frames, inspired by the colours of 'candy' and displayed on a free wheeling old fashioned style ice-cream cart.
The quirky Candy Bar concept is typical of the approach Karen Walker takes to all of her designs, which have been described by a U.K. Independent newspaper as "the kind of look that provides a means of appearing cool but not trying-too-hard, cute but not saccharine, alternative but not self consciously so".
Karen herself describes her brand as casual – a mixture of complete and unexpected opposites coming together – masculine styling blended with the feminine, street styling mixed with high end, all coloured by the Kiwi population's approach to casualness.
All About Imagination
However when asked more about the influence that New Zealand may have on her designs, Karen was adamant that it's minimal. "I'm not interested in our geographic placement and its impact on the work. We're interested in what comes out of our imagination," she told mivision. "As designers, there is so much around us for inspiration – the trick is to open our eyes… the only limit to great design is the quality of our imagination."
That's true of course, but to succeed in business, you also need intelligence and vision. Fortunately, Karen has it all. Her collections are now stocked in 600 stores throughout the world in cities including London, Los Angeles, Sydney, Tokyo and New York where she has been showing her collections for many years. There are also five Karen Walker flagship stores in New Zealand.
As Paul Taylor quickly re-gains momentum in Australia, he too is looking to the world. His first stop will be Holland, where he already has a business associate lined up and ready to commence selling into stores. From there, who knows where this world of eyewear will take him.