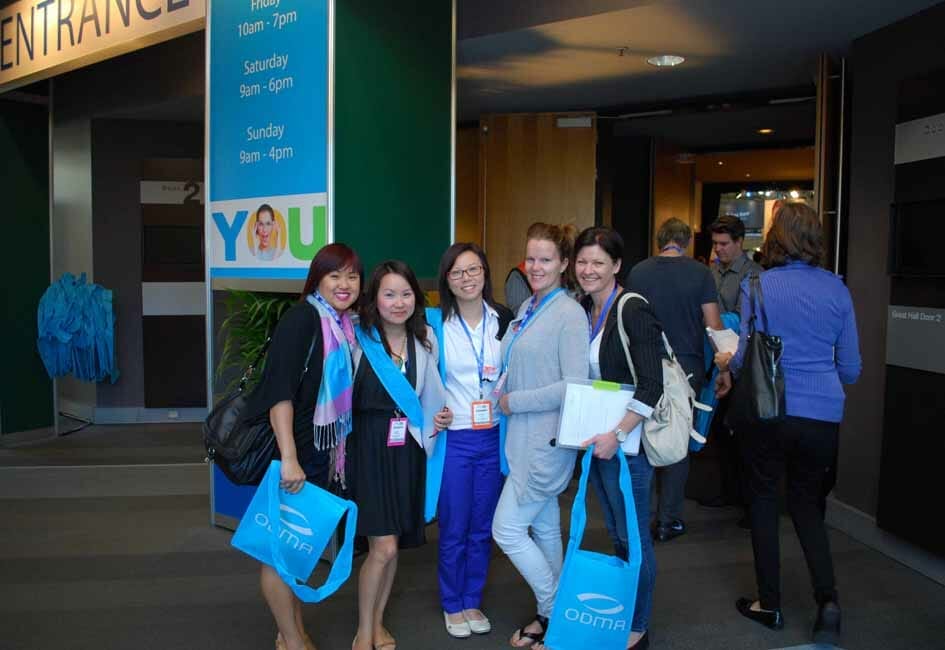 The overall response to the exhibition has been fantastic…
"I knew it was a huge risk and we'd wear a bit of flack for it, but we'd surveyed our members and visitors from 2011 and the overwhelming consensus was they wanted to move (from Sydney). Then, when we found out Sydney's Darling Harbour Exhibition Centre was closing, we knew the time had come. We looked at Melbourne and Brisbane as alternative sites and Brisbane was successful in the tender process."
It was a risk that paid off.
"The overall response to the exhibition has been fantastic, said Ms. Carey on the final day of the exhibition. ODMA's Chairman, Richard Grills agreed.
"I've spoken to the smaller exhibitors and have had a great response from 90 per cent of them," he said.
Ms. Carey said the response from the major exhibitors was also extremely positive. "Sometimes it takes a while to shift people's opinions, but we've had exhibitors come to us and thank us for moving to Brisbane because they were seeing people they'd never seen before."
"The excitement vibe was there – people were saying, wow this is really different. They told me they'd seen people they haven't seen before – people from remote Queensland and Western Australia, and a lot had said they've written more business here than at the last couple of ODMA events," he said.
"A few exhibitors were a bit reluctant to come along but they've totally changed their views. We've got almost universal approval for what we've done," said Mr. Grills.
Happy, Happy
By all accounts, exhibitors and visitors alike were happy. Although attendance from NSW was down, Victoria and, as you'd expect, Queensland were well represented. Many optometrists and optical dispensers from Queensland that mivision spoke with said they were at the exhibition for the first time and hadn't been before because they couldn't justify travelling to Sydney for the event.
"It's fabulous to see ODMA in Brisbane – we brought the whole team," said Janelle McDonald from Eyecare Plus in Toowoomba. "We're here looking at all the ranges, comparing them and finding brands we don't normally get to see. We've done some buying and we're looking to see what we might do in the future," she said.
George Nasser, Managing Director at Opticare said the response from his Queensland customers had been overwhelming. "We've seen a lot of local customers who've never been to ODMA before and some of them are very emotional about it. One account yesterday couldn't thank us enough for being here. We'd come to ODMA in Brisbane again. The population is here – it's not as big as Sydney or Victoria but it's big enough and we've taken a lot of solid orders," said Mr. Nasser.
"Getting people here to see the products – you can't put a price on that – because we can't get out to see everybody," he said.
At Rodenstock, Collette Kinsella said ODMA 2013 was one of the best ODMAs in the company's history. "Many customers commented on the quality and styling of our ranges. We also had an amazing response to our ImpressionIST 3 video centration device and to our new generations of lens products."
Mark Altman from Device Technologies said while the exhibition itself was smaller than previous ODMAs, exhibiting at ODMA was "definitely worth our while… we've certainly had a strong response from Queenslanders, people have been placing orders."
Jim Karrah from Matrix said it's important for ODMA to be successful because it gives independent optical retailers a collective voice. He said although visitor numbers were down, the people who were at ODMA were the ones responsible for buying. "I'm getting the same sales results as last time. ODMA has to be supported – it can't die – it's something the independents belong to," he said.
Launching Pad
Several companies chose ODMA to launch themselves into the market, or to launch new products. ProVision was one. The buying group launched its new 'My Local Marketing' (MLM) resource and ProSupply – an online ordering system that enables its members to order most of its frames and lenses from one portal, regardless of the distributor. Over the three day exhibition, the company had signed up 96 of its 400 members to ProSupply, simply by personally demonstrating its capabilities. Additionally, the team was able to reinforce the benefits of participating in the online ordering portal with its frame distributors.
Zeal, a Colarado based brand owned by Maui Jim, also chose ODMA for its official brand launch. According to Joe Prebich, Zeal's Marketing Director, the ecologically focused, socially responsible lifestyle eyewear company generated plenty of interest.
"We had a lot of confirmed appointments booked before the event so our booth was busy from day one," he said.
Fine Looking Eyewear (FLEYE), a delightfully Danish eyewear company was quick to grab attention at ODMA with one of the company's principals, optometrist and eye wear designer Annette Saust Estø modeling a brilliant orange frame that perfectly matched her equally brilliant orange hair.
With an absolutely fresh team of sales reps – some who'd started just a week ahead of ODMA – and lead locally by the woman who established the famed Pandora jewelry brand in Australia, this is a brand that's serious about success.
"We're here to find practices who want to take our brand on as a major brand… because we want to work at a very deep level with our customers to support them," said Ms. Saust Estø.
"We're not really looking to take orders here – we want to take the frames out to the shops so that we can tell the entire staff our story, so they can really engage with it."
Next Year
With such success under its belt, the question has to be asked – where to next time?
Finola Carey said that's up to exhibitors and visitors to decide. "We survey all the exhibitors and visitors after every ODMA and that's what we've done this time as well. So we'll review the feedback and make our decision from there."
ODMA 2013 Visitor Statistics
Attendance comprised of:
Optical Dispensers 23.5 per cent
Optometrists 32 per cent
Practice Managers 8.2 per cent
Practice Staff 16.5 per cent
Visitors came from:
NSW (approx.) 22 per cent
Queensland (approx.) 40 per cent
South Australia 5.4 per cent
(up from 2.9 per cent in 2011)
Victoria 13.5 per cent
(up from 12.5 per cent in 2011)
Western Australia 3.5 per cent
(up from 2.5 per cent in 2011)
International 7.3 per cent
(up from 4.9 per cent in 2011)
ODMA Award Winners
Winners of the prestigious ODMA 2013 Awards were recognised at the ODMA gala dinner on Saturday 6 July. All exhibitors at ODMA were invited to submit products for judging and three finalists were selected from each of the eight product categories by a specialist independent judging panel chaired by ODMA Executive Director Finola Carey. The awards were judged by Fiona Stapleton, Professor and Head of School at UNSW School of Optometry and Vision Science; David Wilson, former OTEN dispensing head teacher and now Education Consultant at ICEE and Adjunct Senior Lecturer Vision CRC; Independent practice owner and dispenser Grant Hannaford; and publisher of Eye Talk, Margaret McCann.
The Stand Winners
Best Large Custom Stand
L'Amy
Best Small Custom Stand
Fritz Frames
Best Modular Stand
CLiC
The Product Winners
Category 1
Optical Frames, Eyes Right Optical
Category 2
Sunglasses, Rodenstock
Category 3
Children's Frames, General Optical
Category 4
Sports Eyewear, Mimo Pty Ltd
Category 5
Lens Design, Essilor Australia
Category 6
Lens Treatment, Essilor Australia
Category 7
Equipment, European Eyewear
Category 8
Product Environment, Safilo Australia
In a first for the Awards program, a new category was introduced in 2013 to recognise The Rep of the Year in five regions across Australia and NZ.
The Sales Rep Winners
NSW & ACT
Ros Boland, Rodenstock
QLD & NT
Bonnie Smith, Maui Jim & Zeal Optics
VIC, TAS & SA
Lisa Wymond, Eyes Right Optical
WA
Amy McAllan, Essilor
NZ
Rae Long, Eyes Right Optical, NZ
A Strong Conference Program
Although education was not the main focus at ODMA 2013 the conference program was certainly a success with workshops selling out and lecture theatres packed.
"We had some strong speakers at ODMA, among them Dr. Simon Chen who was absolutely brilliant. He spoke about the iPhone and iPad applications available for ophthalmology – everyone was writing notes," said Mr. Grills.
"Professor Minas Coroneo spoke about his world renowned research into the effects of sunlight on the eye – which was of great interest to optometrists selling sunglasses, and about diet in association with eye health.
"Clinical Professor Stephanie Watson was another stand out. Her discussion, which centred on corneal stem cell research was really well received.
"Associate Professor Steven Wiffen explained current corneal surgery with video presentations to demonstrate procedures. Brilliant," said Mr. Grills.
The ODMA conference program was designed to maximise educational opportunities while ensuring visitors still had plenty of time to spend in the exhibition hall. Friday's full conference program was broken by long breaks for morning tea and lunch, Saturday offered a half day of conferences and just one workshop on Sunday morning enabled more time for buying and networking on the hall floor.