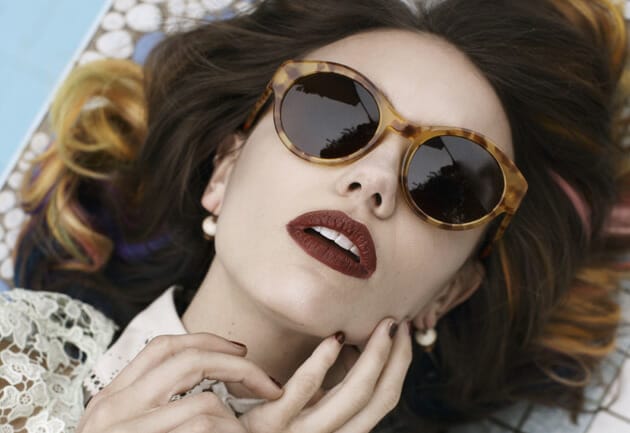 Glasses are often described as jewellery for the face, so when the celebrated Australian jewellery designer Elke Kramer received an invitation to design a frame by Colab, it seemed logical to accept.
Colab isn't a typecast eyewear design studio. The company was established over five years ago as a creative laboratory for street artists, musicians, graphic designers – in fact any established artistic talent –
to brainstorm concepts for frames.
Since that time, creative talents from the A-list of contemporary Australian and international artists have contributed to the brand's collections. They include Deanne Cheuk, Anthony Lister, The Presets, Josh Petherick and Geoff McFetridge.
The name 'Colab' hints at exactly what happens behind the scenes of this unique eyewear lab – the creative talent comes up with an artistic interpretation for eyewear and then the technical eyewear geniuses behind the venture collaborate to turn those designs into wearable art.
I got to dream without worrying about the practicalities – so I got to do what I enjoy best – to come up with great designs…
The process is unlike any conventional eyewear manufacturing studio – in fact it's quite the reverse.
"We choose an artist – or more to the point these days, the artist chooses us – and we give them a clean slate," said Peter Smith the co-founder of Colab. "We ask them to come up with whatever design they want for a sunglass, that includes materials, colours, textures, the whole thing. Once they've done that, we work with them to finesse the frames from the technical and commercial side."
Carl Tindall is the Lab Manager at Colab. It's his job to: "to make sure I can source the acetates in the right colours, the right hinges, and make sure I know the factories I can go to, to get the frames made to the highest quality".
Meanwhile, "Peter focuses on the shape, the fit and the ergonomics of the frame," says Carl.
Peter nods. "More than anything, I focus on the shape, and that comes down to years of experience. Eye shape is so important to the success of a pair of glasses – I can't stress that enough – even changing a shape by 2mm can make all the difference. So, it's knowing what will work and what won't – and realising you can do a lot around the shape once you've got that right."
Highly Collectible
Of course the commercial aspect of the design is also integral in the final decision making process. "I've always got to ask myself, is it going to be commercial enough to sell so that we can get the volume we need?" said Peter. "Our first collection from 2005 was extremely fashion forward and didn't sell through particularly well because we went out there with a purely artistic focus. We have a nice balance now – it's commercial but artistic and it works well."
Not that Colab has to sell thousands of each frame it produces. "We only make 1,000 of each frame we design and each one is individually numbered. It comes as a complete package with a lens cloth and poster, all designed by the one artist."
With such small volume, and distribution to New Zealand, Canada, Scandinavia, Japan, America and of course Australia, Colab glasses are thin on the ground and fast becoming collector's items.
"In Japan, some customers buy two frames of the same model. They will wear one and keep the other as a collectable," said Peter. "We also have customers who send their frames in for a repair with the specific instruction that if the repair isn't possible, they want the frame back anyway, for their collection."
Carl has seen Colab frames on Ebay selling for inflated prices. "They retail for around AUD$300 which is a very accessible price for a collectible, but I've seen brand new frames up on Ebay for a lot more," he said.
The first of every frame edition, numbered one, is kept under lock and key at Colab.
Elke's Revolte
In May, at a tiny gallery in Sydney's creative suburb of Surry Hills, Colab launched Revolte, a collection of three edgy frames designed by Elke Kramer.
Elke began her career as a graphic designer before moving into jewellery, which today is her main business. Based in Sydney, her jewellery can be found in some of the world's best stores such as Colette (Paris), Liberty (London), Opening Ceremony (NY, LA & Tokyo) and Family (LA). Elke said it felt very natural to design sunglass frames.
"I have a background in design – I studied at the College of Fine Arts with a bachelors degree in graphics and objects so I take a design approach to everything I do in my business – whether I'm designing a website, packaging, branding, or an item of jewellery or sunglasses – I consider the form, scale, colour and so on.
"My frames have definitely been inspired by my jewellery design. For example, I've used rose gold details in both and the acetate finishes I've specified for the frames are similar to the resin finishes I have developed for my jewellery – much of which currently explores the re-creation of faux stone. The colour palette, mood and shapes of my jewellery are also coming through in my eyewear."
It's that unorthodox approach to designing eyewear – the practice of transferring methods, processes and design inspiration from one art form into another that the Colab team gets so much satisfaction from.
"This is why we set the business up in the first place – to let people who haven't known anything about designing eyewear have an open slate. It's such a refreshing way to work – it's a wonderful thing," said Peter.
Elke enjoyed the process just as much. "I got to dream without worrying about the practicalities – so I got to do what I enjoy best – to come up with great designs.
"The experience has been so smooth – very easy – and we've had wonderful feedback from our customers. I'm really happy."
Optical Frames Coming
Colab is about to begin designing optical frames – in fact the company will launch its first optical collection at Silmo in Paris next month. "Currently all of our designs are for Rx-able sunglasses but all of our artists have been asking to do an optical frame – it's something they've asked us for again and again," said Peter.
Elke is keen to be involved. "I'd love to do another frame for Colab if I have the opportunity. My parents and my brother have always had eyewear – we've grown up with all sorts of glasses in the house and they'd love to see me design an optical frame."
Almost an Anti-brand
Elke said her current Colab frame 'Revolte' will appeal to those "who are confident and strong in their personal character – people who don't want to stand out from the crowd but neither do they want to mix in."
It's the perfect match for Colab, which describes itself as "almost an anti-brand".
"We're not constrained by the look for the season – by the need to come up with a particular size, colour or shape," said Peter.
"And because we work with so many different artists over a number of years, there's always something new coming out – something that nobody else has. So each season's collection is a whole mix of eclectic ideas – there's something for everyone.
"And that's why we just love doing what we're doing."