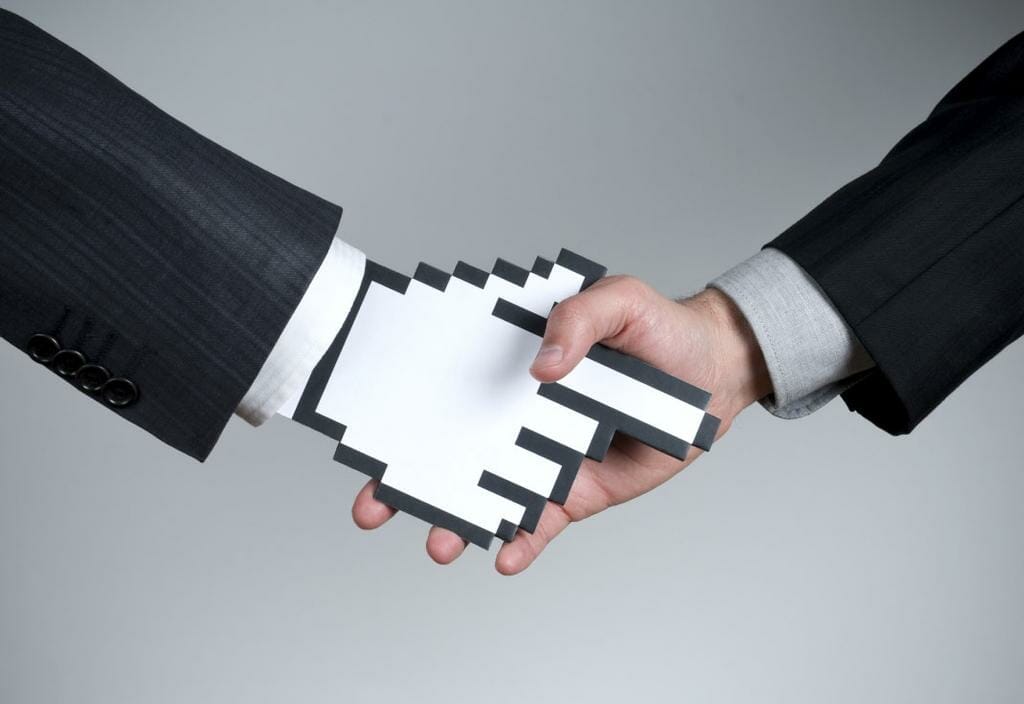 There's an increasing number of contact lens and eyewear distributors making the move to offer practices the convenience of 24/7 access to their product. And it's not just for stock ordering.
The eye care and eyewear professions have been built on personal relationships – on the traditional model of a sales representative visiting a practice to show off new stock and handwrite orders. Slowly this is changing, as more and more practices are choosing to order contact lenses and frames for their customers via online ordering systems.
While relationships between the reps and practice managers will continue to grow and strengthen, the role of a sales rep is evolving in a new direction, bringing with it new opportunities for both distributors and practices. Meanwhile, the capacity of online systems to build practice business is also rapidly growing.
These new online business-to-business (B2B) resources enable practices to offer customers far greater frame choices without investing in stock. Additionally, they can show off the latest product releases immediately and dramatically cut back on the time (and money) it takes for delivery of completed frame and lens packages.
The personal relationship is still very strong, especially in the optical industry…
Increasingly, online B2B resources are coming loaded with marketing functionality as well.
In August, ProVision launched ProSupply, an online portal that provides its member practice owners with the ability to place orders for most of ProVision's 19 frame suppliers – or 24,000 frames.
The response was phenomenal. ProVision signed up almost 25 per cent of its members within a three-day period.
"The aim is to make online ordering easy and quick, so it's one system with one user name, one password and one ordering protocol that an optometrist or practice staff has to get their head around – rather than having to get to know multiple ordering systems," said Steven Johnston, CEO of ProVision.
"The practice can combine their online frame order with their lens order for Essilor or Hoya (placed through the lens providers portal on Sunix or Optomate) and, if it is one of more than 1,000 frames held at our ProSupply distribution centre (DC), we can ship the frame directly from the DC to their preferred lab. If the frame they order is not held at our DC, they can still order the frame through ProSupply, but the difference is, the frame will be sent directly from the originating supplier to the practice.
"Our main aim is to eliminate the need for the practice to receive and then send on the majority of the frames they sell – that's going to lower costs and speed up delivery time, which will help our members compete with the large chains by delivering outstanding patient experiences."
He said practices can also use the system, using a guest log-in, to show all available frames to customers without costs and suggested retail prices.
Live Information
Eyes Right Optical introduced a very simple online ordering system for customers some 10 years ago. Soon after, recognising its strengths and potential, the company decided to invest in its development to meet the needs of an increasingly active customer base.
"Basically our Eyes Right Optical Customer Portal is no longer a simple online ordering system. It is a very sophisticated tool that has enormous benefits for our customers and has been very well received," said Gaye Wymond, a Director at Eyes Right Optical.
"The wholesale tab on our website – www.eyesright.com.au opens into three sections. Our online store is live. Not only can you view stock availability, you can also see our best sellers ranked in order.
"Our aim is to always have our top 25 frames in stock at all times. This best sellers list is linked directly to our sales history so it is always up to date. You can also filter by colour and eye-size throughout all our brands."
The Eyes Right Optical site has two levels of access. "With more customers using iPads and tablets in their practices, the patient can now be shown different colours of a model, without the wholesale price showing. This is the low level access. The high level access shows all the details. Therefore, the patient can be given all the options and the dispenser knows immediately that the frame is in stock. This frame can then be easily ordered and sent on the same day directly to the lab of choice, if so desired. The high level access also allows the customer to view their account details. They are able to review past purchases, check for any outstanding orders and reprint invoices and statements.
"Our third section consists of high resolution marketing images which can be downloaded at any time. These images are also linked to the customers' sales history and are only available to our highly valued Eyes Right Optical customers," said Ms. Wymond.
The ability to upload the latest product information is one of the key advantages of maintaining an online B2B ordering system. This is something Marketing Manager Grace Pham has focused on with the development of OptiqueLine's online portal. "Whether customers are ordering through a sales rep or online, our research tells us that the most important thing is to have the most up-to-date information online and ready to see, so we've built an online store with extensive search options."
At General Optical, Peter Lewis has invested in a site loaded with the entire range and each product is supported with specifications. Mr. Lewis said while some customers continue to order by phone, fax and email, or wait to see their GenOp sales reps, others browse the frame library then order via email through the Optomate system, via Sunix or by fax direct to the lab.
Lens Systems
GenOp enables optometrists to place just one order for a complete frame and lens package, which is something most of Australia's lens companies also offer.
Essilor offers customers Framelink for frame and lens orders, as well as Essilink for lens orders and the older Winlink – a desktop software program that is also available for ordering lenses. All are accessed through the Sunix Practice Management System.
Paul Vessey, Commercial Projects and Key Accounts at Essilor Australia, said Essilink is used by around 50 per cent of the company's customers to place orders. "It's a comprehensive lens ordering system that offers absolutely up-to-date product information as well as comparisons on different lens indexes and different lens types. It is also a lens calculation engine and it enables the optometrist to track the progress of the job once the order has been placed," said Mr. Vessey.
Once the lens has been specified, the optometrist selects the frame through Framelink, which is owned in partnership by Sunix and Essilor, and the combined order is processed at the same time. "The practice can hold onto the display stock and once they've placed the order we will either take the frame from stock we hold at our Essilor lab or we'll order the frame in from the supplier if the supplier participates in Framelink. We'll finish and fit the lens then send it to the optometrist," said Mr. Vessey. Frames ordered from suppliers that do not participate in Framelink must be sent from the supplier to the optometrist and then on to the lab.
At Carl Zeiss, customers also place their lens orders through an electronic ordering program connected to their Practice Management System.
Cameron Hawke, Division Manager Vision Care Business Group at Carl Zeiss, said the system ensures jobs are started immediately for faster turnaround, eliminates errors in data entry and when combining a tracer the best finish will be delivered due to our systems minimising lens thickness to the exact lens shape.
"Sometimes we have the lenses ready for fitting prior to the frame arriving. This ensures a faster service for our customers and their patients. Many customers also take advantage of our trace and edge facility so their lenses arrive back in their practice ready to pop into the patient's frame in the fastest possible turnaround time," he said.
Hoya calls its online ordering system HoyaLog and it's run by David Evans, National Hoyalog Manager at Hoya Australia.
Accessible via Sunix or Optomate, Mr. Evans said Hoyalog ensures the thinnest lens possible can be supplied for the best patient result because patients receive a 3D tracer as part of the deal.
"It's a very accurate tracer that takes into account the wrap of the frame so we can achieve the best curves. It also enables the optometrist to present customers with a 3D graphic representation of the job they're going to get – and that enables the optom to explain to the customer the difference between one index lens and another higher index lens – so the customer can understand the benefits of buying the very best," he said.
Mr. Evans said practices can track jobs and learn about new products. "We have a Masterfile that we update as we introduce or discontinue lenses. That ensures our customers are always informed about what's available," he said.
Being able to provide product updates in real time is an enormous advantage for all parties in the equation. Another advantage is the ability to promote – and hear about – special offers.
Promoting Offers
By developing an online ordering portal, JuzVision has turned itself into a global business. Its site offers optometrists in Australia and around the world uncut lenses, frames and complete lens frame packages. Justin Baker says it's an excellent vehicle for 24/7 promotion, especially when it comes time to talk about new services.
Rod McIntyre is one of the team that runs the online ordering portal at Opticare and he says promotions are increasingly communicated via the portal. "We're increasingly using the online portal to advise customers of new product information and promotions – new lenses available, a special multi-coating for the month or a special frame offering – it's a great way to communicate with clients who may choose not see their sales rep on a regular basis.
Reps Discounted?
Not that he expects Opticare's online ordering portal to take the place of a sales rep. "People are always wondering whether computers will take over the role of a sales rep – but I could never see this happening," said Mr. McIntyre. "Computer technology enables us to streamline delivery of information to customers, which means the reps' role can become more refined – they can really focus on providing clients with the specific information they need," he added.
It's an argument put forward with fervour by every eyewear distributor mivision spoke to.
"Just because customers are ordering from us online doesn't mean business will automatically continue to come our way. Our Business Development Representatives will always be required to provide customer demonstrations, communicate promotions and discuss pricing," said Mr. Hawke from Zeiss. "At the end of the day when something goes wrong, a customer wants to speak to someone they know who can fix the problem immediately."
At HoyaLog, sales reps have become integral to selling the automated ordering system itself. "Our reps are all trained on the system – they go out and install it, train the customers and they're a first level of support as well," said Mr. Evans.
"Our sales guys know they can increase sales by encouraging customers to place their orders through Hoyalog where they (the customers) will get a better margin," he added.
CooperVision's Marketing Manager Claire Denut-Samuels says that having developed a successful online ordering system, she has plenty of new opportunities for her sales team.
"We have lots of ideas about how we can make more effective use of our customer service team – there are a lot of things we can do to be more competitive, for instance, helping our customers remain up to date with trials so they in turn can respond to their own customers' needs."
She said CooperVision is also working to evolve its online portal, with tools to help optometrists maintain their contact lens customer base. "The online portal is all about adding more value to our customers – that's the only thing that is driving us – it means we can be open for customer service 24/7… whether the customer wants to place an order, check their account, request direct to patient delivery, check their order status and so on.
"We're also using it to help customers with email marketing, SMS marketing, with building a social media profile – lots of powerful tools that we will be launching over the next couple of months," said Ms. Denut-Samuels.
Gaye Wymond was just as adamant when asked whether her customer portal will ever replace her reps. "Absolutely not. Best selling frames can be sold and re-ordered a number of times between rep's visits," she said.
"I envisage that the time spent seeing each rep would reduce with the minutes being spent looking at new models only. From my experience, smart practitioners still value talking with a well-trained and knowledgeable sales person. The personal relationship is still very strong, especially in the optical industry."