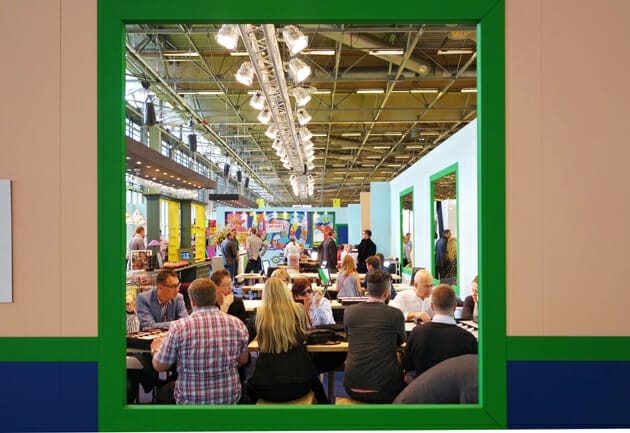 There's no mistaking Silmo. It's unlike any other optical show when it comes to style… grace… fashion… style… funk… hipsters. Did I say style? Yep, style. Silmo was simply bubbling over with it…It's here, at the Paris Nord Villepinte where the world meets to showcase their love of fashion, philosophise about design and colour, exchange new concepts, and nurture new relationships.Silmo, Paris. I'm so in love.
Hall five (for me) is really where it's at when it comes to Silmo. Sure, there's hall six where the big brands are and there's the technology hall with the latest equipment on show but it's the Village, Hall five, where the über cool, on trend designers of eyewear fashion hang out.
The Village is distinguished by its buzz, its colour, patterning, bold shapes and innovative finishes.
These designers have an inner confidence about themselves that's nothing short of inspiring. In fact many of them are so confident and so assured about their brands that they don't brand their frames – their styling is their brand and they believe those who love it will come looking.
"Educated consumers are moving away from the big brands because they're now mass market," Selima Salaun from Selima Optique told me, as she showed off the eclectic collection she's put together for celebrities that include Ryan Gosling (who wore The Chad in Crazy Stupid Love and The Money in Drive). "My clients are savvy. They don't care about the logo. They want something they love". Selima trained in Paris as an opticienne-lunetière and opened her first store 20 years ago but didn't start designing until three years later. Now she has four stores in New York, one in Los Angeles and three in Paris. Selima says her customers tell her what they want – her stores are her laboratory.
Australians Shine
Dave Allison from Sunday Somewhere agrees customers are less hungry for big brands. "I'm seeing a trend away from customers wearing luxury designer label brands," he told me.
Dave was one of a group of Australians who, I'm proud to say, were shining amongst the glitterati of international eyewear designers.
Having emerged from Mambo, where he designed accessories, Dave's pretty astute when it comes to taking product to the international market. He also has an impressive history in eyewear having started the Colab brand for Mondottica.
Sunday Somewhere is only two years old and has taken almost every country in Asia by storm.
"When we started the brand it was never going to be a little Sunday b-b-q brand. We always had an international vision in mind. That's why we have the esoteric 'Somewhere' in our name: it's a hedonistic lifestyle brand with a fashion edge, but you can still read into the messaging any way you want," he said.
Dave chose Silmo to kick off the Sunday Somewhere optical range, a cute Windsor style with a clip on sunglass and a Windsor with a Browline at the top.
Another Australian brand making waves at Silmo was AM Eyewear. Founder and designer Simon Ponnusamy heralds from fashion and established his company 10 years ago. Although his focus was primarily on designing sunglasses, he said customer demand has changed the skew.
"We had so many requests from our customers for (sun) frames without the lenses so they could fit them with optical lenses. Now the plan is for 70 per cent of the range to be optical," he said.
The decision necessitated modifications at the design table. "We wanted the optical to be a lighter frame than our sun, so we use Italian Mazzucchelli acetate with German hinges, and Zeiss lenses with AR coating for our sunglasses – we're one of only 50 companies in the world to be granted the licence to do this."
Simon said 40 per cent of AM Eyewear's sales come from overseas and that's about the same for the Australian eyewear design icon Jono Hennessy. Having launched his eyewear at Silmo seven years ago – as a lone Australian exhibitor – Jono told me he was excited to see so many young Australian eyewear designers exhibiting this time round.
He said with so many great Australian designers on the scene, it's a pity there's not more support for local design back home.
"Groups like ProVision need to be more supportive of independent Australian eyewear. They have to differentiate themselves and they can do that by supporting independent designers." He said if the resistance is based on pricing, it's not warranted because "independent designers aren't all (that) expensive".
On a Mission
There are more than 900 exhibitors across the three Silmo halls so it's easy to get lost in the sea of frames, pamphlets and noise. Having narrowed my search down to hundreds of stands in the Village I wanted to find some show stoppers… so narrowed my shortlist down even further to find product or ideas I haven't seen in Australia.
I found some great stuff at one of the busiest stands at the show: Barton Perreira; and at the stand with some of the most out-there designs: V-Design from France.
Also a great find was the small homely stand built by the Norwegian brand Karmoie. Co-founder Lars Iversen said their focus is on giving back. For every frame they sell they give an adjustable Eyejuster frame to a program in Sudan called Mobile Health International to help Sudanese people with vision problems.
One of the stands on everyone's must-see list was the Austrian brand, Rolf Spectacles. Best known for its 100 per cent wooden frames – right down to the hinges – the company's founder, Roland Wolf and brother (and business manager) Bernard showed me the world's first stone frame they launched a couple of years ago. It retails for a whopping AU$2,500 to $3,000 but seriously, once you see this frame you realise why. It's a work of art. The frame consists of nine layers of wood topped with a layer of shale. This might sound heavy but it's surprisingly light and a masterful display of technical innovation.
As Bernard showed off their optical range he handed me a frame that made his smile broader "this one has 11 layers which reduce down to four at the ear piece to make the frame more flexible," he told me. "The hinge is all made from wood and the temple opens cleanly and doesn't close on the lens. To fit the lens we have nylon on the top of the frame and we fix it without any pressure. You don't need to cut the frame. Buffalo horn nose-pads are used to adapt the frame to suit the Asian shaped face."
At the Thom Browne display I met with Dita Eyewear's co-founder John Juniper. Thom Browne is a high-end brand manufactured to perfection in Japan. It's like jewellery – elegantly simple and light to wear – in fact so light that you put a frame on and it feels like you're wearing nothing. There was plenty of hype about Thom Browne at the show and with good reason – it ended up winning the Silmo d'Or Frame category.
Another that caught my attention was Hapter. In 2009 the founders of Hapter stumbled upon a military goggle from WW2 in the Dolomite Mountains near where they live.
They liked the feeling of the cloth frame and noticed there was something missing from the optical market: a frame that feels as nice in your hands as on your face. "The trend in the market is smooth materials but we wanted to contribute to the sense of touch," co-founder and designer Eric Balzan told me.
To produce the product they applied two sheets of steel to create a very stable structure. To adhere the textile, they had to source new production techniques from outside the industry. The process they settled on involved fusing the textile with the stainless steel at almost 100 degrees to create "a thermal glow". The frames were then cut from one piece of finished material.
Hapter was the talk of the Village for its innovation and design.
French eyewear brand Moncler launched its first optical collection at Silmo at its igloo themed stand. The universal styles were a combination of metals and plastics. Moncler also launched the hotly anticipated collaboration with hip-hop star Pharrell Williams; a titanium range of shades described as halfway between futurism and '50s style."
At the Linda Farrow exhibit, I was fortunate to meet the founder's son, Simon Jablon, who now runs the business and is in charge of design. To keep things fresh, he collaborates with some of the world's foremost fashion designers including Dries Van Noten, Oscar de la Renta, Matthew Williamson and Kris van Assche. He also has The Row, the brand the Olsen twins co-founded. I noticed a pair of thick Windsor sun frames on the shelf that I'd seen before "What's that one called?" He smiled and said "The Row 8 – It's huge! We're creative with design but not when it comes to names."
Linda Farrow established her brand in 1970 and was one of the first eyewear designers to treat sunglasses as fashion. The company stopped production in the mid-80s before Simon resurrected the fashion brand 10 years ago. He introduced optical a few years back. Linda Farrow still maintains one of the world's best vintage collections of eyewear with 2,000 original pieces from the 70s and 80s – if only Simon had the space to show them all at Silmo!
Oh, the Passion
Perhaps most inspiring of all at Silmo was the passion with which these designers present their eyewear. Kilsgaard Eyewear is a Danish brand best known for its contemporary, minimalist frames made from aluminium (some combined with acetate) and presented in sparing colourways. The company's founder Jacob Kilsgaard summed Silmo up when he said to me: "it's all about aluminium, passion and good relationships with our customers".
In 2014 Silmo will take place from 26 – 29 September: www.en.silmoparis.com. Don't miss your chance to experience the passion and innovation that's so evident at this event!