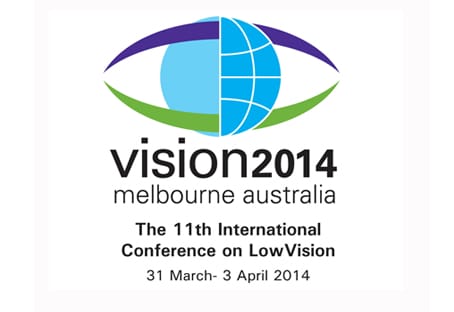 Eye care professionals will have a unique opportunity to hear from international experts on low vision as well as people living with low vision, when the 11th International Conference on Low Vision opens in Melbourne later this month.
As many as 500,000 Australians (2.5 per cent of the population) live with low vision and that number is expected to grow as an ageing population confronts us. Despite this, many optometrists may not be adequately equipped or informed to provide the very best of care for these patients.
Professor Jan Lovie-Kitchin, Chair of the Scientific Committee for Vision 2014, the 11th International Conference on Low Vision and a Director of Vision Australia, said the conference would provide eye health professionals with the opportunity to build on the knowledge and skills they need.
"Low vision is seen as a specialty area within optometry – yet with an ageing population there is a relatively common prevalence of people with low vision in the community, so it is important that every practice has the knowledge to work at some level in this area and to help patients with low vision to live a full and independent life," said Prof. Lovie-Kitchin.
we hear about the different bionic eyes coming on to the market and about the challenges ahead… what is the impact of going from no vision to low vision – what will this mean
"The basics of providing low vision services are really quite simple and if every practitioner can offer basic low vision care and know where to refer a patient when necessary, that's a great start. For those who are keen to have a low vision specialty in their practice, there is a lot of knowledge and information to be gained from this conference – with a really solid exhibition, seminar program, workshops and posters about clinical research, services and every day devices that can improve the life of people with low vision."
International and Local Experts
The Conference will provide delegates with the opportunity to hear from Australian optometrists including Sharon Bentley, Joanne Wood and A/Prof. Jonathan Jackson as well as international optometrists such as Ian Bailey. Local and international ophthalmologists and researchers including Professors Lauren Aiken and Jill Keeffe from the Centre for Eye Research Australia as well as speakers not normally associated with eye health conferences will present. "For example, Professor Leeanne Carey, who heads the Neurorehabilitation and Recovery research group at the Florey Institute of Neuroscience and Mental Health, will speak about post-stroke rehabilitation and the impact of stroke on visual field loss, mobility and reading," said Professor Lovie-Kitchin.
Eli Peli, Professor of Ophthalmology at Harvard Medical School in Boston, USA will speak on optical devices and assisting people with visual field loss and developments in the bionic eye will be discussed by a panel of experts from Bionic Vision Australia, Monash University and Second Sight, the company behind the Argus II. "This discussion will be particularly interesting as we hear about the different bionic eyes coming on to the market and about the challenges ahead for both eye care professionals and people who receive a bionic eye implant… what is the impact of going from no vision to low vision – what will this mean for the patient and for their vision care?" said Professor Lovie-Kitchin.
Additionally, she said, there will be sessions on driving with low vision. "This is something we haven't faced in Australia, so we will hear about experiences overseas, in the Netherlands and United States where people with low vision are able to drive using telescopic devices."
We will also have sessions on caring for children with low vision and on working with people with multiple impairments – such as hearing and vision loss. Professor Stephen Lord, a Senior Principal Research fellow at Neuroscience Research Australia, will present a session on identifying falls risks in patients with vision impairment."
Professor Lovie-Kitchin said presentations from people living with vision loss would provide eye health professionals with fresh insights into the challenges, solutions and opportunities available to maximise independence. "We will hear from a group of Paralympic athletes who will tell us about their experiences – the classification that enabled them to compete in the Paralympics and the assistance they needed."
Apple on Show
Apple – well known for its innovative approach to technology and a provider of high-tech solutions for people with low vision – is one of the major exhibitors at the 11th International Conference on Low Vision. HumanWare, Eschenbach Optik, European Eyewear, Novartis Pharmaceuticals and mivision, among others will also be on show. "We have a strong line up of local and international exhibitors, presenting the latest technology, devices and treatments. It's a fantastic opportunity for eye health practitioners and people with low vision to find out about new offerings and products, some of which haven't been seen in Australia before now. This really is a terrific opportunity to get the breadth and depth of knowledge on low vision from the experts," said Professor Lovie-Kitchin.
Delegates from Aroundthe World
Professor Lovie-Kitchin expects delegates to come from around the world and across the eye care and rehabilitation spectrum. "As a major international conference we will be hosting optometrists, ophthalmologists, occupational therapists, special education teachers, orientation and mobility instructors, and people in the business of delivering services to low vision from all over the world. There will also be others from the rehabilitation professions and of course people living with low vision."
Aside from the seminars, posters and exhibitions, the delegates themselves have extraordinary experience and knowledge to share and so to facilitate this, there will be plenty of opportunities for networking, with long lunch breaks, morning and afternoon teas and of course a strong social program that includes a welcome reception and the conference party. "The conference party at Flemington Racecourse will be a highlight with roaming entertainment, a sit down dinner, and later, live music from a 13-piece big band, with eight dancers and a singer who covers Kylie Minogue. It's going to be fabulous," said Professor Lovie-Kitchin.
The 11th International Low Vision Conference runs from 31 March to 3 April and is hosted by Vision Australia in conjunction with the International Society for Low Vision Research and Rehabilitation.
Register now at www.vision2014.org