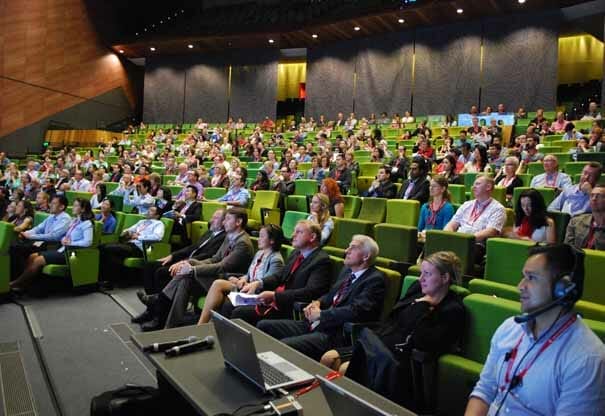 (Click here to view more images)
There was a sense of buoyancy amidst the 900-strong crowd that gathered in Melbourne for the first-ever summer Autumn Regional Congress in early March.
In what we hope is a sign of more prosperous times, Terri Smith, CEO of Optometrists Association Australia's Victorian division and organiser of SRC 2014, said she was "very happy" with the way the conference had come together. She said the speakers had been very well received by attendees and the great majority of exhibitors were pleased with the interest generated by the trade show.
SRC Education
For the first time, SRC welcomed the enigmatic Dr. Jeffry Gerson and Dr. Marc Bloomenstein to Australia from the United States. These two keynote speakers had the capacity to deliver practical information on managing eye health with both humour and conviction.
If you want to see more (patients), to do more, you need technicians. You're not giving up anything or betraying your profession by having an assistant…
Dr. Gerson and Dr. Bloomenstein delivered presentations to packed lecture theatres on each day of the conference, Dr. Gerson sharing his knowledge on a variety of retinal conditions such as macular degeneration and diabetic retinopathy. Dr. Bloomenstein spoke on new therapeutics; issues surrounding anterior eye and the facts and fiction surrounding corneal staining in contact lens wear.
At a breakfast session on the final day of the conference, the two American optoms joined forces to host a Q&A session that covered a myriad of topics – from consultation fees in the United States to their experience analysing the patient value vs financial potential of new eye care technologies and the evolution of optometry practice in the United States.
Dr. Bloomenstein observed that optometry in Australia "is like it was in the United States 10 years ago". He said today in the United States optometrists employ and train technicians to do as much everyday patient testing as possible. "There's an evolution to our profession. To be efficient, we have technicians (assistants)," he said, adding that in doing so, he is able to see 40–60 patients a day. "If you want to see more (patients), to do more, you need technicians. You're not giving up anything or betraying your profession by having an assistant," he said.
Glaucoma Management
At a presentation on the controversial issue of glaucoma management, Dr. Graham Lakkis and Professor Algis Vingrys spoke to optometrists about the need to use multiple OCT scans and visual field defect indices to successfully diagnose glaucoma and in doing so, avoid the risk of unnecessarily treating patients. "I think ophthalmologists worry that optometrists will be treating lots of people who don't actually have the disease," Dr. Lakkis told the audience.
He said, "there is little debate that the best choice of treatment for primary and secondary open angle glaucoma is prostaglandin drops" and that "50 per cent of patients can reach targeted IOP with one drop". Dr. Lakkis said "the vast majority of glaucoma patients you can manage" however, he cautioned that monitoring patients is important. "The main point for monitoring is to get the 10 per cent who don't respond to prostaglandin analogues and get them to the ophthalmologist for laser surgery."
GP Relationship Development
For the first time a general practitioner spoke at SRC, encouraging optometrists to communicate with their patients' GP in an effort to improve patient outcomes. Dr. Catherine Hutton from Inner North West Melbourne Medicare Local said patients often can't remember the last time they saw an optometrist and yet eye health management can be critical to a patient's healthcare plan, especially for those with diabetes.
"By working together we can improve patient outcomes. GPs provide the majority of care for diabetes and optometrists provide vital screening for retinopathy," she said. "Please ask your patient for the details of their GP and please let us know about your patient's eye health." She said a simple report in letter format, sent by Secure Messaging, is the most efficient way to communicate with patients' GPs.
Dr. Hutton recommended optometrists join their Medicare Local group where, she said, they have the best chance of meeting local GPs and other allied health professionals.
HB Collin Medal
The 2013 HB Collin Research Medal was presented to Professor Robert Hess in an intimate lecture theatre on the final day of SRC 2014. Professor Barry Collin, the Medal's namesake and editor of the Optometrist Association Australia's journal Clinical and Experimental Optometry presented the medal to Prof. Hess who was on a brief visit from Montreal where he is Research Director in Ophthalmology at McGill University.
Professor Hess presented his revolutionary findings on treating amblyopia in adults, which he told the audience, required them to leave their preconceptions outside.
Through his research Prof. Hess has determined that the primary problem in amblyopia is a binocular one – the two eyes, because of either an eye misalignment or an eye out of focus, stop working together with the secondary consequence being amblyopia. The link between disrupted binocular vision and amblyopia is suppression.
Professor Hess said all amblyopes have some degree of suppression where the fellow sighted eye inhibits the functioning of the misaligned or out of focus eye to avoid a double or blurred image.
Over time he said, constant suppression leads to a more permanent loss of vision or amblyopia.
Professor Hess has developed a treatment using dichoptic training to reduce suppression and strengthen fusion. The training is implemented with an electronic game based on Tetris and played on an iPod or iPad. He said the treatment can permanently eliminate suppression within weeks and strengthen fusion, enabling binocular vision, even in adults for whom there is currently no treatment.
Professor Hess questioned the value of patching. "We measured 3D vision, degree of suppression and monocular vision. On all three measures, the dichoptic treatment was far superior to that of the monocular patching". Global clinical trials into Professor Hess's treatment regime are due to commence.
Trade Exhibit
Exhibitors at SRC commented on keen buying interest from optometrists who had travelled from around the country to attend.
At the Reckitt Benckiser stand, Healthcare Professional Marketing Manager Vanessa McCutcheon said she'd been run off her feet for the entire event with optometrists keen to find out the finer details of Optrex – 'the new kid on the block' – which was officially launched to the profession by Dr. Stephanie Watson on the Friday night dinner prior to the opening of SRC. "We're really excited with the response we've had to Optrex here. The SRC trade show has given us the opportunity to talk in more depth with eye health professionals about which patients will benefit most from this product and how it fits into the overall treatment regime for dry eye disease," said Ms. McCutcheon.
At the J&JVC Symposium 'If You Build It – They Will Come', along with Digital Strategist Anthony Devers, leading independent optometrists Alan Saks, Margaret Lam and David Stephensen, spoke about the importance of having a strong digital and social media presence as part of an overall marketing strategy to build a successful practice.
Margaret Lam, who runs four practices in Sydney, presented research of how much her referral base has changed in the past four years showing that internet sourced referrals has increased dramatically from only 2 per cent to over 30 per cent of her total referrals.
Johnson & Johnson Vision Care chose SRC to launch an app intended to strengthen relationships between optometrists and patients and lessen the threat presented by online contact lens retailers.
"J&JVC launched the Lens Pal app in the United Kingdom six months ago and since then we've refined it for the Australian market," said Luke Cahill, J&JVC Director of Professional Affairs. "It essentially responds to concerns optometrists have voiced to us about their customers taking their prescription and buying their contact lens supplies online."
The Lens Pal app stores details of the contact lens wearer's optometrist and creates a direct link to the practice for online reordering. Any major brand of contact lens can be ordered using the app. Patients can use it to set reminders to re-order their lenses and record their lens wear experience across days and weeks so that any issues can be accurately reported to their optometrist. Video tutorials provide tips on contact lens wear.
"Optometrists often comment that having demonstrated how to put in and take out a contact lens, and had the patient practice the procedure instore, patients can still feel unsure about whether they are using their lenses correctly," said Mr. Cahill. "We believe this app will help overcome the need to revisit the optometrist and in doing so, save both the optom and the patient valuable time."
Eyewear on Show
For those who love the Mercedes Benz brand, Melbourne was the place to be during the first weekend of March. While the German car maker hosted a conference at the Hilton Hotel alongside the Melbourne Exhibition and Convention Centre, German eyewear company Rodenstock launched its new Mercedes Benz frame collection at SRC.
Sales Manager Colette Kinsella said the Mercedes Benz range, with its ultrafine titanium frames, matt surfaces, and diversity of colours was definitely a crowd pleaser.
"The designers of Mercedes Benz cars have been developing designs for other products in cooperation with selected partners since 2010," said Ms. Kinsella. "The objective is to transfer the progressive design and aesthetics Mercedes-Benz cars are known for into other products – the innovative hinge solution used in our frame collection, is an example."
Another stand out fashion eyewear brand on display at SRC this year was Mad in Italy. John Nicola, Managing Director distributor of Optique Line, said the frames were turning heads because of the quality, styling and flexible fit they provide at a mid-range price point. Mad in Italy's point of sale was also an eye opener with sustainable cardboard used to make an enormous, modernist cardboard light fitting and cardboard bricks to form a wall. The pièce de résistance was the product display stand, which had one frame positioned on a floating, spinning circle of cardboard, suspended by an ingenious magnetic force.
Optique Line also chose SRC to launch a new 'One-for-One' offering – for every pair of its budget frames sold to an optometrist, the company is giving a frame to Optometry Giving Sight. With counter cards available to promote the One-for-One campaign in store, Mr. Nicola hopes to raise awareness of Optometry Giving Sight among the general public and provide a steady supply of spectacles.
SRC organiser Terri Smith, CEO of OAA's Victorian division said her team surveyed attendees during the lecture program to find out what they're looking for from SRC next year. "We'll certainly be taking the responses into account as we plan for SRC 2015 next March. There is always room for improvement," she said.