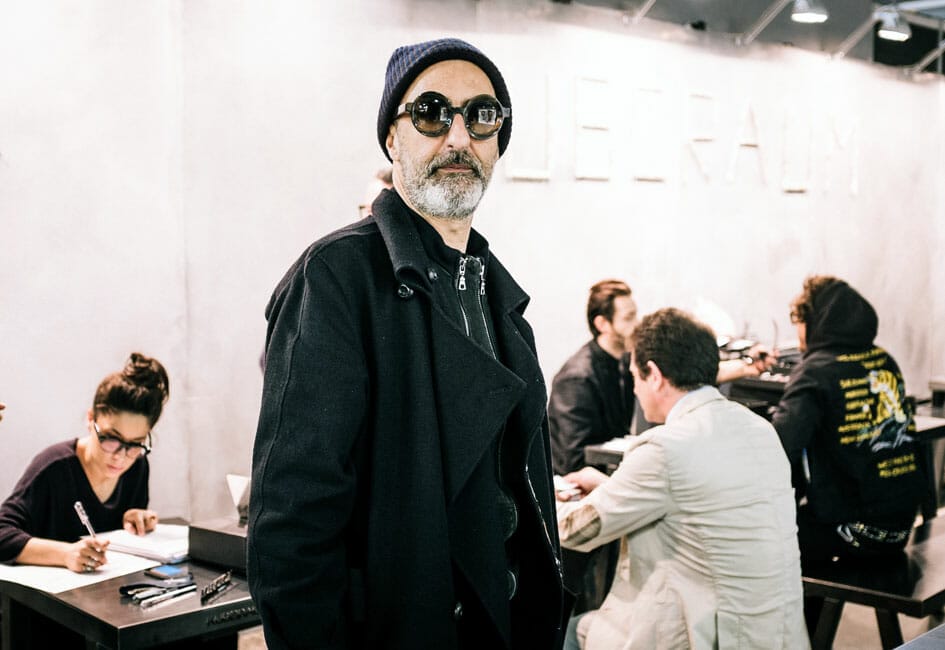 Now in its 44th year, MIDO – the International Optics, Optometry and Ophthalmology Exhibition – continues to cement itself as the number one international showcase in the eyewear industry.
Milan may be the main industrial, commercial and financial centre of Italy, but it is its reputation as one of the world's major fashion capitals that continues to draw style-savvy individuals to the historic city – making it the ideal location to host MIDO.
Any eyewear label making moves through Europe is exhibiting at MIDO and the 'best of the best' are located in Pavilion 24 – the Design Lab. This brand new space inside MIDO has been created to showcase the truly innovative, creative and experimental labels. So exclusive is this space, that all exhibitors have submitted to vetting and approval by a special commission prior to being allowed to showcase their wares.
AM Eyewear is no stranger to exhibiting at international trade shows but I'd have to say that MIDO 2014 was one of the best experiences we've had at an international optical show – from the calibre of our peers alongside us in the Design Lab; to the support and guidance from the organisers; all the way down to the most important factor – the orders written.
…labels that do actually make it outside of Australia and successfully launch into Europe are among the best in the world in terms of originality and design…
Displaying our 11th sunglass and second optical collections, AM Eyewear had stores from Italy and all over Europe, the Middle East, North and South America, Asia – and even Australia and NZ – stop by our booth.
If you've never been to MIDO, I'd urge you to make the effort as the experience will be sure to give your practice a decisive edge over the stores that only stock what is readily available in Australia.
While there are approximately 1,100 exhibitors at MIDO, with organisers proudly proclaiming they represent brands from 49 countries and five continents, it's a sad fact that in the European eyewear market, Australians are massively under-represented.
There are notable exceptions though, with locals Isson and Sunday Somewhere both exhibiting this year and carving a piece of the pie for themselves in amongst the plethora of American and European brands on show. The positive side of this is that the labels that do actually make it outside of Australia and successfully launch into Europe are among the best in the world in terms of originality and design, which has given Australian-designed products an almost celebrity-like image and we sit proudly in the best stores among the best labels.
I did somehow manage to get a brief moment in between appointments for AM Eyewear to wander around the show. From the names we all recognise, through to the quirky first-timers, it was all there. Of course there are always the few labels that insist on purchasing designs direct from the factory and it wasn't hard to spot brands that not only had similar but identical shapes (sometimes whole collections) that you knew all came from the same factory. I sincerely hope it isn't an indication of what we can expect over coming years. But on the whole it was great to see so many interesting and unique brands thriving in such a competitive market.
Kuboraum
One of the more experimental and design-focused labels that I came across was Kuboraum from Germany. Only two years old, Kuboraum has been creating a significant buzz for itself both in the fashion and optics worlds. Referencing sculpture and architecture as key influencers, the folks at Kuboraum are just as adept at photo and video productions, installations and interior design projects as they are at designing and making glasses.
All frames, or "masks" as Kuboraum designer Livio Graziottin refers to them, are Italian-made from a variety of different materials. Raw buffalo horn is used to great effect, being cut from a single piece of horn rather than being spliced together from many cuts as other labels tend to do. This gives the frame the complete natural trait of the horn down to imperfections in the finished piece, and makes the designs truly one-of-a-kind. There is a twist on standard acetate shapes whereby the frames are burnt in a patented technique that again leaves an individual finish where every little mark or flaw increases the distinctiveness of the design. They also take this a step further by creating super-exclusive ranges by accessorising the frames with gold or silver during the burning phase.
The idea of the "masks" is that when worn, they transform the wearer allowing them to live their life in intimacy, looking out at the world through the lenses while being protected and sheltered by the frame. Whatever your take on it is, they have some seriously cool designs and I'm keen to see what they come up with next.
Seeoo
Continuing on with design-oriented products is the brand Seeoo. This young Austrian label has rediscovered the long-forgotten pince-nez of the early 19th century and given them a complete overhaul, nabbing the prestigious Reddot award for Product Design in the process.
The glasses come in a range of colours and in two different weights; classic being the heavier acetate-based designs and light adopting a refined metal fit with a subtle coloured nylon surrounding the rim. They fit inside credit card shaped cases made from a variety of materials from leather through to Swarovski crystal-encrusted metal and acetate. The result is a highly ergonomic and aesthetically pleasing product that is designed for swift use in our everyday demanding lives.
Activist Eyewear
Activist Eyewear from Brooklyn, NYC creates Japanese made, limited edition frames featuring a signature Split-Fit technology designed to reduce the weight of the frame on the top of your ears. The idea is that the temples split to distribute the forces over a much greater area of the head, so the pressure is never concentrated on one point. The mixture of classic styling with unconventional fit is a radical departure from what eyewear is "supposed" to look like. I think it was legendary British designer Vivienne Westwood who coined the phrase "I'm at my most comfortable when I'm most fashionable" – but with Activist Eyewear it seems to me that you can be both extremely comfortable and stylish at the same time, which is an excellent result.
The three day MIDO event, which was held from 1–3 March, was visited by more than 45,000 people – 25,000 of those from outside Italy.
MIDO 2015 runs from 28 Feb to 2 Mar.For more information go to: mido.it
Steven Edson is the International Sales Manager for AM Eyewear. He is based in Sydney.