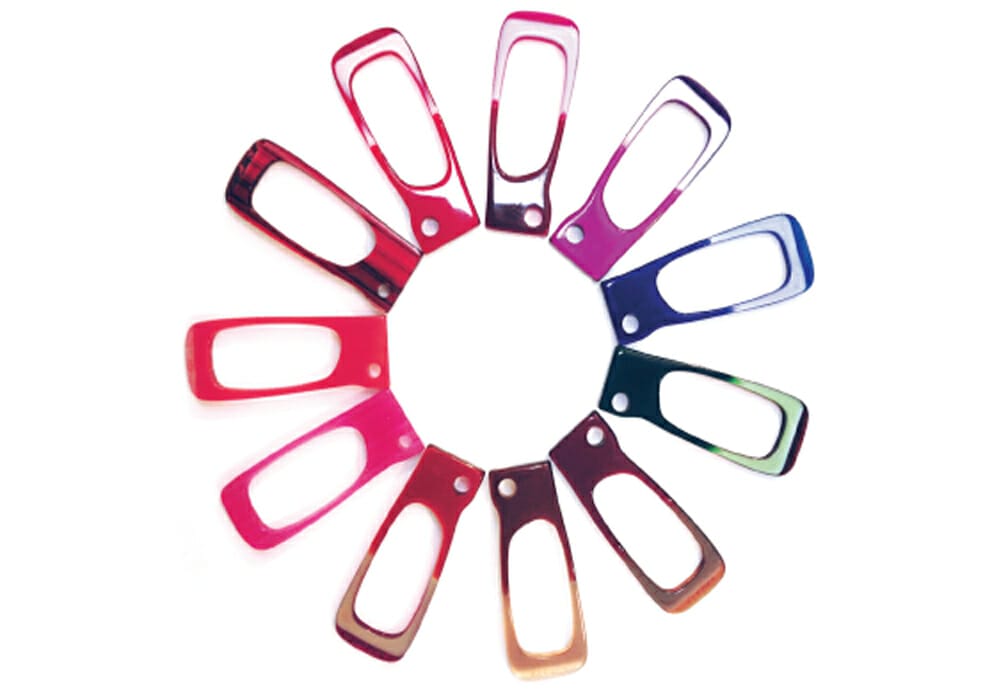 There's no getting away from it, most young Australians love to be on-trend. Mars Fashion has been designed to meet that market. This locally owned eyewear brand of fashion sunnies and optical eyewear is produced in high volume with solid quality at an affordable price. mivision spoke with designer Emily Xu from Bonastar, the company behind Mars Fashion, about the evolution of the brand and how it has quickly become the company's best seller.
Q: Who is Mars Fashion?
A. Mars Fashion is an Australian eyewear label that focuses on designing and producing on-trend, affordable frames. Our frames are produced quickly to allow mainstream consumers to take advantage of current eyewear styles – in fact with our current lead times, we can release new arrivals every month.

Q: How did Mars Fashion start?
A. Bonastar launched the first collection of Mars Fashion in 2008 as a sub-brand of Mars Eyewear. At that time the collection comprised just 20 models, all made from metal. Today, Mars Fashion has become Bonastar's bestselling eyewear brand, consisting of around 200 models made from materials including metal, acetate, TR90, and Ultem.
Q: Why does someone choose Mars Fashion over other brands?
A. Our fast turnover of styles means we can always keep Mars Fashion collections on-trend.
Q: Do you have a typical customer?
Our target market is people in their 20s to 30s who regard eyewear as both functional and a fashion accessory. They all have one thing in common: they don't need big designer brands to make a style statement.

Q: Who designs Mars Fashion?
A. Our in-house design team worksfrom Sydney's inner city. They have years of experience in both the optical and design industries.
Q: Where do they find their design inspiration?
A. Our designs are inspired by the modern lifestyle and high-street fashion. Although eyewear fashion cannot move as fast as clothing, we do keep an eye on the way in which fast moving fashion labels re-create runway styles, and then we interpret those trends in our designs.
Q: Where is Mars Fashion made?
A. All the sketching, computer illustrations, colour selection, prototyping, and design refinement for our collections take place locally. Then our in-house designers provide our overseas manufacturers with specifications for the required materials and frame parts to be used for each frame and organise sampling. Sampling is done at our manufacturers' workshop and the finished frame samples are sent to us for inspection and approval prior to commencing the mass production process.
Q: Is there anything unique about Mars Fashion eyewear production?
A. Our brand new 'Air' collection is manufactured using super lightweight materials, such as thin acetate, thin stainless steel, rubber and hand-cut TR90. Then the frames are fitted with hypo-allergenic and corrosion resistant temples ends.
Q: Tell me about your sunglasses.
A. Our Mars Fashion sunglasses are designed around classic styles and come in a multitude of colours that include fuschia, firebrick, dark olive green and solid black. All of our sunglasses can be fitted with prescription lenses and our metal sunnies come with polarised plano lenses.
Q: How do the designs for optical frames differ from sun?
A. While our sunglasses are more classic in styling, our optical frames emphasise functionality while also incorporating the latest trends and market directions from overseas. We also focus a great deal of attention on exploring new materials for these frames, like titanium, thin acetate, TR90, rubber and carbon fibre.
Q: Who supplies your lenses for your sunglass range?
A. We've partnered with Polycore for the supply of lenses for our sunglass range. Polycore has more than 30 years experience in sun lenses and they produce an extensive range of customised shades and high quality polarised lenses for our metal frames.
Q. What has Mars Fashion got plannedfor the future in terms of design?
A. Mars Fashion targets young, fashion-conscious consumers so we will always keep an eye on the latest fashion trends in terms of shapes, shades, colour-ways, concepts, materials, and technologies.
Q. How do you distributeMars Fashion in Australia?
A. Optical retailers place orders from Bonastar by phone, fax, email or directly online from www.marsfashion.com.au. We aim to be flexible so our frames can be exchanged anytime or returned within three months, and they're all covered by warranty for 12 months.
…we keep an eye on the way in which fast moving fashion labels re-create runway styles and then we interpret those trends in our designs
Contact Bonastar on (AUS) 02 9310 1688