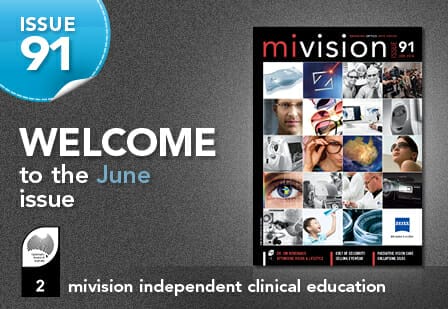 You've heard the saying 'never work with children and animals'. While we can't speak to the part about animals, mivision this month ignores this conventional showbiz wisdom, to focus on your littlest, most captivating and, let's face it, sometimes most challenging patients: children. Vision is crucial to the proper development of children and studies have shown that looking after your junior patients can lead to a lifetime of loyalty from grateful parents.
Our lead story explores some of the hot topics in paediatric vision care. Children rarely complain about their vision, accepting what they have as normal. So if they don't (or can't) complain, and mass screening programs aren't the answer – and we're told they're not – what is?
One key point raised in the article is the need to break down the health care "silos" that isolate paediatric vision care. We also consider behavioural optometry and the benefits of vision training; both areas that have an obvious child focus.
In ophthalmology, exciting scientific breakthroughs are promising to save lives and improve the prospects of countless kids. 'Ophthalmology Insights' guest editor Clinical Associate Professor Geoffrey Lam discusses new research on retinoblastoma and retinopathy of prematurity. In our news section, you'll find an interesting article about developments in training techniques in paediatric dispensing – it is a concept that is likely to soon make its way into Australian workshops and courses.
But it's not all about kids. If you're after CPD points, our education article takes you to the other end of the patient spectrum, to discuss the particular vision needs of ageing baby boomers.
Yes, this influential generation is ageing, but in true boomer style, they're doing it much differently than their parents did. Dr. Jim Kokkinakis explores how eye care professionals can best facilitate the needs and wants of boomers, by optimising and protecting their most precious sense: sight.
mivision's Todd Tai had the plum job this issue, travelling to South Korea for its premier optical event: the 13th Daegu International Optical Show (DIOPS). A deliberate focus on the eyewear industry has seen trade increase by a staggering 83 per cent in the past 10 years. Our report from Korea indicates it is a country bursting with possibilities – from designers looking to manufacture and sell in Korea to buyers seeking interesting new products.
In our fashion feature we look at the power of celebrity endorsement. Fit frames that have been worn by the right famous face and you can almost guarantee sales will go through the roof. We look at the psychology behind this phenomenon, and the impact on your patients.
mivision also has a full round up of optical news, reports from your professional associations, the latest technology for your practice and stunning pictures from the recent Glaucoma Australia photo competition.
And a word to the wise, make sure you don't skip our business section – we're discussing commercial finance and succession planning – two areas of business that are too often swept under the carpet. Enjoy!
Mark Cushway,
Editor
[/vc_column_text][/vc_column]