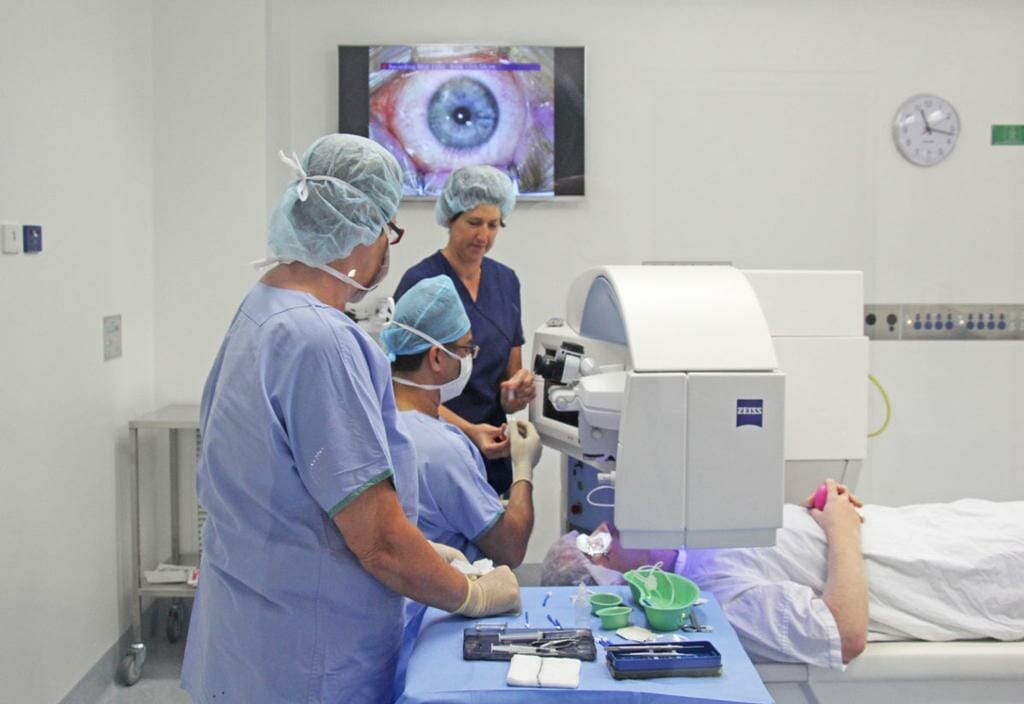 In this ever-evolving world of vision corrective surgery, it can be difficult to keep up with the plethora of refractive acronyms, let alone how the procedures themselves vary. So when a supposedly high-tech refractive treatment comes out that's marketed as 'SMILE' you could be forgiven for wondering whether it's here to stay, and if so, why?
Small Incision Lenticule Extraction (SMILE) has been established as an effective refractive laser option for surgeons globally, and one that represents a third generation advance beyond traditional PRK and LASIK methods. As the technology begins to gain traction in Australia, it's timely to look back into history to understand where SMILE has come from, and why it has been heralded as a significant step forward for refractive surgery.
The history of corneal refractive corrective procedures makes for an interesting chronological account, peppered with breakthroughs. A key advance occurred in 1949 when Barraquer and Ruiz developed the principle of lamellar corneal surgery. Known as 'the father of modern refractive surgery', Barraquer's original technique included the creation of a corneal lamellar disc followed by the removal of stroma.
Femtosecond Laser
In 2008, using the VisuMax femtosecond laser system (Carl Zeiss Meditec AG), a new procedure was developed called femtosecond lenticule extraction. Unlike other known refractive procedures the lenticule extraction did not require an excimer laser. First clinical six month results for 10 eyes treated for myopia were reported in Journal of Cataract Refractive Surgery (JCRS) in September of that year. Postoperatively in this initial group, 96 per cent of eyes were within 1D and on a standardised questionnaire, all patients said they were very satisfied with the results.2 The refractive lenticule extraction era had begun.
…SMILE is amazing, post–operatively, there is just nothing to see which means the patients can!
Introducing SMILE
The lenticule technique has now evolved to Small Incision Lenticule Extraction (SMILE) to treat myopic
and astigmatic patients.
The procedure involves the intrastromal separation of two lamellae planes via femtosecond laser and the creation of a 2-3mm access incision for the surgeon. The laser process is complete in 24 seconds, at which point the surgeon expertly dissects anterior and posterior to the lenticule of stromal tissue to remove any residual adhesions, before efficiently retrieving the lenticule with modified forceps; leaving a reshaped cornea to the desired emmetropic form. Like traditional lasik, a bilateral procedure can be completed in under 30 minutes with the added advantage of a single surgical platform.
The range of possible treatments with SMILE includes -0.75D to -10D and up to -5D of cylinder correction. Common patient feedback is the high comfort level due to the curved corneal interface matching the docked eye, a design that requires less suction pressure. Further, the ability to view the green fixation light for the majority of the laser process enhances their relaxed and cooperative state of mind.
Global Adoption
With acceptance proliferatingthroughout Europe and Asia, the technique was adopted in Australia in 2012 by Dr. Iain Dunlop and Dr. Gagan Khannah at Canberra Eye Laser. Having performed nearly 200 refractive lenticule procedures, the pair has achieved excellent outcomes and their expertise is acknowledged by many in the ophthalmic and optometric communities.
Speaking of his experiences with the technology, Dr. Dunlop has said, "Beyond the advantages of one platform, the absence of a flap makes the procedure safer and stronger in the immediate post-operative period, which is a great advantage to sportsmen and for those subject to occupational injury risks. Because SMILE is less disruptive to the cornea, stability is established earlier and is maintained".
Dr. Khannah added, "SMILE has the marked advantage of maintaining the structural integrity of the corneae, it is safer for thinner cornea and importantly, maintains corneal innervation to minimise post-operative dry eye symptoms".
SMILE has found its place as an effective and safe refractive solution for the many myopic and astigmatic patients who every day struggle with their aided vision. This treatment represents a third generation procedure that solves many of the existing challenges longer term laser refractive techniques are limited by. As optometrist Janice Parker says; "SMILE is amazing, post–operatively, there is just nothing to see which means the patients can!"
Dane Maloney is a trained orthoptist who worked at a Sydney based laser vision correction centre. Dane is responsible for the ZEISS Refractive business in Australia & New Zealand.
References:
1. Walter Bethke. Crack a SMILE or Raise a Flap? The benefits and drawbacks of this unique intrastromal refractive surgery procedure. Review of Ophthalmology 2/10/2014.
2. Walter Sekundo, MD, Kathleen Kunert, MD, Christoph Russmann, PhD, Annika Gille, Wilfried Bissmann, PhD, Gregor Stobrawa, PhD, Markus Sticker, PhD, Mark Bischoff, PhD, Marcus Blum, MD. First efficacy and safety study of femtosecond lenticule extraction for the correction of myopia six-month results. Journal Cataract and Refractive Surgery.