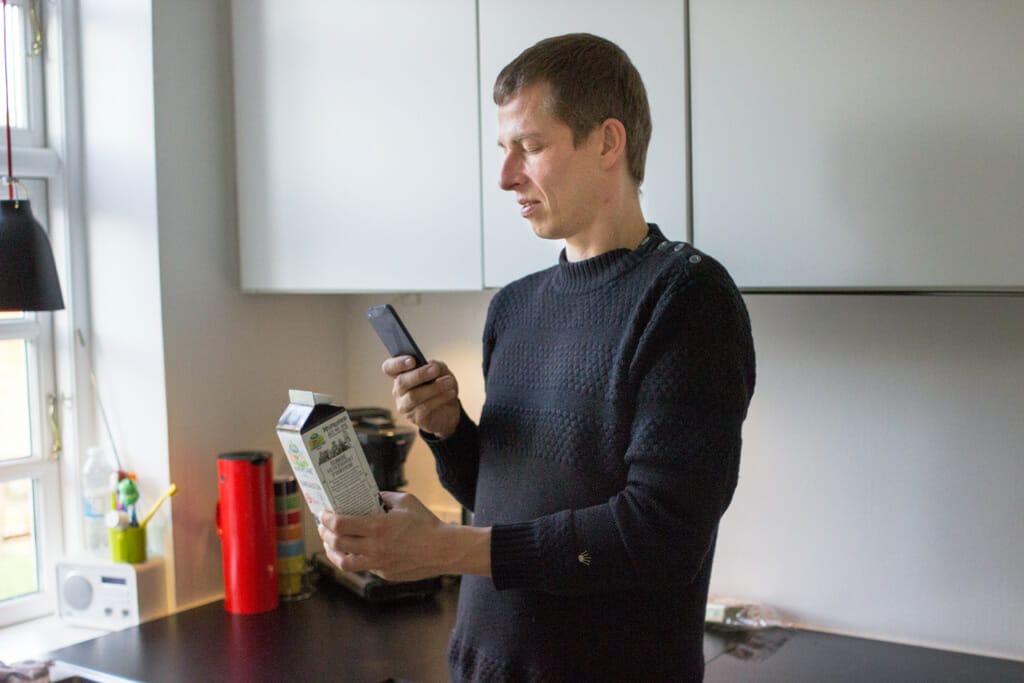 Vision impaired and blind people can tap into an app and ask sighted people to "be their eyes' in real time.
Be My Eyes was designed in Denmark to connect blind people around the world with volunteer helpers via live video connection. The app currently only works on Apple iPhone technology which has voiceover functionality, enabling users to touch the screen then have whatever is on the screen read to them.
Through a direct video call the app enables blind people to ask a sighted volunteer for help, for tasks that require normal vision. The blind person 'lends' the helper's eyes through his or her smartphone. The sighted helper is able to see and describe what the blind person is showing the sighted helper by filming with the video camera in the smartphone.
A feedback function enables volunteers and users to log their experiences and rate the volunteer / user. This enables participants to earn 'points', and in the event of a bad experience, enables Be My Eyes Administrators to initiate investigations.
The app, designed by Hans Jørgen Wiberg currently has over 170,000 helpers with over 15,500 blind/visually impaired users and more than 52,000 requests fulfilled. Within this international group are approximately 94,000 English speaking volunteers and over 6,000 English speaking blind/low vision users.
"It's my hope that by helping each other as an online community, Be My Eyes will make a big difference in the everyday lives of blind people all over the world," said Mr. Wiberg.
In Australia, optometry student Jeremy Chan has become the Oceania Ambassador for By My Eyes. "As a current optometry student in Melbourne, I genuinely have an interest and passion to help and improve the quality of life of individuals who have difficulty with their vision. I want to increase exposure of the app to help those that are currently vision impaired/blind in Australia and New Zealand," said Mr. Chan.
"I first encountered Be My Eyes on Facebook and its webpage captured my attention… I knew that the team was based in Denmark and the app had been building in popularity in the USA and UK. I also realised that not many people in Australia and New Zealand knew about this app. This led me to contact the CEO and co-founder Thelle Kristensen."
After conversations, Mr. Chan was invited to join the team and is now managing groups of volunteers in New Zealand and Australia who are promoting the app with a comprehensive awareness campaign and recruiting both users and volunteers. "We are emailing organisations such as the Vision Australia, working with traditional and social media, contacting heads of university optometry departments and distributing information via pamphlets and fliers," said Mr. Chan. Posters and t-shirts are part of the mix which Mr. Chan hopes will attract attention from television and radio. "In the future, with more funding, I plan to reach out to newspapers and perhaps even a billboard advertisement," he said, adding that Be My App was established with the backing of crowd funding as well as significant support from the Danish Association of the Blind and Velux Foundations.
Be My Eyes is currently only available for Apple Smart Phones however back in Denmark, Mr. Chan says, "the team is heavily focused on developing the app to be compatible with Android so that the majority of the people will be able to have access. Other improvements in the future are to improve the interaction of the app of the sighted-users".
The app can be downloaded at www.bemyeyes.org