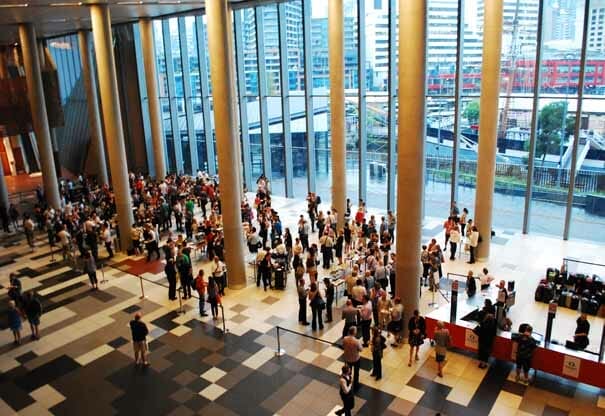 "Give your relationships 100 per cent and expect nothing in return"… That was just one of the take out messages that had delegates abuzz at the close of the Southern Regional Congress in Melbourne from 21–23 February.
Over three mid-summer days, 825 eye health professionals from around Australia met to hear the latest from Australian and international researchers, ophthalmologists and optometrists.
Professor Chris Lievens – an Associate Professor and Chief of Staff at The Eye Centre, Southern College of Optometry, in Memphis – spoke about the opportunity to meet the needs of our ageing population, because he said, "they need us more than ever before", they demand personalised service and quality product… and they have the means to pay for it.
During an entertaining and broad-ranging address, Professor Lievens pointed out that 2014 had been dubbed "the year of the baby boomer" because the population pyramid had been inverted for the first time. The ageing patient made up the biggest generation in Australia, the US, Canada and the United Kingdom.
Patients don't understand the (Medicare) system – it's important to educate them
"They are all presbyopes and 90 per cent of that population is coming in routinely for eye care and vision problems… are we ready to meet this demand?" he asked.
Professor Lievens said characteristically, baby boomers are savvy about their personal health and like to hear about health issues that could affect them. He said consumer values and spending habits had been changing for several years. A dominant group of "new economy consumers" has money to spend but is increasingly sensible about how they spend it – they demand quality and a rationale for why they need to pay the higher price. The message he delivered was made clear with an example: explain the technical aspects of a Transitions lens for instance, and how that will make vision more comfortable for a person with ageing eyes, and they are more likely to pay the price.
Professor Blair Lonsberry, from Portland Vision Centre in Oregon, presented on clinical ocular conditions, challenging the audience to recognise symptoms of malignant vs. benign lid lesions. In an entertaining presentation, peppered with anecdotes about patient diagnosis and indeed his own experience with lesions and kidney stones, he highlighted the importance of taking a holistic approach to a patient's health as opposed to focusing solely on the eye. "We need to educate patents about changes in lumps and bumps. Even though we treat eyes, we have to look at the whole body," he said.
Professor Lonsberry said that congenital lid nevi, which is present in 1 per cent of newborns, was more likely to convert to a malignant melanoma than acquired nevi. However, he cautioned that acquired nevi usually appear between the ages five and 10. Nevi that appear after a person is 40 should be viewed as highly suspicious.
Dry Eye Double Act
Dr. Laura Downie and Mark Koszek presented as a double act to argue the value of objectively evaluating dry eye using qualitative and quantitative analysis and maintaining these objective data for ongoing benchmarking. Dr. Downie said dry eye was a disease linked to anxiety and depression and the most frequent reason patients will seek primary care. She said an open letter written by patients to eye care professionals and published in mivision had demonstrated that patients felt their needs for dry eye were not being met. The letter had prompted Dr. Downie and colleagues to review the process of diagnosing and treating dry eye. Findings from their 2013 survey had highlighted an absence of gold-standard testing and diagnostic procedures and inherent variability of current testing.
Dr. Downie said the dry eye "diagnosis tool kit" would include assessing a patient's clinical history and symptoms (she recommended a formalised questionnaire, such as McMonnies Dry Eye Index and Ocular Surface Disease Index), as well as evaluating tear stability testing, ocular surface staining using standarised grading scales, evaluating of tear production and volume, and conducting a general eyelid assessment.
During the presentation, Mr. Koszek demonstrated testing procedures including lissamine green staining on two patients, with images of their eyes, as they reacted to the testing, projected onto the screen for delegates to view.
Dr. Downie concluded the duo's presentation urging delegates to "start thinking about how you can improve your own dry eye work ups by using these advanced and / or specialist diagnostic techniques within a dry eye work-up".
Cataract: Potential Game Changer
Ophthalmologist Dr. Simon Chen spoke about advances in cataract surgery, presenting the pros and cons of laser vs. manual surgery. He said a big selling point for laser capsulotomy was effective lens positioning. In the early days of laser cataract surgery, he noted there had been an increase in the anterior capsular tear rate because edges were notched and less smooth than manual laser capsulotomy. He said the rate of tearing had reduced with surgeon experience. Dr. Chen said although "IOL lens tilt and decentration were improved with laser, which might indicate you'd get a better vision result, studies were not showing a visual benefit at this point".
Dr. Chen discussed advances in biometry to measure corneal power, axial length and other ocular parameters to calculate the ideal IOL power for individual patients. He said the next big thing would be intraoperative aberrometry analysis using the Optiwave Refractive Analysis System which performs objective aphakic refraction after the cataract has been removed based on wavefront aberration maps, and before IOL implantation, guides the choice of IOL power. After IOL implantation the ORA system guides positioning of toric IOLs and checks for IOL power errors. Dr. Chen said anecdotally surgeons reported the ORA system improved accuracy and reduced the need for secondary procedures in difficult IOL calculation cases.
Dr. Chen went on to review new developments in intraocular lenses including the Tecnis Symfony, which he said looked interesting because of its extended range of vision. Finally, he described the Light Adjustable Lens (LAL) developed by Nobel prize winner Professor Robert Grubbs as a "potential game changer". The silicone IOL incorporates macromers, which enable the IOL shape to be changed under UV light to correct refraction after being implanted. Once adjustments have been finalised, the refraction is locked in with an extra blast of UV light. Dr. Chen said patients would need to wear sunglasses indoors and outside for two to four weeks post-surgery while multiple adjustments were made to the refraction. He spoke of one patient whose silicone IOL refraction had changed following a beachside holiday due to UV penetration.
Glaucoma
In an insightful presentation delivered by Dr. Bang Bui from the Department of Optometry and Vision Sciences University of Melbourne, delegates heard about the need to measure and manage intraocular pressures (IOP), vascular metabolic factors and biomechanical factors (intracranial pressures) of patients with glaucoma.
Dr. Bang Bui said, "we still don't quite know what is going on with glaucoma as well as we should and this is possibly hampering our treatment".
He said IOP pressures were only part of the story behind this multi-factorial disease. "Lowering IOP is really important in reducing the progression but one quarter of people will still go on to develop glaucoma. A lot of people get glaucoma who have a low IOP and some people have a high IOP and never go on to develop glaucoma," he said. "How much IOP contributes in any individual can be quite variable."
Bionic Eye
As the first person in the world to receive a retinal prosthesis, academic Dianne Ashworth has become quite a celebrity within eye health circles. She was on hand at SRC with Dr. Lauren Ayton from Bionic Vision Australia to give a personal account of her early experiences with the bionic eye.
Ever understated, Ms. Ashworth, who has severe vision loss due to retinitis pigmentosa told delegates that on 22 May 2012, when she went to surgery to have the prosthesis implanted, she didn't realise she was the first in the world to have the procedure. "I wasn't nervous, I was absolutely fine – it was the right thing to do," she said… Switch on day was amazing… I put goggles on and went into the booth they'd used to develop the Cochlear implant. It was crowded in there and all I could hear was the technician on the keyboard – he was directing current to go through wires to stimulate the electrodes (in the implant). I had no idea what I would see."
She said the first image she saw looked like a splinter. "It was hard to explain what I was seeing because they (the shapes) weren't what I was expecting."
Dr. Ayton said the expected change in visual output from the current bionic eye would be from bare light perception to hand movement or the ability to count fingers. Importantly, the implant enables perception of depth, which in the research environment, helped the participants with more independent navigation. With the retinal device turned off, it was rare that the participants could identify objects, however with the device on, they were able to recognise objects 85 per cent of the time.
Ms. Ashworth said "the depth camera to me is what makes the bionic eye fantastic". She said at the end of the research project she could see cars moving past her and determine whether their colour was light or dark. "I visited my barista … it was good to see someone in front of me," she added.
Dr. Ayton said the experiences that the three participants had with the implant were all quite different. "So that means it will never be a device that you can implant then send someone home. It will require training and rehabilitation."
She said around the world, bionic eye technology was progressing rapidly along with other forms of treatment for blindness including stem cell therapies as well as research into gene therapy and optogenetics. Second Sight had the most advanced bionic eye and with 70 patients implanted, she said training was underway to prepare eye health professionals to manage these patients in the future.
Charging in Practice
Optometry Australia has offered optometrists significant assistance as they navigate the recently changes to Medicare and in many cases introduce a fee for service. Optometrists Richard Lindsay (Richard Lindsay and
Associates, East Melbourne) and Chris Katopodis (Canterbury Eyecare in Victoria) accompanied by Luke Arundel from Optometry Australia provided a very practical information session to put delegates more at ease with introducing fees.
Mr. Lindsay said optometrists "are quite entitled to charge" and should not apologise to patients for doing so. He urged delegates to put a clear billing policy in place, train staff and make the change as quickly as possible.
"Patients don't understand the (Medicare) system – it's important to educate them. Communicate changes
to patients and advise them before they come to the appointment. It's the critical factor – patients need to be advised upfront of the fee.
Mr. Katopodis told delegates who decide to charge a fee that they would need to demonstrate the value in the service they provide by taking more time to record a patient's history, discuss, diagnose and manage vision issues. He said optometrists that offer a more personalised service, that take the time to build patient relationships will find patients are more likely to come back and likely to recommend you to others. He said consultations, which were largely controlled by Medicare and therefore not always valued, were a new growth area.
Trade Expo
Optrex was the major sponsor at SRC's trade exhibition, which took place over the first two days of the conference. Other companies exhibiting in the hall space, which was reduced in size from previous years, were Designs for Vision, Alcon, Contact Lens Centre Australia, Device Technologies, Hoya, Opticare, Optique Line, Johnson & Johnson Vision Care and Zeiss.
John Nicola from Optique Line said despite the first day of the trade exhibition being a little slow, business picked up on the Sunday and the overall response to his company's presence at SRC was extremely positive.
"As a locally based eyewear wholesaler, we feel that it is important to sponsor and support our local optometry conference," said Mr. Nicola. "It gives us an opportunity to engage with optometrists from around the country that we don't normally see because they typically pass the frame selection duties on to their dispensing staff."
Will Robertson from Designs for Vision said business at SRC this year was not as successful as anticipated yet that hadn't been absolutely surprising given the current economy and changes to the profession. "I'd imagine reduction in the value and changes to the timing between Medicare funded comprehensive eye examinations would make optometrists cautious about investing in the short term. The recently decreased value in the Australian dollar and a generally flat economy have not helped either. Of course ODMA taking place later in the year places pressure on these State based conferences but we have plenty of leads to follow up from the weekend."
Academia was well presented at the exhibition, with the Department of Optometry and Vision Sciences University of Melbourne, Deakin University, the Australian College of Optometry and Australian
College of Behavioural Optometry all having stands.
Optometry Giving Sight was on hand to grow support for its vision programs. The organisation raised over AU$2,200 selling raffles at the exhibition and the conference dinner on Saturday 22 February.