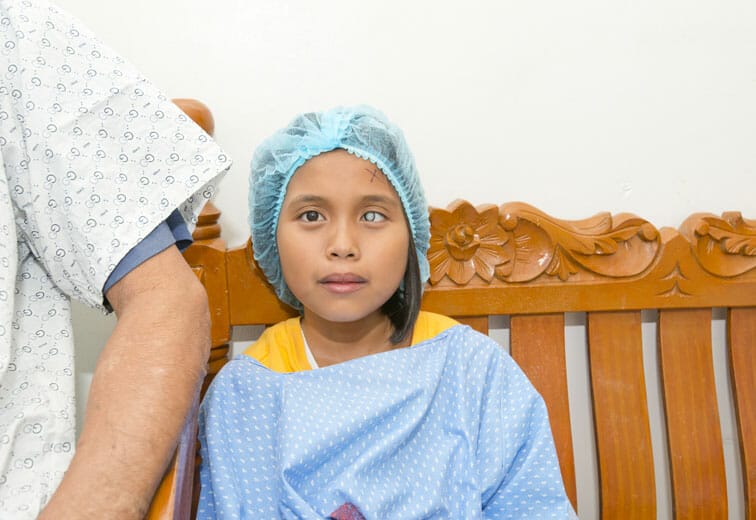 A team of five eye health volunteers from Sydney travelled to Adventist Hospital Santiago City, Philippines in late April, to perform cataract surgery on some of the estimated 400,000 people suffering from avoidable blindness in the Philippines. The results were life changing.
The team is part of an ongoing 'Gift of Sight' eye health project; a partnership between two Sydney based Non-Government Organisations (NGOs) involved with international blindness prevention, Foresight Australia and Open Heart International (OHI).
This was the fourth cataract surgery visit undertaken by the partners to the Cagayan Valley region in Northern
Luzon. It is a rural area over 10 hours drive north of Manila with a large population. With high levels of poverty and limited eye care services, this region has one of the highest rates of blindness in the Philippines.
With the support of the local ophthalmologists, the team's first surgical visit to the Cagayan Valley took place in 2013.
Without sight… you're unable to get an education, you are limited by what you can do with your life and that leaves you trapped in a cycle of poverty
"Cataract is by far the major cause of preventable blindness worldwide," said A/Professor Geoffrey Painter, one of the OHI ophthalmologists and a Foresight board member.
"While the data around cataract rates is incomplete, it is estimated that, in the Cagayan Valley area, the rate of vision impairment at 4.94 per cent is double the country's average with cataract blindness being the major problem. There also seems to be a disproportionate amount of childhood cataract due to the lack of access to hospital facilities for many of the most vulnerable" he said.
The Philippines has a population of over 100 million on a landmass of just 300,000 km2 spread over 7,000 islands. That is five times Australia's population occupying land that is 25 times smaller. It is estimated that 25 per cent of the Filipino population lives below the poverty line of AU$1.30 a day. The pressure on the Philippines healthcare system is immense.
"From what we can establish, there are potentially 45,000 cataract cases in the area. There is a gap in the healthcare system in this district where we see the poorest in the community fall through. There are only a small number of hard working local ophthalmologists in the district and no established public eyecare services. Universal health insurance for those over 60 has only recently been introduced and will take a while to filter through to those in need. If they are unable to pay for eye care services then many wait blind for years," said A/Prof. Painter.
Beginnings
The awareness of the need for health services in the district for the poorest Filipinos came from the persistence of an employee in the cafeteria at the Sydney Adventist Hospital (SAH) where OHI is based.
"Lita Ford, comes from the Cagayan Valley and every time she saw us in the cafeteria she'd tell us about the problems in her home district and how they had limited services available to them," says OHI Manager Michael Were.
Several investigative visits to the area established that avoidable blindness was one of the regions greatest problems and blindness from cataract was the most severe. There was an urgent need to increase the cataract surgery rate in the region but also to provide high quality surgery in a hospital setting where the more complex types of cataract and especially paediatric cataract could be dealt with. These initial visits also garnered the commitment of Adventist Hospital Santiago City (AHSC), a partner with the facilities and local reach required to make the project a success.
Over the next 18 months a fully equipped ophthalmic operating theatre was established that could deal with all forms of cataract blindness with operating microscopes, instruments, sterilisation, phacoemulsification, anterior vitrectomy equipment and staff training in high volume cataract surgery. A fully equipped ophthalmic clinic was also established with a slit lamp, keratometry and AScan capability as well as the only retinal laser in the district accessible to the poor. Much of this equipment was loaned or donated by generous companies back home.
2015 Gift of Sight Visit
The 2015 visit resulted in 127 cataract operations in just seven days of operating by A/Prof. Painter and Dr. Sara Booth-Mason, assisted by theatre nurses RN Kerrie Legg, and RN Danielle Bishara. Registrar Dr. Dominic McCall screened hundreds of patients in the eye clinic while providing valuable training to the local nursing team.
"We've seen patients present here with advanced conditions you just don't see in Australia," said Dr Booth-Mason.
"During this visit we've seen bilateral blindness with only perception of light in both adults and children. We've seen advanced cataracts that are dense and swollen and have caused severe secondary glaucoma. Some patients have been blind for over a decade and their cataracts neglected for so long that their blindness is not curable because of the damage to the optic nerve.
"It has been a bit of a roller coaster emotionally with the joy of giving sight back to many but being totally unable to help others and finding other severe disease that has limited some outcomes. Especially difficult is seeing the children aged seven, 10, and even 14 with congenital cataract that should have been treated earlier and blindness prevented," said Dr. Booth-Mason.
One of the highlights of the visit for the team was to see the progress the Adventist Hospital Santiago City staff had made in the past four-and-a-half years.
"They've developed skills in screening, examination, sterilisation and ophthalmic surgical workflow that has enabled a very successful surgical visit this year," said Kerrie Legg who was part of the initial ophthalmic investigative visit.
"While it is always nice to see the development of infrastructure, to see the progress of the local people involved is even better and provides great optimism for the future of the project."
Developing Sustainable Eye Health Services
While it is vital to tackle the prevalence of cataract in the Cagayan Valley region with increased surgical capacity, it is also essential to build a sustainable service. Those with the greatest need should be able to access eye services before problems that lead to irreversible blindness develop.
The first step in establishing such a service is to implement a screening program for the regional and remote areas surrounding Santiago City. The current program relies on advertising in town markets, the local Adventist Hospital medical visits in the area, referrals from local ophthalmologists and word of mouth. There is currently no systematic, sustained eye screening service available to the population in regional and remote areas.
There are many barriers preventing patients from travelling to cities to gain access to eye health care. The cost of travel, having to rely on a family member to accompany them, the cost of the service, the availability of the service and simply knowing what services are available and where to find them keep people who are blind from accessing the help they need.
This is why Foresight and OHI aim to develop a vision screening program for these regional and remote areas that will include employing, training and equipping an ophthalmic nurse and enabling that nurse to visit areas with limited access to ophthalmic services.
"We hope this screening program will empower the local hospital to find those most in need in these areas and help bring them for treatment before it is too late," said A/Prof. Painter.
"Once the screening program is established, increased surgical capacity, consumables and surgical training support will be needed, initially from our two groups with the assistance of local surgeons and ultimately from local surgeons themselves as their numbers increase.
"To ensure the long term reduction of avoidable blindness for the people of the Cagayan Valley the project needs to be sustainable using local resources and manpower. Our two groups are currently giving support but self-sustainability is our ultimate goal," A/Prof. Painter said.
Everyone has the Right to Sight
Blindness has a profound human and socioeconomic consequence on all levels of society.
"We volunteer our time and skills to places like the Cagayan Valley because ultimately we believe that everyone has the right to sight. To be able to restore sight to people who would otherwise
have been denied the chance to see again, is the reason we have developed this project," said A/Prof. Painter.
"Without sight, in countries that are unable to provide support services to the visually impaired, then you're unable to get an education, you are limited by what you can do with your life and that leaves you trapped in a cycle of poverty. We are hoping to change that for as many people as we can."
Teresita Lopez: An Extraordinary Life Restored
Teresita arrived at the hospital with assistance from her neighbour. She is a member of the Aeta tribe, the Indigenous peoples of the Philippines who now number less than 1,000 living their traditional lifestyle. Life expectancy at birth of the Aeta is very low, making Teresita's age of 75 years extraordinary. To meet her was a rare privilege.
The Aeta is a nomadic group who live in scattered, isolated mountainous parts of the Philippines.
Teresita, a widow, lived in the mountains and farmed the land with her children until she became blind with cataracts in both eyes. To survive, her children had to work everyday and were unable to give Teresita the care she needed at home.
An old neighbour, who had moved to the lowlands of Isabella province, took Teresita in. She saw a banner at the markets one day promoting free cataract surgery by the Australian team at the Adventist Hospital Santiago City. She immediately travelled 100km to the hospital; was screened by Dr. McCall and had successful cataract surgery, with the implantation of an IOL, the next day.
When she had her bandage removed Teresita went from only being able to perceive light to being able to see people's faces for the first time in many years. She couldn't stop smiling.
Keirwin Chumlam: If Only We'd Met Him Sooner
Keirwin is 11 years old and lives in Santiago City. His mother cares for him and his four brothers while his father works as a janitor.
Keirwin was diagnosed with epilepsy at just one-month-old and at the same time the doctor noticed he had cataract in both eyes. It was advised that he not undergo eye surgery due to his dependence on epilepsy medication. When Keirwin stopped requiring his medication, six years ago, the family began their quest to have his cataracts treated.
Keirwin was only able to perceive light and not able to see anything at all. He told us about his hope to see again so he could see his brothers, help his mother look after them and play with them.
Kerwin had surgery on both eyes and went from being only able to perceive light to being able to see hand movements after just 24 hours. It is unlikely that he will ever be able to achieve good vision as his brain hasn't developed the ability to see early enough, but it is hoped he will continue to improve a little in the coming months.
A/Prof. Painter explains, "The saddest part of the trip was to perform good quality surgery on children but with only modest visual results because they had not had access to timely surgical care. That is why we hope the screening program will be of especial benefit for the children in the district."
About Foresight and OHI
Foresight Australia was founded 35 years ago by Professor Frank Billson AO and Major General Paul Cullen AC. The organisation provides countries in the Asia Pacific region with eye surgery, medical equipment, training, infrastructure and preventative health programs. Foresight is a member of Vision 2020 and works to cure blindness, prevent the conditions that lead to blindness and empower local communities to deliver essential eye care services.
It is also a member of the Australian Council for International Development (ACFID) and collaborates with
partner NGOs and health providers worldwide. Foresight has worked on projects in Bangladesh, China, the Solomon Islands and Timor-Leste.
Open Heart International (OHI) is a volunteer driven organisation that provides the opportunity for those living in developing countries to receive the specialised healthcare they deserve, yet cannot access. OHI has grown from cardiac surgery to include women's health, burns surgery, primary health, orthopaedic surgery and ophthalmology in countries around the globe including Nepal, Cambodia, Vietnam, China, Papua New Guinea, Pacific islands, and of course the Philippines.
Support the Work of Foresight and OHI
Foresight and OHI would like to thank supporters of the project both in Australia and abroad. To support the Gift of Sight Philippines project please contact Rachel Fyfe on (AUS) 02 8021 3632.
For further information go to www.foresight.org.au and www.ohi.org.au
Rachel Fyfe is the Communications Manager at Foresight Australia. She graduated with a Bachelor of International Studies from Flinders University in 2000 and has spent over 13 years specialising in not-for-profit communications and marketing, previously working for a children's cardiac charity, Chain of Hope UK and the Royal Flying Doctor Service. Ms. Fyfe's experience includes health service development projects in rural and remote Australia, Mozambique, Jamaica, Egypt and the Philippines.