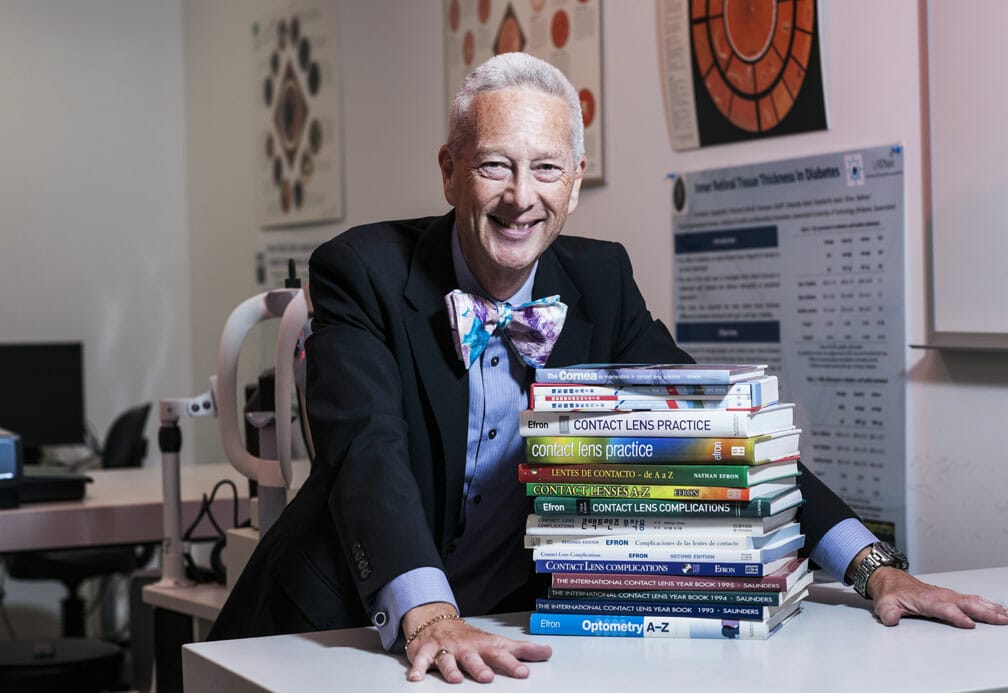 QUT research optometrist and prolific author Professor Nathan Efron AC was recently made a Companion in the General Division of the Order of Australia. He is the first member of the optometry profession to receive this most prestigious honour that recognises eminent achievement and merit of the highest degree in service to Australia or humanity at large.
Professor Efron AC is a regular contributor to mivision. I sat down with him to chat about his career to date and the influences along the way.
On average, only 10 people are made a Companion of the Order of Australia in any one year. It's an exceptional national honour, and when he was presented with the award, Professor Efron said he felt a mixture of emotions. "I was quite surprised at receiving such a high level of award. I am immensely proud… and genuinely humbled," he said.
Professor Efron, who is also President of the Australian College of Optometry and Vice-President of the International Society for Contact Lens Research, was born in Melbourne and grew up in the south-eastern Melbourne suburb of Bentleigh. The oldest of three, he said his parents, Jack (who died five years ago) and Elaine, were very strong influences on his life. "Neither of them had a higher education, both leaving school at about age 16. However, they passionately believed in the virtues of a good education, fought hard to provide their children with a good schooling, and encouraged us to go on to university.
"I was also strongly influenced by my great uncle, Abe Feiglin, who was Principal of Mount Scopus College – the school I attended at both primary and high school levels. I remember being in awe of his standing and intellect and, from a young age, he too encouraged me to strive for academic excellence."
many achievements… The first was his pivotal involvement in the development of the world's first daily disposable contact lens…
Professor Efron said he first became aware of eye care at about age 14, when he started wearing glasses which were prescribed by ophthalmologist Tom Spring. "However, I didn't give eye care much thought as a profession until I was in the later stages of high school. I had selected science subjects, and was more interested in studying medicine or dentistry. When it became apparent that my marks would not be high
enough to gain entrance to these courses, I started thinking about optometry, which did not require prohibitive entrance scores back in 1973, unlike today! I just scraped into the course and, as they say, the rest is history…"
Fascinated by Discovery
As he progressed through his four year optometry course at the University of Melbourne, Professor Efron became increasingly fascinated with the way scientific information is generated and, "how ideas lead to discoveries that are published in the literature, leading to further discoveries, and so on, and how all this research activity underpins advancements in the field".
He said he was "extremely fortunate to have been taught by giants in Australian optometric education" – Professors Barry Cole, Barry Collin and Leo Carney, and Drs. David Cockburn and John Nathan. "As much as I enjoyed the clinical side of the optometry course, I could see that academia was my calling. Barry Cole strongly encouraged me in this regard; he facilitated my gaining a PhD studentship under the supervision of Leo Carney, a post-doctoral fellowship in Berkeley, USA, and a lectureship back in Melbourne following my post-doctoral experience."
During the late 70s and early 80s, while completing his PhD studies, Professor Efron worked one day a week in the practices of Melbourne optometrist Harry Held, an experience he said was valuable because it gave him real world insights into clinical optometry. However, he decided to embark on an academic career and, having been awarded his PhD, chose to devote all his attention to research and writing.
Professor Efron said amongst many achievements, there are two that really stand out for him. The first was his pivotal involvement in the development of the world's first daily disposable contact lens, an industry that now globally generates more than AU$4 billion in revenue.
Revolutionary Eye test for Diabetes
The second was the development of a revolutionary eye test to assess the extent of nerve damage in people with diabetes, a disease Professor Efron knows all too well because he has Type 2.
The test Professor Efron devised involves examining fine nerve fibres in the cornea using a high-powered laser-scanning corneal confocal microscope.
"It is quick, painless, and allows us to diagnose the condition, monitor progress and evaluate the effect of treatments."
This is important he said because 50 per cent of patients with diabetes had some degree of nerve damage. "If left unchecked this damage can lead to terrible pain in the arms and legs and in severe case to ulceration and lower limb amputation."
He said the genesis of the new test sprang from his attendance at a diabetes clinic as a patient in Manchester in 2001. Professor Efron mentioned his eye research to his attending physician, Professor Rayaz Malik, and suggested that an eye test could measure the development of the condition.
"Unbeknown to me, Professor Malik was a world leader in diabetic neuropathy and the ultimate result of this meeting is the simple eye test that is now replacing what was for many a traumatic skin biopsy from the foot," he said.
Professor Efron recently secured funding from the US-based National Institutes of Health to assemble a consortium of multidisciplinary researchers from Australia, the UK, USA, Canada and Qatar with the aim of trialling his new eye test on more than 600 patients with diabetic neuropathy.
"Our research should firmly establish the diagnostic capabilities of this approach and in the long term lead to better treatment of patients with this debilitating condition," he said.
Focussed on Writing
Now 60, Professor Efron said he has turned his attention to writing. "At my age, I'm no longer inclined to have long-term aspirations. Anyway, science is structured in such a way that one can not really afford to think more than three to five years ahead, because that is the typical research funding cycle.
"Throughout my career, I have tended to set short to medium term goals. I love writing, so an important current goal in this regard is to complete the editing of the third edition of my popular textbook, Contact Lens Complications, and to continue writing up scientific papers from my recently completed "LANDMARK Study" (Longitudinal Assessment of Neuropathy in Diabetes using novel ophthalmic MARKers). I also enjoy serving in professional leadership roles, so I am looking forward to continuing my work as President of the Australian College of Optometry and Vice-President of the International Society for Contact
Lens Research.
"As readers of mivision will be aware, over the lpast few years I have been fascinated to observe ophthalmological eye care from a 'user' perspective. Following the occurrence of my own bilateral idiopathic retinal tears about five years ago, I have been on a roller-coaster journey of a range of different forms of eye surgery that has required critical thinking, decision-making and analysis. This has led to my writing a somewhat protracted series of blogs, which seem to have been well-received judging from the extensive feedback I have received. Although this does not really feed into my formal academic work, it has been a most enjoyable 'parallel experience' (the writing that is, not the surgery!)"
Learnings Along the Way
Over a long career Professor Efron said there have been plenty of learnings, some of which have helped shape his career.
"I was very fortunate in the late 1990s to acquire one of the first commercially-available corneal confocal microscopes. This instrument allowed us to view the living human cornea at about 500X magnification; prior to that, we could only examine the cornea at 40X magnification with a slit lamp biomicroscope. As an 'early adopter' of this technology, I was able to observe new phenomena and make new discoveries about corneal anatomy and physiology.
"Consequently, I was the first to publish these discoveries, which established the basis for new thinking about the cornea and set new directions for the research community to follow. That was especially gratifying.
"By far the biggest lesson I have learned is how to be a good mentor. I have learned this through a few negative experiences earlier in my career, and many subsequent positive experiences of being nurtured by some terrific mentors, such as Professors Barry Cole and Leo Carney, and especially early in my career, Professor Brien Holden. From these esteemed colleagues, I learned how to motivate, encourage, support and develop young academics and researchers. I quickly developed my own style; my mentoring approach is best characterised by the phrase 'let them get on with it themselves', while at the same time providing total support 'whatever and whenever'. I prefer this to the over-bearing or controlling approach that I have seen others adopt."
Over the years Professor Efron has also learned the art of delivering informative and entertaining lectures… in the process developing a reputation for providing 'info-tainment'. As a result he has lectured at over 500 scientific conferences and clinical meetings in 42 countries. "I have built friendships and acquaintances all over the world. I often say to colleagues that if you name any city in the world, I can name at least three people who I know there. That's what I enjoy about my profession the most – the worldwide camaraderie I have developed on my international travels," he said.
He has also earned a reputation for wearing flamboyant bow ties – in fact some would say bow ties are now part of his brand – not that this was ever his intention. "At the start of my academic career I figured it was important to be smartly dressed at the lecture podium," Professor Efron explained. "At the time, I became aware of a somewhat eccentric fashion item known as an 'artist bow tie', which is essentially a flamboyant, colourful, over-sized bow tie. I had noticed that the then director of the National Gallery of Victoria, art historian Patrick McCaughey, always wore these during media interviews, and I decided to emulate that. These bow ties were available from large department stores at the time, but they started going out of fashion just at the time I was beginning to be recognised for my stylish neck apparel.
"I did not deliberately set out to develop these bow ties as my trademark; it just very quickly evolved that way. So then I faced the dilemma of not being able to purchase any more bow ties as department stores were no longer stocking them. My father then came to the rescue; he was a manufacturer of ladies skirts, and when I bemoaned to him the fact that I could no longer source my favourite fashion item,
he suspended skirt manufacture in his factory for two days and had all his staff make about 50 bow ties for me from colourful ladies' skirt material. Since then I have been dazzling audiences around the world with these bow ties, and hopefully also with my scientific research!"
Loving the Gold Coast
When not immersed in the world of optometry (which must be difficult when Suzanne, his wife, practises in the profession as well), Professor Efron says he likes to keep fit and enjoy all that his home town – the Gold Coast – has to offer.
"I like keeping fit, and maintain a rigorous fitness program of strength and aerobics exercise in the gym. I enjoy going to the theatre and plays, and love watching sport – especially cricket and Australian Rules Football… I love skiing, but haven't been for a while. And I love all the international travel that I get to do as part of my academic work. I try and take Suzanne with me whenever possible, and always aim to take a few extra days to see the sights."
On the Gold Coast, he says it's the sand, sun, sea and surf that he loves the most. "Suzanne and I love going for long walks along the Surfers Paradise beachfront. It is surprising the number of people who question why I would want to live on the Gold Coast. But they just don't get it. Every weekend is like taking a mini holiday. For me it's a 'no brainer'!"
Commentary
"Recently, I had the honour of presenting Professor Nathan Efron with the Kenneth Bell Award at the International Cornea and Contact Lens Society. Nathan has been so instrumental in shaping the way we
practise optometry today, and despite all his achievements and accolades he continues to research and innovate.
"His tireless efforts do not pass unnoticed and it is a delight to hear that he has been awarded Companion of the Order of Australia. In my opinion he could not be more deserving. Nathan is an inspiration and we are so lucky to have such an esteemed colleague in our profession."
Jessica Chi, optometrist, National and Victorian President of the Cornea and Contact Lens Society of Australia
"I congratulate Professor Efron on the outstanding achievement of being the nation's first optometrist to receive this significant honour. He is a remarkable teacher, researcher, academic and clinical optometrist.
"He has lectured worldwide, been a valuable mentor to dozens of optometry students and optometrists, authored textbooks and led national and international professional bodies.
"His invaluable contributions in the field of contact lens research have enabled his research teams to attract funding for contact lens studies, and he has also advanced research into diabetic eye disease.
"Receiving this award is a significant personal achievement for Professor Efron and also wonderful for the optometry profession."
Genevieve Quilty CEO, Optometry Australia
"Fantastic was my first reaction to reading that Nathan Efron was a recipient of an AC in the Queen's Birthday Honours list.
"This honour is a great recognition of an outstanding Australian Optometrist. I am proud to be a colleague and delighted to see Nathan's achievements and work are acknowledged in such a fitting way.
"Nathan's commitment to teaching and research is unquestioned and he has a most respected profile not only in Australia, but internationally.
"I don't intend to list the breadth of Nathan's contribution to Optometry and Visual Science. All you need to do is enter in your favourite search engine his name and you will be overwhelmed with his achievements,
positions held and research.
"I'd just like to add my congratulations to Nathan, acknowledge this recognition and say again Fantastic."
Micheal Knipe AM, optometrist.
"I've been fortunate to know Nathan personally and professionally since I first became aware of his contact lens research in the 1980s. Since then we've debated issues in the contact lens field and shared our common passion for daily disposable contact lenses. Nathan is one of the most prolific writers in the contact lens field, having published around 800 articles and 16 textbooks. He has presented at over 500 conferences in 42 countries and is the recipient of major international awards.
"His excellent texts and articles have been invaluable to generations of eye care practitioners. Nathan has managed to blend the academic and clinical aspects of contact lenses, complications and corneal physiology. No easy feat.
"Mazel Tov Nathan for a well-deserved recognition of your services to eye care. I am proud to call Nathan a friend, mentor, guru and optometric educator extraordinaire."
Alan Saks, optometrist