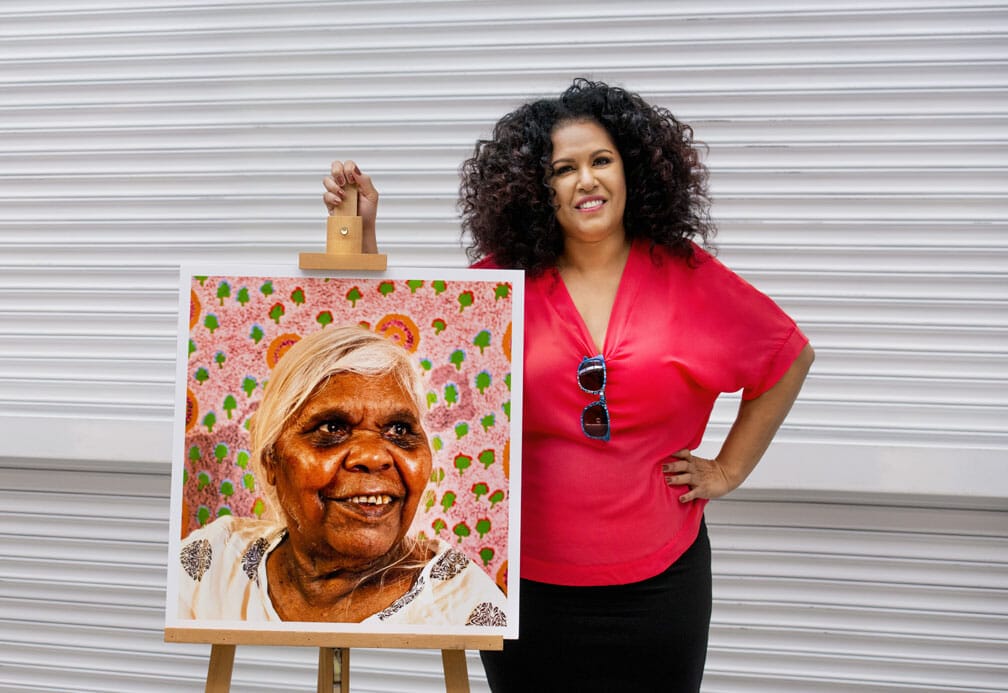 Australian singer Christine Anu has thrown her support behind Specsavers and Fred Hollows Foundation to help 'Close the Gap' on vision loss between Indigenous and non-Indigenous Australians.
For the second year, Specsavers has produced a limited edition of sunglasses featuring artwork painted by Indigenous artist, Langaliki Langaliki. The frames use Langaliki's artwork 'Ngayuku Nguara', which is the artist's depiction of her country in winter. Langaliki has previously undergone cataract surgery thanks to Fred Hollows Foundation, a procedure which enabled her to resume painting.
Fred Hollows Foundation founder and CEO Gabi Hollows said proceeds from sales of the 2015 Langaliki frames would top up funds that enable the Foundation to continue its work in Australia's Indigenous communities. She said the Foundation is focused on eliminating cataract blindness, however this requires a holistic approach that takes into account nutrition, hygiene and eye health, and begins with the children.
"In our own Indigenous communities here, we are doing the regular catch up on cataract surgery but you have to do more than that. You have to prevent little children from getting infectious, active trachoma, because when their lashes rub up and down, they get rubbing scars on their eyelids, which leads to cataracts."
She said another problem the Foundation is increasingly tackling is "the huge tsunami of diabetes coming through" along with renal failure and heart disease.
Close to Christine Anu's Heart
Christine Anu is passionate about the Specsavers campaign because the issue of eye health is close to her heart.
"I grew up in a very remote part of Australia and by the time my sister was eight, she could barely see… On Torres Strait Island back in the 70s and 80s we had a medical aid post and the spectrum of what they looked after probably did not include optometry. My sister's vision was closing down and it wasn't until the doctor came to us on the launch that we were able to say to him, 'our sister is going blind'. They tested her… they gave her glasses to try – but they were for an adult's face. So she started out being teased because she couldn't see and then she was teased for being four eyes and having glasses that didn't fit."
Ten years ago Ms. Anu's mother began to rapidly lose her sight. "She had cataracts but she didn't know to have her eyes tested – none of us were aware of the need to do this." Ms. Anu took her mother to a doctor and laser surgery was arranged. "She can see perfectly now but she was going to live with going blind because she thought she was just getting old. That's one personal story to me, imagine all the other Indigenous Australians out there who do not know you don't have to go blind."
Ms. Anu said the Specsavers' campaign was already successful in increasing awareness of the importance of eye tests among Indigenous people. "Langaliki having her eyes treated and being able to get back to painting was a very powerful message."
Additionally, she said, Fred Hollows Foundation work was establishing sustainable accessible eye care and breaking down the barriers. "The money raised (from this campaign) goes back into teaching and training people from the community on how to treat very treatable eye conditions…" She said when she started to research the work of the Foundation, "the thing that really touched me was that Fred and Gabi were going out into the communities (back in the 70s), and they didn't speak the language. It's the biggest barrier… it's massive.
"So how to take away the stigma of the scary white man doctor? You put the access into the community by training up the local people – that's how you do it – and that is what Fred Hollows is doing," said Ms. Anu.
Specsavers hopes to raise over AU$100,000 from this latest limited edition sunglasses campaign.