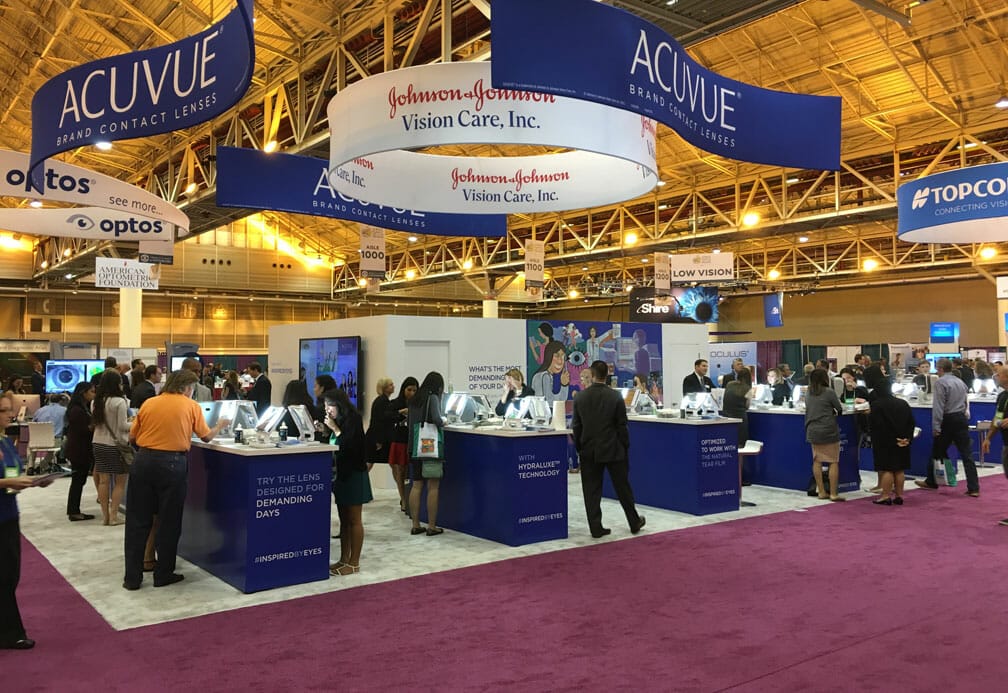 Alan Saks is firmly back on terra firma, after around 120 hours at 40,000 feet, over a period of six weeks from late August to October… a lot of time to consider the evolution of conferences, CPD, smartphones and apps.
I finally ticked New Orleans off my bucket list. It's a great place. I enjoyed interesting food and toured the bayou on an airboat. Alas the Bourbon Street of old is no more: One could just as well be at Surfers Paradise with a bunch of drunken yobbos and average rock music. The sublime acoustic jazz at Preservation Hall and Frenchman Street made up for it.
Even though the American Academy of Optometry (AAO) conference is regarded as the biggest and best optometric conference on the planet, it doesn't spin my wheels. It boasts 1,500 presenters over four days. As we know we cannot be in 10 places at the same time so the best one can do is about eight presentations a day. People enjoyed the variety and there were certainly some good talks. I prefer meetings to have at least a few hours of entertaining keynote speakers, with no concurrent lectures. I guess we're spoilt with our smaller, more intimate, boutique style conferences. Many people attend the academy for networking, meetings and the like.
The exhibition seemed smaller than the one I attended a few years ago in Phoenix: There are simply too many trade meetings these days. Exhibitors around the world tell me it's simply not worth fronting up for every exhibition. Many target meetings that are more specific to their market. Delegates too are tending to pick and choose.
Evolution
Johnson & Johnson Vision Care were well represented at the AAO, supporting the launch of their next evolution in one day lenses; Acuvue Oasys 1Day with HydraLuxe. Reports indicate it's another step up in Si-Hy daily-disposable performance. I was fortunate to meet up with some of the R&D people involved in this significant development. I'll share some of the insights gleaned in future columns. Look out for it sometime in 2016.
I guess we'll also see an evolving shift in how CPD is presented. The past decade or so saw an explosion in CPD offerings. Almost every state now has at least one major conference. Ophthalmology groups also provide efficient CPD opportunities. There are also impressive meetings hosted by the major chains and groups. Although one chain's withdrawal from formal CPD provision seemed myopic when announced, it may be a sign of the shifting sands of CPD provision.
We've also seen an increase in online CPD. People no longer have to front up for expensive travel, accommodation and food. Online is however a pretty insular, boring way to earn points. One also loses the significant benefit of interaction with colleagues. Attending conferences is also an opportunity to visit a trade show to view/purchase the latest in frames and equipment.If you attend one large, nearby show/conference annually, you've probably got it covered.
BRIEN HOLDEN Tributes
The Brien Holden tributes at the legendary Australia Party at the AAO were powerful. I heard some fantastic accounts of how Brien empowered people and changed lives. There were many personal and funny stories about his antics and behaviour.
Unfortunately the tributes were marred by some inconsiderate groups of people that disinterestedly stood around at the back of the hall and spoke at the top of their voices during what were sometimes softly spoken tributes.
If Brien was there he'd have halted proceedings and in full voice told the offenders to shut-the-eff-up!
Even though the American Academy of Optometry (AAO) conference is regarded as the biggest and best optometric conference on the planet, it doesn't spin my wheels…
Eye Catching Apps
Some of the things that caught my eye at the AAO exhibition were apps and clip-on attachments for smart phones. One such device was a laser driven clip-on autorefractor, about the size of a cigarette packet. It struggled with my small pupils and form fruste cones and provided a useless readout. It did, however, do a good job on a colleague. Another camera-based unit uses Purkinje images to provide corneal sag, HVID and more.
I'm increasingly seeing useful apps and clip-on attachments for all aspects of eye care, covering frame selections, retinal exams, refractions, vision therapy, surgery, contact lenses and more.
One such device is available as an open source, 3D printable device that converts a smartphone into a fundus camera.
NZ based ophthalmologist Hong Sheng Chiong who, like Brien, is committed to the eradication of blindness, developed the attachment. Download one at www.ophthalmicdocs-fundus.org.
Social Media, Imaging and CPD
Closed groups of colleagues on Facebook is another evolving CPD arena. One such group of optometrists boasts over 20,000 members! Barely a day passes where I don't interact with wildly enthusiastic practitioners in CPD forums. The best ones include ophthalmologists, optometrists and industry professionals. Amazing images – often taken by a hand-held iPhone through a slit-lamp eye piece – are posted on Facebook. Some are requests for help in diagnosis or management. Others are tests of one's knowledge and detective skills.
There's typically a tentative response within minutes, which snowballs into an often lively discussion with added images and references. It's a fun and efficient learning process that's hard to beat and costs nothing. Expect this to become a mainstream offering for CPD down the track; once the bureaucrats formalise points values and claims procedures.
I often send and receive short videos or images. One recent case involved a rapid and large change in pupil size. My iPhone video helped explain why this keratoconic was complaining of ghost images when looking in the distance: When she looked near her pupils were 5mm. As soon as she resumed distance viewing her pupils dilated to 9mm. Quickly. She'd been referred by a colleague for a second opinion. 'Good detective work' said the referrer.
I used my camera in a few more cases, to illustrate a cracked RGP lens, a proud suture and some tricky RGPs on grafts and cones. Patients were impressed by the speed with which we captured the images. More importantly they appreciated showing them what was going on with their lenses and fitting: A picture is worth a thousand words.
For someone who thought Facebook was a load of bollocks some years ago, I've certainly altered my view.
I now regard it as a very powerful learning and sharing tool.
Alan P Saks MCOptom(UK) Dip.Optom(ZA) FCLS(NZ) FAAO(USA) is a third generation optometrist based in Auckland, New Zealand and columnist for mivision. He is actively involved in the profession, having served multiple terms as President of Contact Lens Societies and arranged numerous conferences. He's also served on education committees, as examiner in contact lenses and clinical optometry examinations, lectured contact lenses to ophthalmology registrars and written several columns about eye health and the practice of optometry.