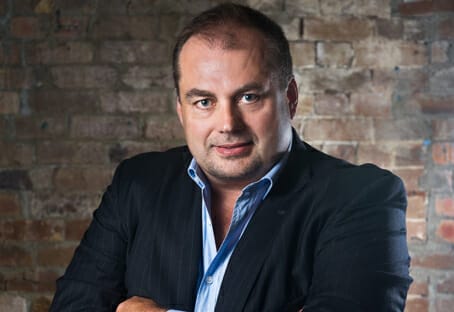 George & Matilda has been unveiled as the newest entrant into the Australian optical market.
Friday 29 April marks the launch of George & Matilda Eyecare, a new proposition in the Australian optometry market which the company says "will offer consumers progressive vision care, great value, and stylish frames – all delivered by independent optometrists who have already established themselves as trusted professionals in their communities."
Chris Beer Founder
George & Matilda Eyecare will be led by former Luxottica CEO Asia Pacific Chris Beer.
"George & Matilda Eyecare will deliver a new and compelling proposition for consumers by combining the marketing, systems, technologies and resources of a bigger business, with the personalised service and local trust enjoyed by successful independent optometrists," said Mr. Beer.
Significant initial signings include Peter Hewett Optometry and Hanks Optometrists
As CEO, Mr. Beer's 30-year track record in the optometry industry will be backed by an experienced board, including Andrew Reitzer (Chairman), who brings more than 35 years of experience in both the retail and wholesaling industries – most notably as former CEO of ASX-listed Metcash Limited.
Speaking about the new venture, Chris Beer said: "After many years of working in the optometry industry in Australia, it became clear to me that there was a compelling opportunity for genuine partnership with leading independent optometrists in order to create shared value.
"We have already signed on some of the best independent optometrists in Australia as partners, and are in discussions with a healthy pipeline of many more independents attracted to the George & Matilda Eyecare proposition."
Hewett and Hanks Sign
Significant initial signings include Peter Hewett Optometry and Hanks Optometrists, both of whom Mr. Beer says are "regarded as industry and opinion leaders within Australian optometry". These acquisitions underscore George & Matilda Eyecare's approach of partnering with independent optometrists with a successful track record and strong reputations in their local communities.
The George & Matilda Eyecare brand has been developed by renowned creative agency Saatchi & Saatchi.
The name George & Matilda was carefully chosen to embody the values and vision of the brand:
'George' represents the name of the first high street in Australia, a street brimming with entrepreneurial spirit and local business values, to symbolise forward thinking and George & Matilda Eyecare's link to modern Australia;
'Matilda', immortalised in one of the nation's favourite songs, has become synonymous with the Australian outback and represents the side of the brand's personality that is trustworthy, friendly and warm.
For more information on George & Matilda Eyecare go to: www.georgeandmatilda.com.au.