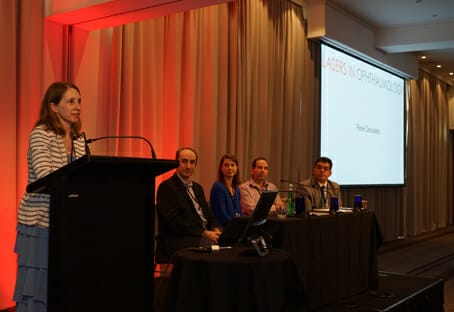 Lasers in Ophthalmology was the theme for the two-day 2016 Annual RANZCO NSW Scientific Congress in the Hunter Valley during March, in recognition of the important role that this technology has in effectively treating a number of ocular conditions and diseases. As the meeting Chair, Associate Professor Andrew Chang said, "lasers have penetrated almost every part of ophthalmology now".
Ophthalmologists heard from distinguished international and Australian experts, among them Professor John Marshall from the UK, Dr. Paul Singh from the USA, and Professors Paul Mitchell, Stephanie Watson, Gerard Sutton and Mark Gillies from Sydney.
Professor John Marshall, the Frost Professor of Ophthalmology at the Institute in Association with Moorfield's Eye Hospital, University College London has a distinguished career receiving the Bowman Medal in 2014. At the 2016 Annual RANZCO NSW Scientific Congress he was asked to deliver a review of his experience in the development of modern lasers. He spoke about lasers, first postulated in theoretical form by Albert Einstein in his Theory of Relativity in 1917, but ostensibly rejected. Lasers were eventually realised in the 1960s and, as Professor Marshall told his audience, he personally has had a long history with their use in ophthalmology treatment, having worked with the Royal Airforce in the 1960s to look at the levels of energy required to damage the retina.
Dr. Paul Singh presented findings from his retrospective review of patients who, in an outpatient setting, underwent YAG laser vitreolysis with the Ellex's Ultra Q Reflex system, for treatment of symptomatic floaters. Dr. Singh evaluated patient satisfaction, complication rates and treatment specifics and concluded that laser vitreolysis is associated with a high degree of patient satisfaction and low complication rates. He said outcomes allow this procedure to be considered as a first-line treatment for patients with symptomatic floaters.
Keratoconus Management
Dr. Noni Lewis spoke about management of keratoconus, saying that interventions of spectacles, rigid contact lenses and corneal transplantation did not alter the natural history of keratectasia. She said progressive keratoconus may be treated by standard epithelium-off corneal collagen cross-linking (CXL) with the photosensitiser riboflavin 0.1 per cent (Vitamin B2) and Ultraviolet-A light at a wavelength of 370nm (irradiance 3mW/cm2 corresponding to a surface does of 5.4j/cm2) in order to arrest or achieve partial regression of the disease. Dr. Lewis said despite the enthusiasm with which CXL had been adopted in Australia and overseas, it has no Medicare Item number in Australia, however riboflavin is available through the TGA special access scheme.
Additionally, she said, CXL remains unapproved by the US Federal Drugs Association.
Professor Stephanie Watson told the audience about procedures for microbial keratitis, highlighting the emerging therapies for this condition, including the use of lasers. She presented treatment outcomes data for cross-linking for keratoconus collected on the Save Sight Registries Keratoconus module.
Femtosecond Laser
Professor Gerard Sutton explored the potential uses of femtosecond laser in corneal surgery, stressing the evidence based medicine approach required to critically analyse its advantages and the need to review the cost / benefit of this technology for specific indications. Professor Sutton said that, increasingly, the cost of new surgical procedures would be scrutinised.
The NSW RANZCO traditionally produces successful scientific meetings, high in educational content. A/Prof. Chang and the committee were pleased with the very positive feedback from fellows on the valuable scientific content. The topic of lasers chosen by the organising committee provided the opportunity for virtually all subspecialties, ranging from oculoplastics, cornea, glaucoma, cataract and retina, to discuss the latest application and advances in laser therapy.