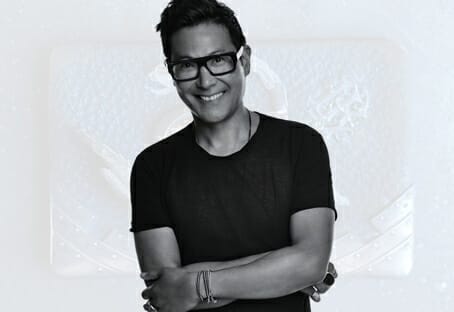 There's a distinctly pure and minimalist Japanese design sensibility about everything optometrist and eyewear designer Blake Kuwahara creates – from his logo to his frames and even the communication that surrounds his brand.
Blake Kuwahara didn't grow up with his eyes set on a future in design. In fact it was quite the reverse. In high school he was picked to study sciences, having shown aptitude. "I tested well in science so that was my direction. But I knew I didn't want to be a medical doctor, I didn't like blood, and I didn't want to take responsibility for someone else's life."
Kuwahara took up studies in optometry, a decision that eventually led him on the path to eyewear design. "I studied at UC Berkeley, which had a very academic and clinical focus. I was recruited out of school to join a very busy optical practice in Los Angeles. One of my responsibilities as the junior partner was to also over see our dispensary and the buying for our practice. Soon, I found that I enjoyed being "in the front of the house" in our optical boutique more than being in the back seeing patients."
After being in private practice just three years, Kuwahara had the opportunity to become Creative Director for an LA-based eyewear company, Wilshire Designs. "I was dumbfounded. I had no experience in designing eyewear but the founder of the company felt that I had a natural aptitude for design. He said he could teach me the technical part of the business, but that having "an eye" and sense of style is something that is innate. He took a big chance on me and gave me the opportunity to change my career path."
The inside silhouette is relatively classic and very wearable… as you get closer you see the totality of the frame
Thrown to the Wolves
Kuwahara said that at Wilshire Designs he was "thrown to the wolves", responsible for all eyewear development. "I went to the factories to learn all that I could. From there I got an understanding of engineering, construction, materials, and ergonomics – it was fundamental exposure that I think a lot of people in our industry just don't get."
That was 25 years ago and today Kuwahara is recognised as one of the world's preeminent designers. He launched his exclusive and eponymous range of sunglasses and optical frames in the Autumn of 2014. "I wanted to design frames for myself and my friends who straddle both the business and creative worlds: architects, graphic designers, photographers. We all have this creative bent but to keep our businesses a business, we also need to present ourselves in a certain kind of way.
"One friend told me the frames available on the market were too avant garde or too boring, too placid, or too retro. I felt the same; I really wanted to design glasses that reflected both artistic and professional sensibilities. That became my design challenge – how do you get two different looks into one frame?
"I was shopping one day and saw this antique elm Chinese stool encased in a solid block of laminate… something old and familiar encased in something new. It took on a whole different form in this new context. That was my inspiration."
Frame Within a Frame
Indeed, Kuwahara's signature eyewear design is a frame within a frame. It's a concept he evolved in acetate and is now also incorporating metal.
"The inside silhouette is relatively classic and very wearable; the outside frame is more directional but also translucent so not really apparent from afar. As you get closer you see the totality of the frame – the outside silhouette combined with the inside silhouette gives the frame a whole new personality."
Production is not a simple process. "With the lamination process, the acetate goes through a process utilising heat, pressure and solvents to literally combine two separate frames into one. This process alone takes about two months. Each acetate colour also has a different shrinkage rate so we have to calculate that in when we do the milling," says Kuwahara.
Metal frames are punched out of one sheet of metal but designed as per the acetate models, as a familiar shaped frame within a frame separated by space. It's yin and yang – a play on positive and negative space – a concept Kuwahara has also experimented with in his logo, inspired by his Japanese father's family crest.
Pure Design
Kuwahara attributes his flair for design to his grandmother who is an artist and to being a fourth generation Japanese-American.
"I try to design very efficiently, keeping things as minimal as possible without any extraneous elements," he says picking up one of his frames to demonstrate that even the end pieces have been considered from an artistic point of view. "I used an architectural technique of mitring at a 45 degree angle, so when you close the temple the hinge break is hidden within the mitre. It's a very pure and exact way of doing things," said Kuwahara.
"It's also about a tactile sensibility – so when you touch the frame, you can feel the way it is bevelled; there is an additional contour that the frames are given through special processing and hand polishing."
Designing eyewear, he says, is an evolutionary process. "I'm not a designer that comes up with one concept then moves on to a new trend. It's always an evolution – otherwise, you're almost saying that everything you did before that was irrelevant." Of course that doesn't mean that Kuwahara's eyewear designs barely change. "My aesthetic doesn't change… but things around us do and so our eyes become accustomed to new proportions, shapes and colours. As a designer, I have to anticipate this because I design almost a year in advance – I do need to read the trends."
Celebrity Following
Kuwahara's designs are worn by Brad Pitt, Sandra Bullock, Catherine Zeta-Jones, Halle Berry, Robert Downey, Jr., Will Smith, Samuel L. Jackson, Casey Affleck, Slash, and Charlize Theron among many others. He has garnered a multitude of awards for his designs including Best of Category in Consumer Products from I.D. magazine and Silmo d'Or – Prix Special Journalists de Mode from a panel of French fashion journalists. Kuwahara is also a longstanding member of the prestigious Council of Fashion Designers of America (CFDA).
Contact: Eyemakers 02 9960 7766