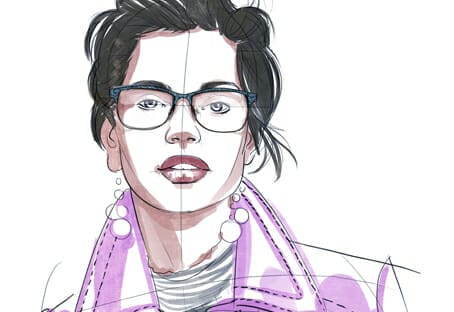 Brendel is created by women for women. Part of the Eschenbach stable of brands, Brendel is modern and sophisticated, designed to highlight the natural beauty of the feminine face.
Women are at the heart of all that Brendel stands for. Established in 2003, this elegant German brand is designed by a tight-knit all-girls team comprising designer Ulla von der Goenna; product manager Karin Wulfmeyer; brand director Annette Kluger and brand manager Ramona Niendieker.
It's this female dynamic, they say, that ensures every pair of spectacles and sunglasses is designed as "fashion for the face" to enhance the natural feminine beauty of the wearer.
Designer Ulla von der Goenna comes from a strong history designing eyewear having worked for the likes of Jil Sander, Christian Dior, Escada and Bogner before joining the Brendel team in 2008. She said the inspiration for the frames she designs comes from studying trends, researching platforms for colours and materials, and a general observation of the world around her.
Individualisation is the largest trend we see – beauty is in the eye of the beholder and everyone defines beauty differently
"If you have a passion for fashion, you will find inspiration anywhere," says Ulla. "I get truly inspired from fashion, jewellery and different accessories or current tendencies of interior design, but also just watching women on the street, sometimes is inspiration enough.
"Being a woman myself and living my femininity, of course, gives me a strong feeling for the Brendel target group," she said.
Bringing external influences to the brand is also important to keep the design fresh and exciting. Collaborations with German fashion designers like Kaviar Gauche in the past have inspired new designs while currently the team is working with the creative talent Andy Diehl for the German runway Talbot Runhof.
Viability of Design
The viability of design is essential to the success of any brand and at Brendel, viability is maintained through a process of internal discussion and collaboration even before the design brief is put forward to Ulla. In the words of product manager Karin Wulfmeyer, "While we are always seeking out fashion trends and searching various trend sites, our focus is kept on viable designs. That means we can give Ulla a very precise and detailed briefing upon which she can start drawing.
Once designs are chosen from the initial round of drawings, prototypes are made. It's then that the brand, production and creative teams sit down together to select styles that will be further developed ready to launch to the market.
"These meetings are extremely inspiring and interesting as different views come together. We all work with a lot of passion to develop our Brendel products," explains Karin. "Brendel is all about eyewear for women, so our goal is to give ladies an even more beautiful feeling about themselves when they wear Brendel frames or sunglasses. We not only focus on fitting, comfort and finish, but also on transporting the femininity and the beauty within all women," she said.
"Colours play a major role. We focus on selecting wearable, yet fashionable and sophisticated colours which show a certain femininity. This is how a new style for the collection is born."
Quality is also integral to the brand's success says Karin. "We are very proud of the long-term relationships that we have built up with suppliers who have been chosen very carefully for us by Eschenbach Optik. Having reliable, trustworthy partners with extensive experience in the eyewear business is essential to ensure our requirements for quality and design are absolutely fulfilled."
Making a Fashion Statement
Ulla says the sunglasses within Brendel's collection are a great way for women to make a fashion statement. "When choosing sunglasses, women can be more fancy and extravagant. Our sunglasses range is filled with very feminine styles that give the wearer the feeling of summer at the first glance.
"Of course eye protection is a must so importantly, with our sunglasses range, we combine the protection of quality lenses with beauty."
When it comes to eyewear designs going forward she said, individualisation will be most important. "There are a lot of trends in the market. For instance, metal is getting thinner, we are seeing some fabulous bold acetates and a lot of round shapes.
"But just as it is in fashion, lately there has not been one big trend. Instead we are seeing several small trends, for instance toward sustainability, eco-friendly materials and individuality.
"Individualisation is the largest trend we see – beauty is in the eye of the beholder and everyone defines beauty differently.
"Understandably, women do not all want to look alike, which is why Brendel brings out that individuality. However, our main direction, our main design goal, is to keep creating frames that enhance the beauty of women.
Contact: European Eyewear (AUS)1800 818 221