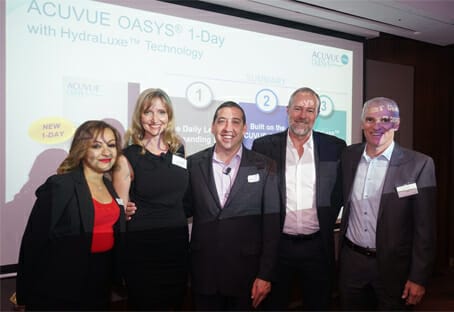 Experts in optometry have hailed the Oasys 1-Day with HydraLuxe technology contact lens as a lens that can satisfy many patients who are traditionally difficult to fit. Attendees at a Johnson & Johnson Vision Care roadshow to launch the much anticipated Oasys 1-Day in Australia and New Zealand heard why.
It's always inspiring to hear stories from patients whose quality of life has been improved thanks to the arrival of an innovative technology, a new treatment or a greater depth of knowledge.
And so it was that when Dr. Brian Pall, J&JVC's Senior Principal Research Optometrist from Florida in the US, told his story about patient success, he had all 120 attending optometrists at the Sydney launch of the Oasys 1 Day with HydraLuxe technology sitting on the edge of their seats.
Dr. Pall has been instrumental in the 10-year development and launch of this lens. However, being stuck in the lab, it seems, means that despite gathering clinical evidence of his product's performance, he rarely gets feedback from 'real people'.
if you try to mimic the structure and the function of the tear film, ultimately your product will perform
And so it was with great delight that, while enjoying a morning off during the Roadshow, taking a ferry ride on Sydney Harbour, he bumped into Canadian tourists who asked him about his work. "I work in contact lenses," said Dr. Pall, to which the woman replied "Ooo I just got new contact lenses and I absolutely love them". Dr. Pall was proud to tell his audience that the contact lenses the woman was referring to turned out to be none other than Oasys 1-Day – and so good was her experience with them that she said she would be happy to make an ad for J&JVC should they require one.
Dr. Pall's story was backed up by case studies presented by NZ optometrist and mivision columnist Alan Saks who, having trialled the lenses for three months, expressed his satisfaction with their performance in his mizone column in mivision's June 2016 issue. Mr. Saks told the story of a hard working female lawyer whose vision problems had been inadequately resolved until he fitted her with Oasys 1-Day. Her response was simple, yet highly expressive: "Wow. Wow. Wow."
Other patients with equally difficult vision, some of whom had even been offensive in their lack of confidence in Mr. Saks' competence, had as he said, become his "BFF" (best friend forever) since being fitted with Oasys Acuvue 1-Day.
Performance Decline
In her opening address, Dr. Emma Gillies, J&JVC Professional Affairs Manager was keen to point out that the Oasys 1 Day was not the same as the Oasys two-weekly contact lens. She said Oasys 1 Day has been designed for people who are engaged in many different activities every day, using different digital devices, moving from air conditioned environments to outdoors and back.
Dr. Gillies presented research indicating 59 per cent of contact lens wearers suffer from declining CL performance across the day – yet far fewer report this discomfort to their optometrists, assuming that discomfort from contact lens is to be expected. She said the busier people are – i.e. the more activities they take on during the day – the more likely they were to experience declining contact lens performance.
Dr. Gillies said the symptoms reported among the target contact lens group – those aged 18–36 years were tired eyes (78 per cent); dry eyes (74 per cent); irritation (38 per cent); excess blinking (36 per cent) vision fluctuation (23 per cent); eye strain (22 per cent) and sensitivity (11 per cent).
As a result of these symptoms, people take breaks from their lenses and wear their spectacles for longer and longer periods and then, when their contact lenses finally run out, Dr. Gillies postulated, they don't bother to refresh their supplies. Hence the drop off.
Technical Difference
It was Dr. Pall's role during the evening to provide the technical reasons for why the new Oasys 1 Day overcomes the symptoms Dr. Gillies had described. He said there were three points which were intrinsic to the success of Oasys 1-Day: enhanced moisture network, PVP and highly breathable silicone.
He said finding a solution for tired eyes and other symptoms experienced from regular contact lenses came down to gaining an understanding of the tear film, "because… if you try to mimic the structure and the function of the tear film, ultimately your product will perform". Dr. Paul said the J&JVC researchers looked at the lipid layer, the aqueous layer and the mucin layer and they decided it was most important to mimic the mucin layer. "The mucin layer is pretty unique… the structural component of the mucin layer – the membrane bound mucins – covering the surface of a very hydrophobic corneal epithelium, create a stable foundation to prevent tear film from breaking up," said Dr. Pall. He said the other key structural and functional benefit of the mucin layer was that it acts as a disadhesive, meaning the lids are more able to glide over the contact lens surface, maintaining a stable tear film.
J&JVC's researchers re-created this process in a contact lens using a polymer to create a tear unfused design – i.e. a lens with tearlike (amphiphilic) properties that works with the tear film in the eye.
Dr. Pall said key to achieving this was identifying that the more crosslinkers used in the polymer (necessary to bind the polymer together), the less adhesive the lens (this is referred to by J&JVC as the lens' enhanced moisture network). Additionally, they found that the more crosslinkers used, the faster release time from the production mould.
Dr. Pall said "long pure strands of polyvinyl pyrrolidine" (PVP) were also an important component of this lens because they have both hydrophilic and lipophilic properties (i.e. they are amphiphilic), which enable silicone hydrogel lenses to be created without the need for a surface coating technology. In addition to being amphiphilic, PVP is also a demulcent and a humectant. He said PVP is "a fantastic molecule and another early-in-the-day key technology that allows the whole platform of hydrogel sihy lenses to be developed".
The highly breathable silicone developed in-house by J&JVC (SiMAA) was another unique aspect of the Oasys 1-Day, which enabled this lens to trap water and oxygen to flow through the lens, enabling the eye to remain hydrated.
Other small changes made to this lens included an optimised package solution, which better mimics the osmolarity of the tear film, thus improving comfort upon initial insertion. Additionally, the optic zone was increased by up to 31 per cent to cater to the needs of people with larger pupil size who suffered from flare in low light conditions, and the diameter increased from 14.0 to 14.3 to cater to people with a larger cornea.
Finally, Dr. Pall said the use of 'fourth generation technology" in the manufacture of this lens facilitated high speed, high quality output and had enabled J&JVC to produce the lens in +8 to – 12 in two base curves, and with class 1 UV blocker "right out of the gates".
The Oasys 1 Day lens has been launched in Australia and New Zealand ahead of Asia and is now available.