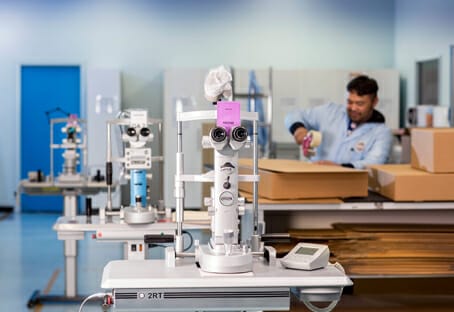 A childhood spent trawling through salvage sheds, using spare parts to create new inventions that were both functional and aesthetically pleasing, shaped the future of entrepreneur Victor Previn. Little did he know that when he grew up, he would become a professional engineer, at the forefront of the world's ophthalmic laser and imaging technology.
Victor Previn is the Chair of the publicly listed company Ellex and an Australian success story.
Since 1985 his company has evolved from being a small scientific laser company into one that develops and distributes leading-edge ophthalmic laser and imaging technology for use in the fight against blinding diseases including glaucoma, cataract and macular degeneration. Last year, annual sales exceeded $AU60 million.
Victor and his team are constantly pushing the envelope to produce innovative ophthalmic technology. Their research and development efforts have resulted in a series of world leading laser products. Among their current projects is a laser procedure coined 2RT (Retinal Rejuvenation Therapy), which has the potential to revolutionise the treatment of Age-Related Macular Degeneration (AMD). Unlike currently marketed treatments for AMD, which only treat the late stages of the disease, Ellex believes that 2RT offers the potential to intervene much earlier before significant vision loss occurs. The laser is used to stimulate degenerated retinal tissue and is currently undergoing a multi-centre clinical trial to assess effectiveness.
Unlike currently marketed treatments
for AMD, which only treat the late stages of the disease, Ellex believes that 2RT offers the potential to intervene much earlier before significant vision loss occurs
Childhood
Victor Previn grew up in the bustling working-class suburb of Port Adelaide, where gigantic ships were loaded from freight trains carrying minerals, primary produce and manufactured goods. Food, textiles, clothes, bricks, glass and building materials, electronics – even munitions and military hardware – were manufactured within striking range for a curious kid on a bike.
Born in Adelaide into a family of immigrant engineers who escaped from war-torn eastern Europe, Victor was brought up believing that Australia was paradise. The family lived frugally but in a period of great optimism.
"Wasting resources was not an option so if something broke, it was repaired in our home workshop. Between grandfather and father, anything could be fixed, usually from parts often intended for something completely different," Victor recalls.
Victor spent his childhood fossicking for treasures at Robinson's, a salvage shop near his primary school. "Robbie had sheds that were filled with useful things. Everything, however obscure, had a use, you just had to find the right one! Among the prizes on sale were rejects from the various factories such as motors, cogs and gears, electronic components and even rocket parts."
With his father, he tinkered around in the family's garage – an activity that would lay the foundation for a future career as a professional engineer.
Early Career
If his time in the garage gave him the hands-on experience, it was his grandmother who perhaps had the greatest impact on his early career, finding him employment as a technician at Quentron, a company that imported optical equipment and lasers, while he was studying engineering. Quentron ran a fledgling subsidiary that custom designed electro-optic systems, including lasers.
Victor says he was "at the wrong place at the right time" when, a few years later, a Sydney ophthalmologist rang Quentron asking for help to fix an ophthalmic laser he had privately imported to excise vitreal strands in patients' eyes. Despite the lack of a service manual and prior experience, Victor managed to fix the German laser (probably one of the first to be used in Australia).
"The ophthalmologist, Dr. Clem Walter, gave me some sage advice. He said, 'Young man, if you've got any brains, you'll think about getting into the ophthalmic laser business because, one day, lasers will be really big'. He started teaching me about the optics of the eye, the properties of slit lamp microscopes and how useful and utilitarian lasers might be in treating the eye," said Victor.
Although his employers dismissed the idea as "not part of their core business", Victor and a work colleague, Dr. Brian See, persisted and "cobbled together" an application for a government grant to develop an Australian-made ophthalmic laser. They were awarded almost AU$1 million to develop the laser for eye surgery.
"We took the letter into the Managing Director and showed it to him, and he said, 'of course we'll be in the ophthalmic laser business' and that's how we began," laughed Victor.
The Ophthalmic Community
Quentron started designing the laser in the mid-1980s and Victor, who was then in his mid-20s, believed he could design a better laser than those built overseas.
"Naive enthusiasm and a belief that we could do it got us through… plus I'd been to the USA on a study tour… every competitor's equipment looked more like a science experiment than a real product so it was obvious to me that we could do much better".
To get R&D underway, Victor tapped into the local ophthalmic community and was connected with Doug Coster, the Professor of Ophthalmology at Flinders University, who encouraged Victor to set up a lab on campus.
"That was the environment in which we produced our first instrument… we were able to trundle it down the hill, past the lake, into his department and display it to Professor Coster and his clinicians. Doug was a tough critic and was not one to mince his words. His usual reaction was, 'How can you expect me to use that rubbish. I don't have three hands.'
As a consequence Victor soon realised that ergonomic design was essential so he forged a relationship with a fledgling design firm Design Makers, who understood ergonomics and knew how to make functional things look beautiful.
Victor says the importance he places on aesthetics is a direct result of his personal history. "As a typical engineer my father would make things rather than buy them. Often his creations resembled a Heath Robinson cartoon… I used to stand and watch with dismay at how my father used to build things. They were perfectly functional but never looked good… so as a kid, whenever I tried to make something by myself I struggled to avoid it looking like a Heath Robinson creation."
Victor's team also had access to the Flinders biomedical engineering department who provided assistance on how to comply with medical standards.
The result was the development of the Model LQ1106 YAG photodisruptor for the treatment of secondary cataracts. It was slick looking, ergonomic, and bullet proof and it came with easy to use 'plug and play' optical modules, which made it a service technician's dream because the need for complex optical alignment processes was eliminated. "Doctors, sales people and service engineers, all loved it."
Spiralling Out of Control
With its first laser embraced by the market, Victor said the future was looking bright. Then things started to spiral out of control when Quentron was acquired by venture capitalists who rebranded the company Laserex, raised $5 million and "burnt money in all the wrong places". Within a couple of years the company had gone into administration.
"There I was, the lead engineer of a company that had developed a marvellous new laser, and I saw layers of managers above me disappearing as the liquidation progressed… there was no money and no management. So we scratched our head and said 'if no-one else is going to do it, we'd better do it'."
Victor partnered with his brother-in-law and arranged a creative Management Buy Out deal with the receiver to progressively buy back assets as they could afford them, thus enabling them to restart the company subsequently named Ellex . "People thought we were complete lunatics," he said, "but I enjoy a challenge. Plus, I trusted that the end-goal would be worth the effort.
"Within a few years of restarting the company, many of our competitors had failed. After a decade we had dominant market share of the laser photodisruptor market."
In 2001 Ellex was listed on the Australian Stock Exchange and the company continues to go from strength to strength with product distribution agreements in place around the world.
Victor says despite the success, the challenges keep coming. "Managing the interests of a number of stakeholders has probably been the biggest challenge throughout my career. Sometimes it is difficult to align everybody's expectations in order to determine the appropriate course of action to take."
That aside, he is extremely proud of Ellex's achievements and the group of people that has been brought together over the years as the company has evolved. "We have a very talented team; every member has something important to contribute. I am also proud of bridging the gap between industry and the medical profession. I think there is much to be gained from creating a collaborative environment to affect positive change in the methods used to treat eye conditions and diseases. There are so many great resources across various industries, and right here in our own backyard – I love that we can all come together in achieving a goal.
"I am especially proud that we have shipped around a billion dollars' worth of product from our small factory to overseas markets during our 30 years of operation.
"I think one of our business' greatest assets is the ability to translate the needs of our ophthalmologist customers into practical and functional product features, which add value to ophthalmologists in their clinics, in terms of patient care, increased throughput, better precision and improved treatment outcomes," said Victor. "This, in turn, gives our products a considerable competitive advantage."
Asked what his father and his grandmother who first got him started would think of him now, Victor says, "My father would be proud of the industry that I have helped create from the humble beginnings of our immigrant family. My grandmother would be proud of my achievements and that she played a part in launching me on my way."
mivision acknowledges a video produced by Flinders University which has been extensively referred to in this article. The video can be viewed at https://www.youtube.com/watch?v=Tta8KppHRqI