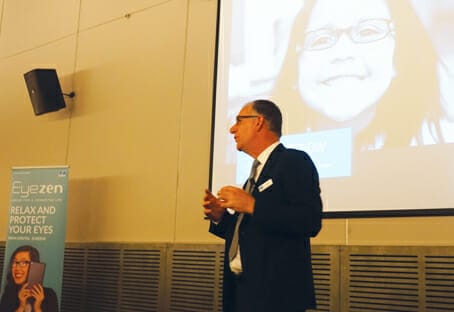 Essilor launched the Silmo award winning Eyezen lens for young adults at a national roadshow for optometrists in Australia.
At the Sydney event, held at iMax theatre in Darling Harbour, guests were welcomed on a cold winter's evening by Essilor General Manager Eric Breda, who informed them that Eyezen was a new category of single vision lens for use with digital devices. He said Eyezen would help independent optometrists recapture the "lost" market of 20–40-year-old patients who had taken their business to corporate optometry.
Tim Thurn, Director of Professional Services at Essilor, spoke in detail about the Eyezen lens, establishing the potential demand for the lens by presenting attention-grabbing statistics about the use of digital devices in Australia.
Mr. Thurn stated that in Australia:
The Eyezen lens was developed for first time wearers following extensive research by Essilor's research and development team
There are 32 million phones used by 24 million people
74 per cent of people 18 years and over have a smartphone
94 per cent of 18–34-year-olds have a smart phone
We spend an average of 10 hours per day in front of a screen (compared with seven hours a day globally)
Half of all our time is spent on mobile devices
We access our mobile phones up to 200 times every day
Mr. Thurn said 70 per cent of 18–34-year-olds experienced digital eyestrain as a result of accommodative difficulty, and three quarters of those people had expressed a desire for help.
Developed on the Back of Research
The Eyezen lens was developed for first time wearers following extensive research by Essilor's research and development team in Paris to determine the distance at which people position different digital devices when using them. That research found that people view their laptops from a distance of 60–65cm, their tablet from a distance of 40 cm, their smartphone from a distance of 30-33cm and their smartwatch from a distance of 25cm (more details of the research appeared in an education article published in mivision Aug 16 issue).
Whereas a progressive lens replaces lost accommodation, the Eyezen is a single vision lens, which aids accommodation.
"You don't need to be giving this lens to presbyopes – there are plenty of lenses for presbyopes. This is a different configuration of lens," said Mr. Thurn.
"The teens and the tweens are the starting groups, right through to your pre-presbyopes." He said these younger age groups "are the biggest potential market for the Eyezen", emphasising that even plano patients would benefit from the accommodative boost and blue light filtering of the Eyezen when using digital devices.
Mr. Thurn explained that Eyezen's blue light filter means controls for digital screen contrast, now being put into place by providers like Apple "which make the screen a baby poo colour", would not need to be used. Additionally, the lens has three power boosts and is a double aspheric digitally surfaced.
Recommending a simple demonstration, undertaken using a purpose designed Essilor device, to help patients understand how the Eyezen could boost accommodation, he said 90 per cent of people surveyed by Essilor said they prefer the Eyezen lens over the lens they previously had.
Large Grind and Stock Range
With the aim being to replace single vision lenses, Mr. Thurn said Essilor has developed a wide range of Eyezen lenses in terms of materials and prescriptions and in both grind and stock. Special order grinds were available at a stock price, enabling Eyezen to be competitive with traditional single vision product.
Social Media Support
Essilor recently launched a new website in Australia and the digital marketing manager responsible for the site's development, Laura Boland, was on hand to talk about its key features as well as the marketing campaign being rolled out to support Eyezen.
Ms. Boland said a targeted social media campaign would create consumer awareness of Eyezen and drive potential patients in store. Offering optometrists practical advice on how they could enhance their own digital marketing effort to build business, she said Essilor had formed a strategic alliance with a website agency and invited independent optometrists to take advantage of a negotiated pricing structure for website development. "Often it is difficult to know where to start when it comes to building a new website, or what you should pay. We have negotiated three website package prices, which include training," said Ms. Boland emphasising that the agency was absolutely independent of Essilor and there was no financial incentive for either party.
Low Vision Market Potential
Also speaking at the Essilor roadshow was Loui Tan from HumanWare, a company that recently joined the Essilor Group. Mr. Tan informed the audience about a number of low vision digital products that were new to the market for optometrists to recommend to their patient. He said in Australia, the market penetration of low vision products was just 5 per cent, which left enormous potential for business development. Mr. Tan said while many optometrists refer patients with vision loss or blindness on to a low vision provider such as Vision Australia, or to their ophthalmologist, there was plenty of opportunity for optometrists to extend the continuum of care by assisting patients in this area and in doing so, improving their quality of life.