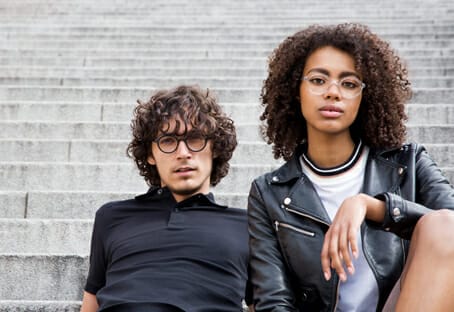 Walk through the streets of Neubau district in Vienna, and you'll find yourself surrounded by everything that's creative, contemporary and fashionable: from cosy cafés to buzzing restaurants, from sleek photography studios to exclusive fashion ateliers, from imposing art galleries to quirky concept stores. And then there's neubau eyewear, right there in the thick of all things brilliant.
neubau eyewear was revealed at Opti-Munich in January 2016 then launched to the world in June, a distinctly Austrian brand with statement pieces that are contemporary in design, innovative in structure and targeted at those discerning buyers who consider their frames to be more lifestyle accessory than medical aid.
The inaugural collection comprised 12 models in six colour variations and two sizes. This will be expanded next month with the launch of neubau's sunglass collection and three new optical frames.
Owned and designed by Silhouette, there's no doubt that neubau is a premium brand with a rich pedigree in both design and manufacture.
Those technical features are combined with shapes and colours to meet the current zeitgeist. They are stylish, young and urban
"We produce all our frames in Austria, which is definitely a distinctive quality feature," Daniel Liktor, head of brand for neubau told mivision. "We are proud of our background, this is one of the reasons why we named the brand after a district of the Austrian capital.
"Additionally, we use the names of our employees for our frames – firstly, as a reward for their performance and also to communicate and highlight the labour-intensive craftsmanship of our production process."
Frame production is from lightweight polymer, stainless steel or a mix of both, allowing light and comfortable frames to be produced that can be easily glazed and adjusted by an optical dispenser.
Colours are on-trend with six to eight offerings for each frame shape, depending on the gender of the style. The names of the brand's metal styles – glorious gold, eclectic silver and smooth copper – are indicative of the lustrous finishes achieved.
Sustainability is also an important consideration for neubau, which launched its first collection with multi-purpose packaging. "We constantly think about how we can implement creative and innovative ideas, considering sustainability," Liktor said. "A good example is our 'glasses sofa'." Liktor is referring to the packaging used to transport neubau frames to customers, which was purpose-designed for re-use at point of sale tool. "This helps us position the brand better in practice, and gives the practice manager an additional display product. Even the end user can use the packagng as a hip storage space for his glasses. It's a great idea that provides multiple benefits without any additional costs.
"In future we want to put even more focus on this field by using natural and recyclable materials within our products, packaging and POS materials," he added.
Coming Soon
When the sunglass collection is launched next month, you can expect to see trend-oriented shapes, great colours, quality lenses and a high standard of production, all at affordable price points.
"We are all very excited about adding this pillar to our portfolio," said Liktor. "The sun shapes are edgier and a bit larger compared to our optical range, and they are more curved to increase the coverage of the eyes compared to optical styles (six base curve for sun, five base curve for optical)… but we have some great shapes that work perfectly in both worlds.
"Our sunglasses are extremely lightweight due to the lightweight polymer used for the frames and equipped with highly impact resistant poly carbonate lenses. Those technical features are combined with shapes and colours to meet the current zeitgeist. They are stylish, young and urban," he said.
Into the Future
With neubau's first collections for both optical and sun delivered under the guidance of Silhouette, Daniel Liktor expects to have more control over future collections. "My team and I will become even more involved in collaborating with the designers on the shapes and colours that we are going to offer in future collections. We will enlarge our collection with even more sophisticated styles and shake it up by mixing elements from all decades. Already we are experimenting with new materials and technologies. All in all, our designs will become more and more exceptional… The outcome will be frames that fuse zeitgeist with wearer comfort in the neubau way."
neubau eyewear is distributed in Australia by Mimo. Contact: (AUS) 02 9970 1800