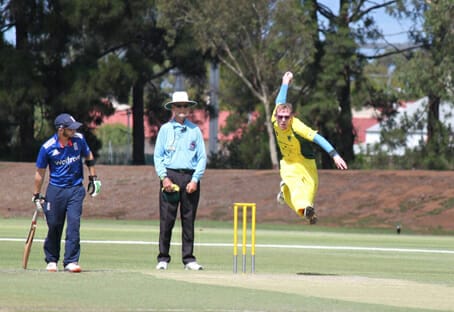 Blind Cricket Australia is looking for new players as it heads into the summer cricket season and over the coming months states will select their teams to compete at the National Championships while the Australian team prepares to take part in the T20 Blind Cricket World Cup in India during January.
Ray Moxly, a champion fast bowler, Chair of Blind Cricket Australia and Secretary General of World Blind Cricket, has played blind cricket since he was 14 years old and has competed at 15 international blind cricket events.
Now in his mid-40s, Mr. Moxly said although he is not a "cricket tragic" he loves the game because "it's not a contrived game for blind people – the game is a high paced, fast, competitive sport. Batsmen hitting fours and sixes is a common occurrence, there are plenty of classic catches taken and the best bowlers deliver the ball at 100kph".
Mr. Moxly explained that blind cricket teams comprise three different levels of legal blindness: B3 for players who are partially sighted; B2 for poor partially sighted and B1 for players for are totally blind. A blind cricket team of 11 is comprised of four partially sighted (B3) players, three poor partially sighted (B2) players and four totally blind (B1) players.
"Blind Cricket is a sport for people who are legally blind at all levels but those who just qualify as being legally blind tend to have the greatest impact on a match. Australia needs to find more well sighted (but legally blind) athletes if it wants to remain competitive at the international level," said Mr. Moxly.
For more information on Blind Cricket contact Ray Moxly on 0413 767 375, email chairman@blindcricket.org.au or Facebook Blind Cricket Australia.