Looking for a massive audience to target? Try the baby boomers. There are five million of them in Australia, with an average age of 59, plus we have 2.4 million seniors with an average age of 76. Fourty-nine per cent of baby boomers and 80 per cent of seniors own their own home, and most of them are married. The kids are gone, expenses are down, work is tapering off… these people are looking for opportunities to feel great, look youthful and enjoy a longer, more active and fulfilled life.
It's hard to get your head around, but world-wide, the number of people who are 60-plus years and living in developed regions, will grow by more than one-third, from 164 million in 2016 to a massive 222 million in 2030. This growth will generate 51 per cent of urban consumption growth – or AU$8.8 trillion – in the period to 2030.1
Importantly for optometry, expenditure on health care is also rising rapidly, from about $8,200 per annum at age 60 to $35,000 per annum for those age 90 plus in developed regions – this is in spite of plateauing expenditure on other areas of consumption.
Indeed, health-care spending alone, by those aged 60 and older, is projected to grow by $1.4 trillion in the period to 2030.1
There is a strong feeling that they no longer have to act their age and they certainly do not intend to grow old in the same way that their parents did
Aspirations
So what are these people looking for?
According to Macquarie Radio Network's research into the lifestyle and spending habits, "middle aged" Australians – defined as those aged 45 – 69 – "genuinely believe they are much fitter and healthier than previous generations. There is a strong feeling that they no longer have to act their age and they certainly do not intend to grow old in the same way that their parents did".2
Breathe a Sigh of Relief
These people favour balance and variety in their work, and, having spent many years worrying about money, jobs, relationships and success, now consider themselves to be healthy, happy, fit and stress free.
Our older Australians expect to live longer, yet they live for the moment, concentrating on enjoying themselves by leading busy, active and exciting lifestyles that involve adventurous holidays, entertaining going out, and spending up.
Catch the Market
So how do you catch their attention?
First of all, and if you haven't already, it's important to adjust any old fashioned perception of our ageing population. Being healthy, active and youthful at heart, the majority of this group does not want to be treated as elderly, or even as a grandparent or parent.
Engage as you would any other adult – with respect, interest and a desire to determine and meet their individual needs. During a consultation, it's important to ask questions and listen to your patients' concerns about their current eyewear – how many times have you discovered that patients put up with a problem because they believe there is no alternative. Find out more about their lifestyle and interests so you can add value to your recommendations with tailored solutions. Offer advice about the type of frames that will provide the greatest comfort and the lenses that will afford maximum protection.
By putting these customers at the centre of everything you do, by offering the most seamless approach from walk in through to the eye test, dispensing and follow-up, you can ensure they receive a customer experience that keeps them coming back over the years, and encourages them to refer their friends to you as well.
Frames to suit older faces
If your market is predominantly mature Australians – or that's the market you're hoping to build your business around, it stands to reason that you'll have an ample supply of relevant frames prominently displayed both in the window and on display ready for trial.
Feeling youthful is one thing but in reality, age does test our skin and our looks. To help your older customers feel their best, suggest an uplifting frame – for instance, an oversized cats eye – to reverse the overall effect of lines and wrinkles.
Lightweight frames will feel comfortable and won't drag down on the skin, while colour can highlight the eyes and bring new energy to the wearer.
Frameless spectacles are perfect for those who don't want their glasses to be obvious, while bold colour is ideal for customers looking to make a statement.
With money to spend and an image to uphold, customers should be encouraged to take home two or even three different styles to suit the occasion or wardrobe of the day. Specs for everyday indoors, prescription sunglasses for everyday outdoor wear and perhaps a glamourous pair for an evening concert or prescription sports eyewear for their favourite game. With a growing interest in staying fit by walking, cycling, and playing sport, our older Australians are ready and waiting for hard working frames that increase vision comfort while also enhancing wearer safety.
However you approach your older customers, be sure to encourage them to try on as many frames as possible. After all, this group of customers is at an age when it can be disconcerting to spend too much time staring into the mirror, yet finding the right pair(s) of spectacles can make all the difference to our self-image and confidence.
References
1. McKinsey & Company. Urban World: The Global Consumers to Watch April 2016
2. www.evergreenam.com.au/lifestyle-spending-habits-of-older-australians-10-key-findings
European Eyewear
Older Australians are discovering a new lease of life due to better health and connectivity, and without the restrictions of work and dependant family. Many older Australians are embracing their new found freedom via fashionable eyewear. Brendel eyewear for women fits this scenario perfectly, with frames for those who wish to express their individual take on fashion.
Contact: European Eyewear (AUS) 03 8756 0900
Advanced Optical Australia
Frames with good designs and shapes can take years off ageing faces. Advanced Optical Australia (AOA) is an eyewear collection from Bonastar for 50-plus adults. The collection for mature women features detailed designs with crystal elements on temples, which can draw attention away from some aging facial features. The classic cats eye shape can offset downward expression lines and the basic rectangular frames can balance out widened jawlines. All frame models from the range are suitable for bifocal and multifocal glasses.
Contact: Bonastar (AUS) 02 9310 1688
Ic! Berlin
ic! berlin metal glasses offer comfort and style for mature adult faces. Made from extremely flexible and lightweight 0.5mm spring stainless steel, they're practically indestructible, yet soft enough to adjust by hand to achieve the perfect fit.
Ic! berlin steel contains iron, carbon and chrome, as well as trace amounts of nickel but as a rule is suitable for people with allergies thanks to thermoplastic Elastomer (TPE), silicon and acetate temple tips and nose pads, which prevent prolonged contact between skin and metal and make adjustments easy.
Contact: Eyemakers (AUS) 02 9960 7766
Weye Eyewear
Styles from glamorous fashion of the past influence Weye's new Luxe collection of eight luxurious frames. Customers are free to customise their look with bold, bright neon colour, or team their lens choice with a classic neutral hue.
Weye is 100 per cent designed and handcrafted in Cairns, Australia.
Contact: Weye (AUS) 07 4032 4141
Flair Art Couture – Gold Décor
Sparkling, filigree accents created using 'nano-protofusion' – a technique used in jewellery making – are the stand out feature of Flair art couture gold décor frames. Hand crafted in Germany from 18-carat gold, these frames are light weight and beautifully comfortable thanks to Flair's glazing technology.
Contact: MYM Group (AUS) 07 55283656 or info@mymgroup.com.au
MarcVincent
The MarcVincent range offers original retro inspired designs with an emphasis on quality. The featured model, Styrian, is the perfect choice for those wanting a traditional shape without compromising on colour.
Contact: Van Staveren (AUS) 1300 794 007
Safilo
Safilo presents a new collection of optical frames: an inspired blend of style and innovation, reinterpreted with a contemporary twist, for excellent technical performance and wearability for mulitfocal and bifocal wearers.
Featuring the innovative Elasta 80 hinge, the temple closing is ultra-lightweight and durable. The screw-less mechanism, thanks to skilful welding techniques, is inspired by the automotive world, combining a clean, essential aesthetic with functionality and showcasing pure, simple lines that recall industrial design.
Contact: Safilo (AUS) 02 9540 0500
Police
This semi-rimless metal frame from Police is lightweight and stylish, enhanced by a unique 2D texture with a blue linen effect for a casual and colourful feel. The symbol of the eagle on the front piece expressly recalls the brand's heritage.
Contact: De Rigo Vision Australia (AUS) 02 9428 1500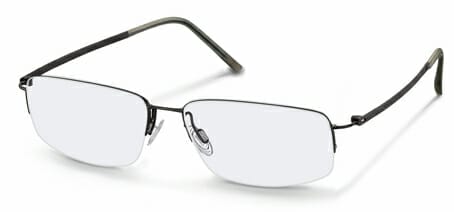 Rodenstock
German frame and lens manufacturer Rodenstock, has been around for 139 years. A blend of experience and innovation, this brand's frames are renowned for their timelessly modern shapes, perfect fit and first-class functionality. In response to customers demand, the company has reintroduced this great new men's frame. Lightweight, with streamlined classical styling, it's the perfect look the stylish mature male.
Contact: Rodenstock (AUS) 02 9748 0988
Gen Op
Flexon original memory metal frames were first launched in 1988 and are lightweight, strong and unbelievably comfortable to wear. Made using Japanese materials and technology, Flexon styles range from simple classics to edgy designs, ensuring there's a frame that appeals to the widest range of men, women and children.
Contact: GenOp Account Representative
Furla
Plays of colour and transparency characterise this acetate frame from Furla. The crystal effect on the front piece emphasises the 'colour cube" work on the temples; a technique that has been exclusively developed by Furla for its three different optical styles that make up the 2016 collection.
Contact: De Rigo Vision Australia (AUS) 02 9428 1500